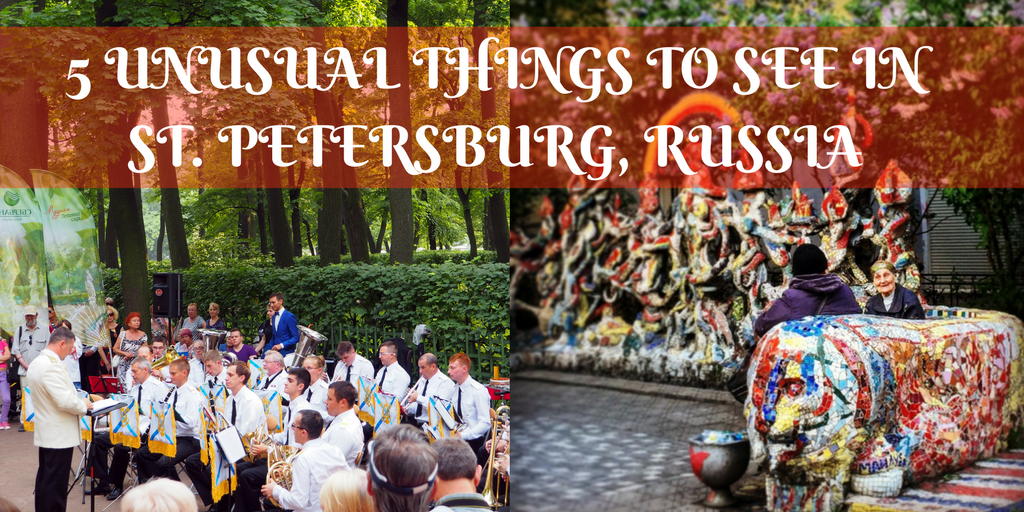 Everyone and their grandmother, or in my case, mainly my grandmother (we're a culture-cramming sort of family) can give you the rundown of what to do in Saint Petersburg. You go to the Hermitage for some art, the Russian Museum for some history, the Summer Palace for some wondering at the amber room. In the evening you go to the ballet to watch some of the finest dancing in the world.
But what if you want to see a different side of St. Petersburg, while still getting in music, art and culture? What are the unusual, offbeat and alternative things to see in do in St. Petersburg, that will really get you under the skin off the city?
Skip the Hermitage – head to the General Staff Building
Everyone's heard of the Hermitage, and if you go (at least in the peak times of year) you'd better suit and boot up in full American football style gear to have any chance of getting near the art and exhibits. What fewer people know is that they've moved a lot of their collections – the impressionists, the post-modernists, their Matisses, Rembrandts, Monets, Gaugins and so on into a more discreet building opposite the Hemitage itself. There's also a Faberge collection and historical clothing, if that floats your boat. Entrance will set you back 300 roubles, and you can enjoy the art without tripping over tour groups. Although the building is a little confusing (for me at least – somehow I ended up on the top floor in the realists first) eventually a logic appears.
Nearest Metro: Admiralteyskaya
Situated in an old bread factory, the Etagi Loft project has grown from being an exhibition space to having small shipping containers stretching out behind it filled with cafes (including many vegan ones), coffee shops, bakeries, alternative bookshops, thrift stores… and so the list goes on. It's the largest exhibition space in the city for contemporary art, and has four exhibition spaces as well as a hostel attached to it (which also allows pets!). Especially as a vegan in St. Petersburg, if I had to choose a hostel I'd stay here, because almost of the cheap and delicious vegan places are in the Etagi Loft Project too. Actually, and here's a confession, I think I got so distracted by the food the first few times I was here that I totally forgot to explore the rest of it, and it was only in my finally week I discovered it has so much more than food.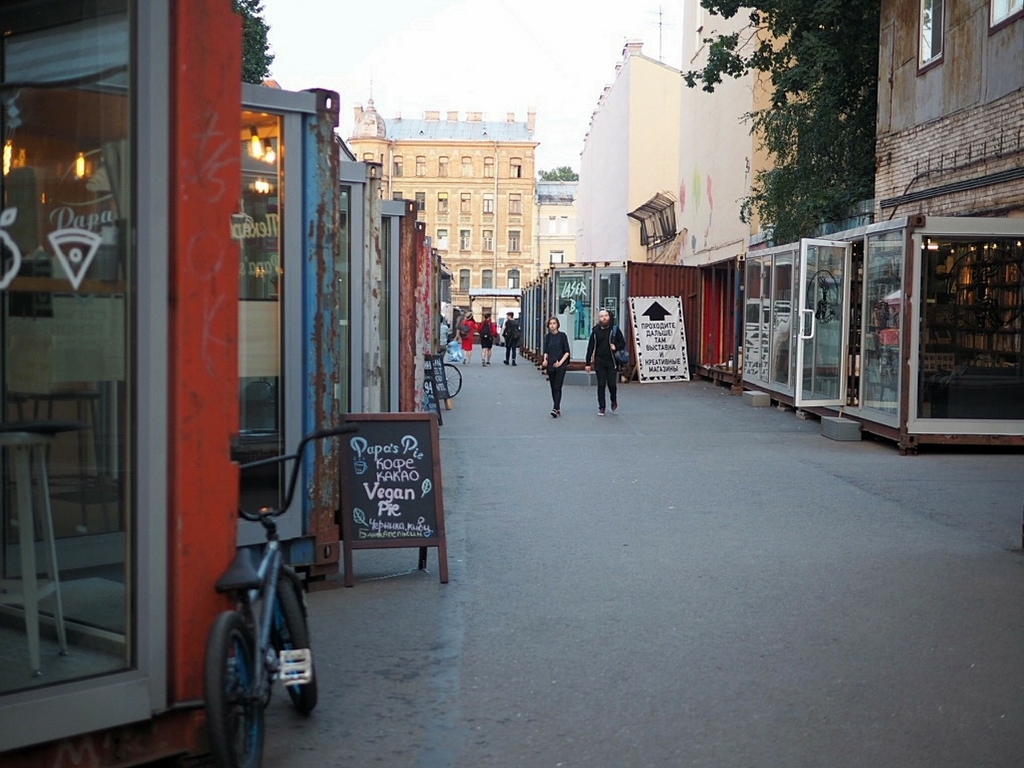 Nearest Metro: Ligovsky Prospekt
Hang out in the mosaic courtyard
The courtyards in St. Petersburg are worth exploring anyway, as they're often rambling, and filled with stray cats, abandoned buildings, and other surprises, but this one has to be the best.  This much less known attraction is just across the way from the Summer Garden – a mosaic courtyard which rambles on for quite a while, created by an artist and then developed into a youth project. New parts are appearing constantly – there's now a fountain, and the children's playground has also been decorated. You'll probably encounter a Russian woman or two grouting some brightly coloured tiles. It's a wonderful place to people watch, as the locals have just accepted it into their lives and go there to relax and catch up.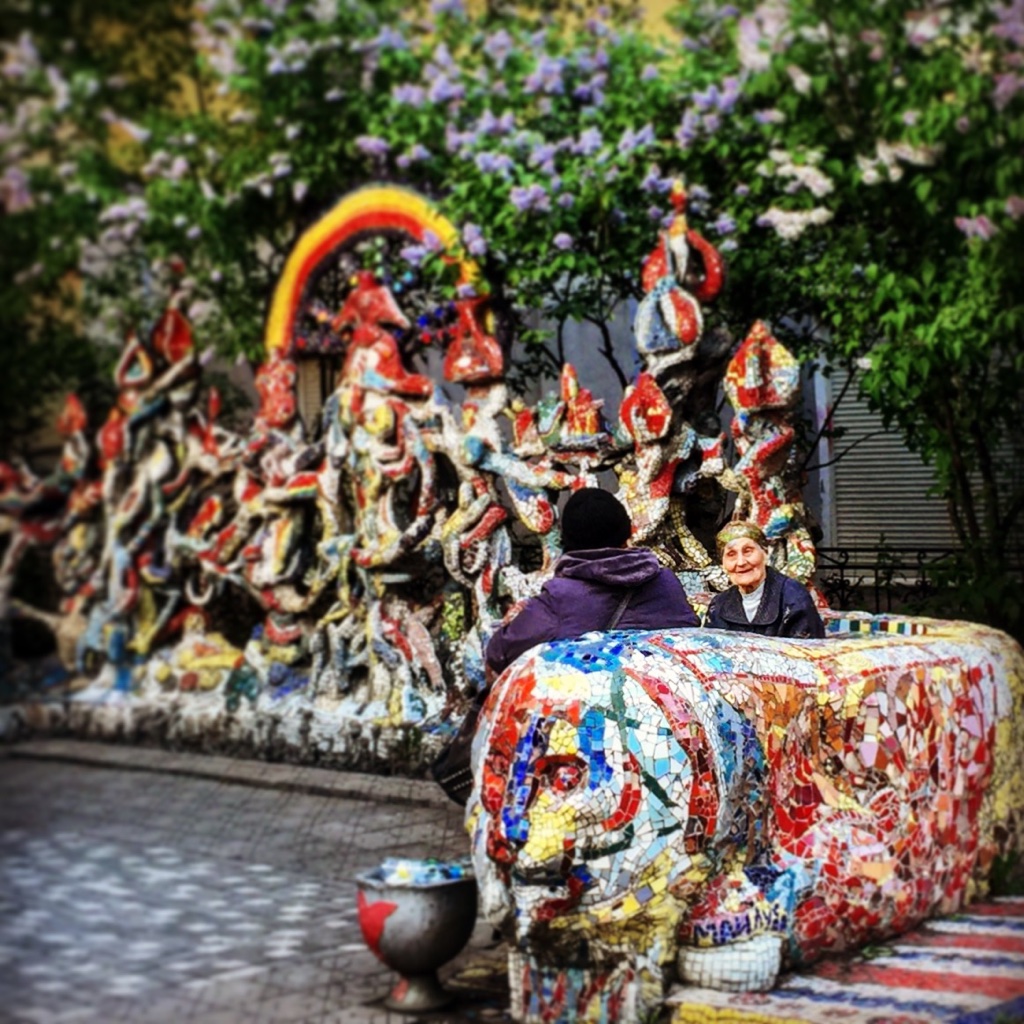 Nearest Metro – Chernyshevskaya
Dance to the buskers
One of my favourite things about St. Petersburg in the summer is the live music that's everywhere. Outside almost any metro in the centre, and stationed at intervals along Nevsky Prospect and in the gardens you'll find buskers galore. It's not the buskers themselves that are so special, though – it's the people who get lost in the moment and dance like no one's watching. From women with their eyes closed dancing freely, to elderly women waltzing with their grandchildren, it's one of the most free and unselfconscious things I've seen in a country that's infamous for their stoicism. Take some time out of your sightseeing to join the crowds and enjoy some live music, and some dancing, on your way to your next place.
Also known as The Museum of Non-Conformist Art, I first discovered Pushkinskaya 10 on International Museums' night, where many of the museums in the city open for free until 6am. It was my second weekend in Russia, and it was cold, and pouring with rain. Despite this the streets were buzzing and the queues for all the museums stretched around the block, even at 1am. Although it's been open for many years now, the museum still provides studio space for a number of working artists, and so you never know whether the room you walk into will be an exhibition, a studio, an installation, a stall where you can buy something… I like the way it keeps you guessing. It's large and rambles on through many rooms connected by small cramped corridors, and it's all worth investigating – even the graffiti that stretches up to the top floor and gets weird and creative. It's a mixture of Post-Soviet and modern art  Check out more pictures and information here.
Nearest Metro – Ploschad Vosstaniya
On my wishlist for a return visit:
The Museum of Soviet Arcade Machines.
Have you been to St. Petersburg and done something a little off the usual tourist trail? Let me know in the comments below.
PIN IT FOR LATER: