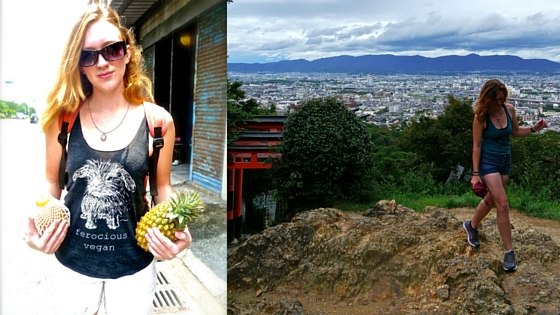 It took me a long time to pluck up enough courage to buy and then wear a vegan t-shirt. I don't know what I was scared of, people hurling steaks and abuse at me in the street, perhaps. And now I want more. They're a great conversation starter, they're a good way to show your vegan colours often in a humorous way, and they're supporting hardworking vegan crafty types. And if you're a long-term travelling like myself, they're super versatile and tiny to pack. I use them when I do Yoga/hike/just go out with shorts and want to look more casual. So here, in no particular order, are my favourite vegan shirts – a mixture of the cute, the loving, the radical, and the artistic. As a bonus, a lot of the t-shirts in here are made from organic, sustainable cotton or bamboo and donate part of the profits to an animal charity. There's no excuse not to be wearing them, really.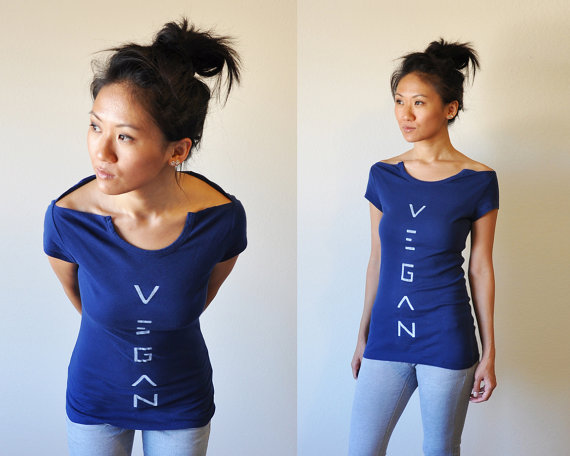 Vegan T-Shirts – Love Peace Vegan
I couldn't choose which of these I like most, so I've just linked to the whole shop. There are so many different styles here that, unlike most of the tops in this list, aren't just a generic tank or tee. Off the shoulder, button up, crop, baggy, tight – these have to be the most stylish range of vegan t-shirts I've seen. Awesome.
This Little Piggy – VeganeseTees
I love the cute graphic on this one, plus the subtle but clearly vegan message that doesn't scream aggression. It's organic cotton and printed with non-toxic ink.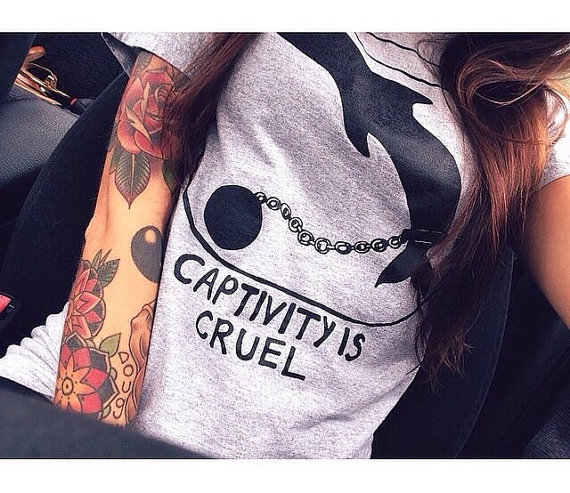 Captivity is Cruel – Vegan Veins
Want to made a statement about animals not being used for our entertainment? This pretty nifty design says just that and makes a cute vegan t-shirt while it's at it. Vegan Veins also donates $1 from every shirt sold to animal charities.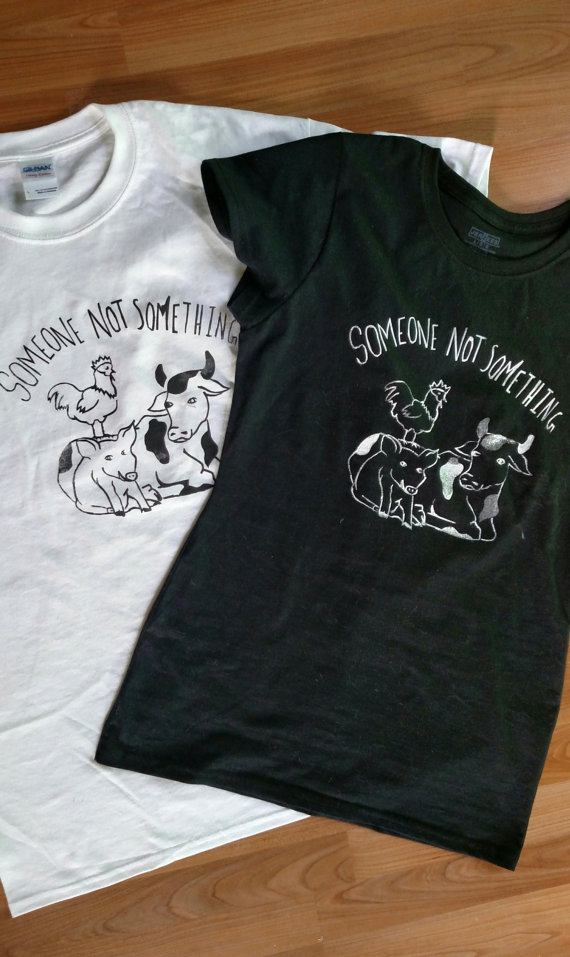 Someone Not Something – The Littlest Herbivore
For every t-shirt sold, The Littlest Herbivore will donate $1 to an NGO animal charity. This one's for adults, but make sure you go onto her Etsy page and check out her range of t-shirts and onesies for toddlers and babies, they'll make you want to raise a whole brood of little vegans… or start dressing your cat, whatever floats your boat.
Love Moos Not Milk – WinkinBitsyClothing
I love the graphic on this one. Again, it's a little different and more stylish. I could easily pair this with heeled boots and skinny jeans to go to a bar.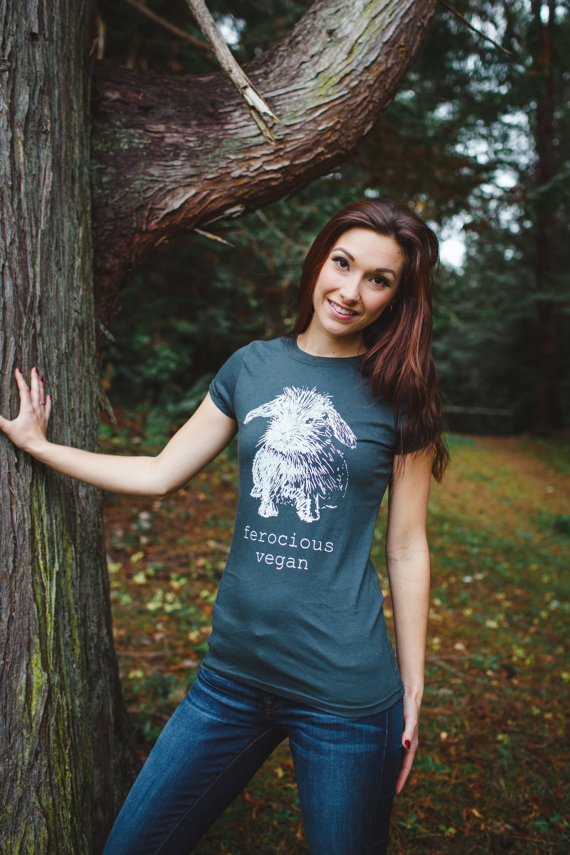 Ferocious Vegan – The Vegan Police
I own three tanks by The Vegan Police, and I love them. This is my favourite of all, but 'I don't eat pals' gets a lot of compliments, and I love the colour. If this design isn't for you go and check out the Etsy shop – you'll be hard-pressed not to buy everything. Actually, you'll make a massive saving on postage this way, so you should. They're also super light and barely make a dent in my suitcase, perfect for travel.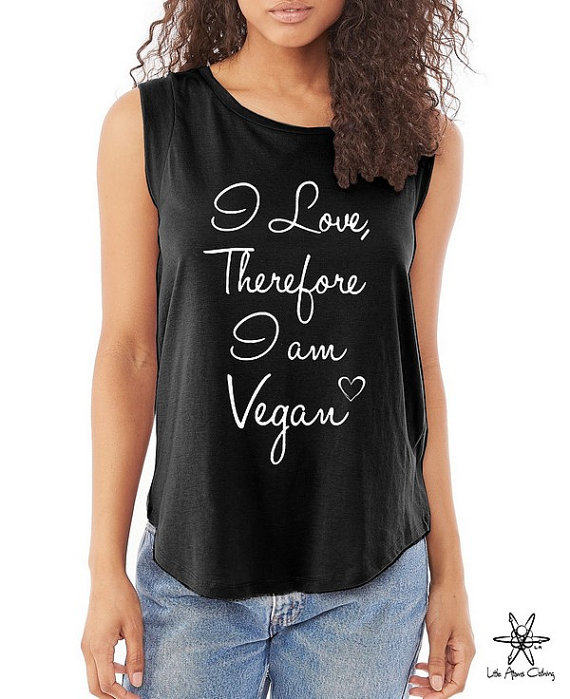 I love therefore I am vegan – Little Atoms
Speaking of love – I love the message of this shirt. If you're feeling a little too caught up in activist slogans in your wardrobe, go for this t-shirt to bring more warm fuzzy feelings to your day. You're welcome.
How cute is this t-shirt! I'm a bit of a sucker for pink, although whenever I try to wear it with my blonde hair I look far too Barbie. Something I try to avoid at all costs to maintain the illusion of dangerous badass traveller (hahaha). Not a strictly vegan t-shirt, this is still an adorable addition to any wardrobe.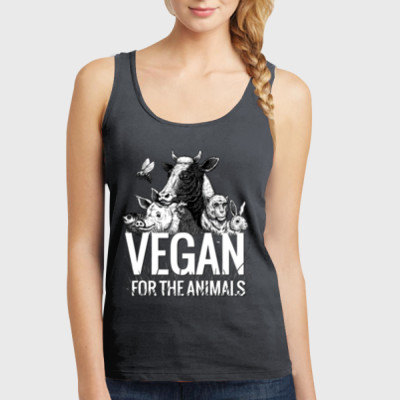 Vegan for the Animals – Drama Patrol
What more need be said? Vegan for the Animals, with a good graphic.
What have I missed off the list? Do you have any t-shirts already? Let me know in the comments below, and get some Comment loving.
Disclaimer: I own some of these and wouldn't recommend them unless I thought they were awesome. If you click on the links and buy something I'll make a tiny commission that's free for you, which allows me to travel for a little longer and keep my shirts from having too many holes in them.