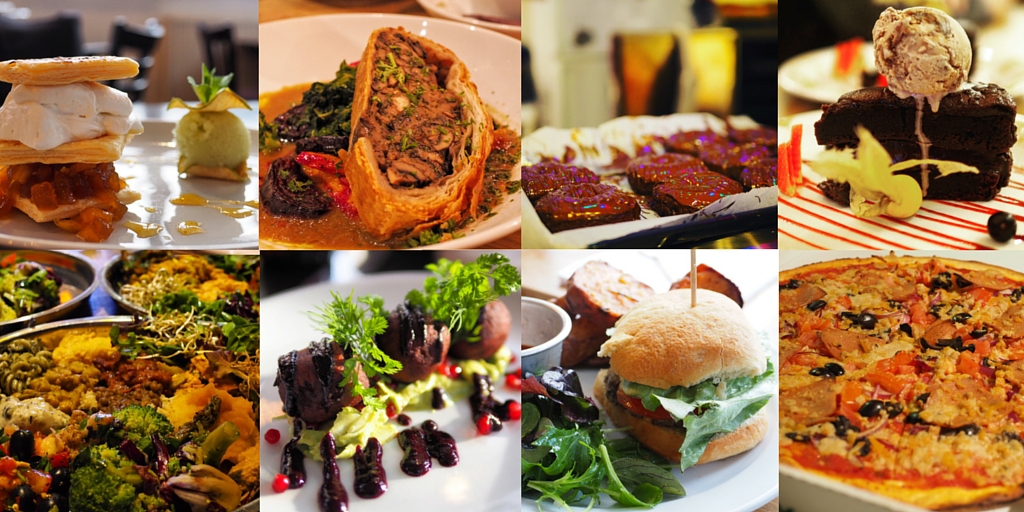 London was my first city after Asia, and my return to Western Vegan food. I could have happily spent weeks exploring the vegan restaurants in London, and I'll certainly be adding to this list in the future. For now, though, here's my guide to vegan restaurants in London, for whatever budget you're on and mood you're in. Enjoy!
High End
Vegan fine dining isn't something I'm that experienced in, but how could I not check out some of the most iconic vegetarian restaurants while I was here? A two course meal for two, plus a bottle of wine/a drink each will set you back around £60+, but it's worth it for both the food and the experience.
MILDRED'S, SOHO – vegetarian
I heard there's a second one opening up soon, which considering the queues at the one in Soho is no bad thing. They don't take bookings so if you're a person who gets hangry, make sure you arrive a good while before the murderous rage sets in. There's a small bar area inside where you can drink a bottle of wine – vegan ones are clearly marked – and expected waiting time for a table is a little under an hour. Once you're seated there's a fast turn around so you should get your food pretty quickly. I had the mushroom Wellington, and my friend had the Sri Lankan curry. The menu was excellent, decently priced and filling, and had a lot of vegan options.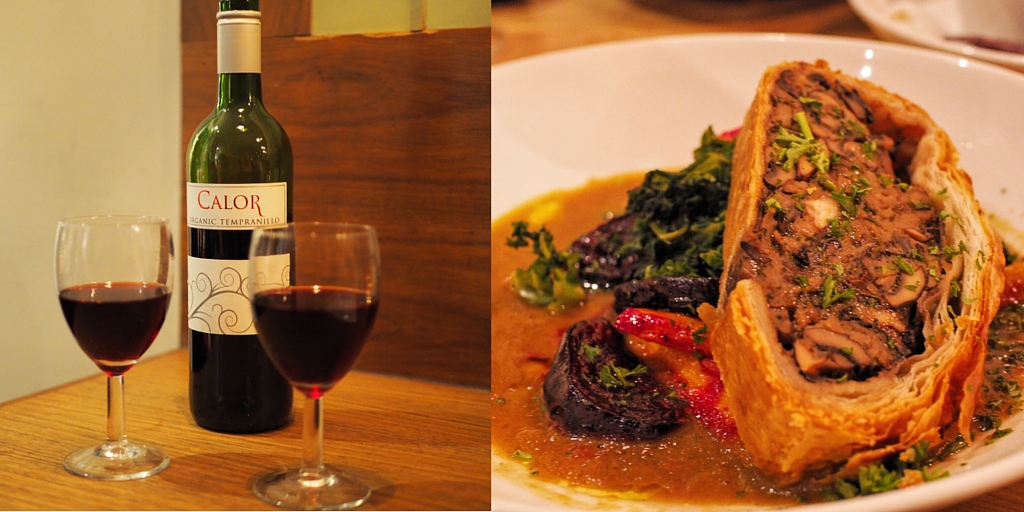 VANILLA BLACK, COVENT GARDEN – vegetarian
Most of the restaurants on this list go for the light, open, airy feel – Vanilla Black has heavier decor and once you enter the door, communication with the outside world stops. No phone signal, no wifi, no data. This is an excellent combat for anti-social dining companions who are obsessive phone checkers, but it's not so great if you or the person you're meeting is running late and could lead to 'I've been stood up!' panic.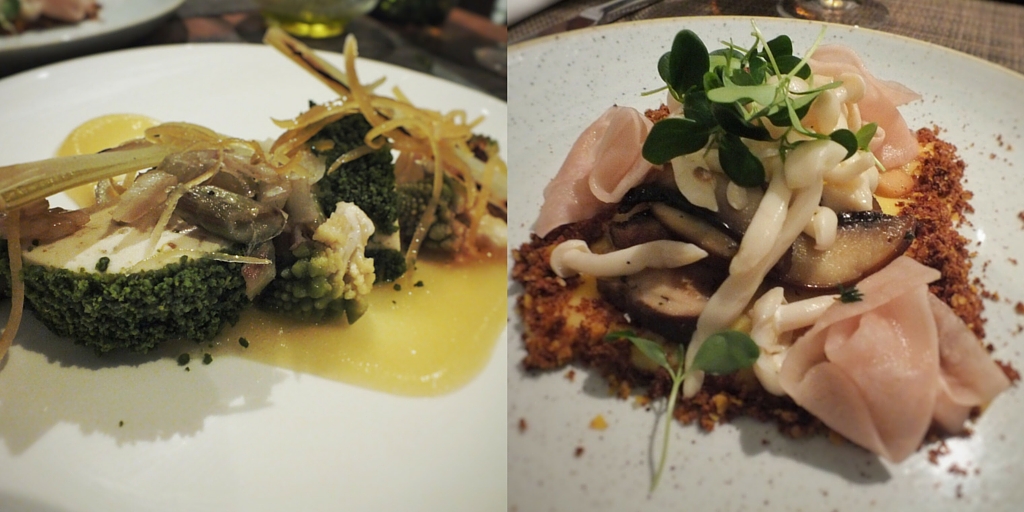 We were provided with an all vegan menu, which was extremely gratifying. The food has so many components I think some must have been distilled or vaporised to fit them all into such tiny servings. It was a dining experience of the sort I haven't had since becoming vegan – where every morsel matters. I had the cauliflower 'Goats' Cheese, Fennel Pollen and Pistachio with Apple Puree, Fennel and Rainbow Chard, and my companion had the Fried Mushrooms, Sweetcorn and Tarragon Sponge with Pickled Mooli and Crumbs. I still don't quite know what Mooli is, but it tasted good. Mine tasted unnervingly like goats cheese, which I liked but probably isn't for some people. Dessert was Roasted Apple Sorbet with Somerset Brandy Syrup and Cinnamon Hundreds 'n' Thousands with Toasted Oat Custard and Crumbs for me, and Peanut Butter Cheesecake and Cracked Cocoa Bean with Caramelised Banana Purée. The peanut butter cheesecake was delicious, the sorbet I wasn't sold on. I would have liked a little more flavour and punch to some of the dishes, but overall Vanilla Black is worth the experience if you're in London and want to try vegetarian haute cuisine at one of the most prestigious vegetarian restaurants.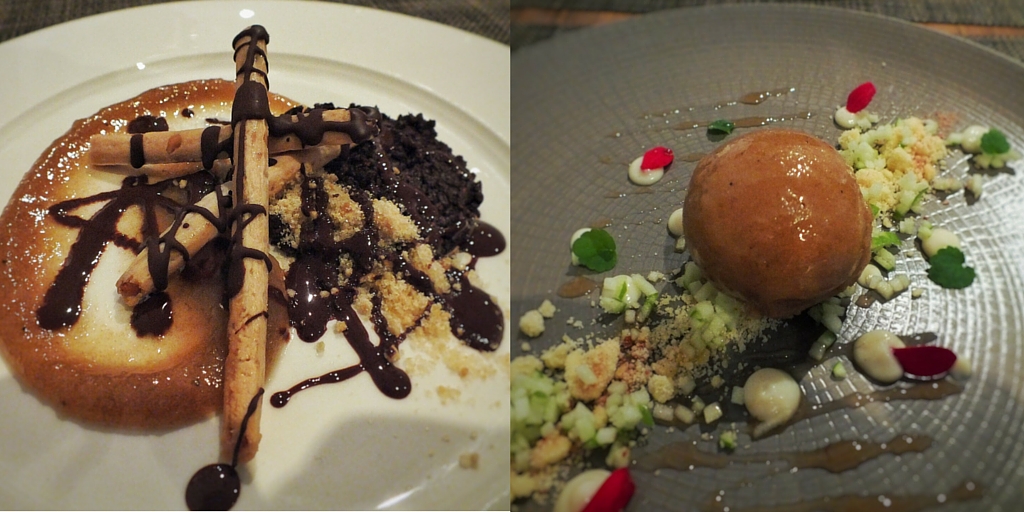 THE GATE – ISLINGTON/HAMMERSMITH  – vegetarian
If you're meeting a friend at The Gate, don't do what I did and go to the wrong one. There's nothing like getting to Hammersmith half an hour late and flustered after train delays, getting confused but not questioning that your party doesn't have a reservation, and being seated before realising there are two restaurants, and you should be in Islington. 'You're in the wrong one, because it's a big room and I would be able to see you…' is never a fun text to receive from the other side of London.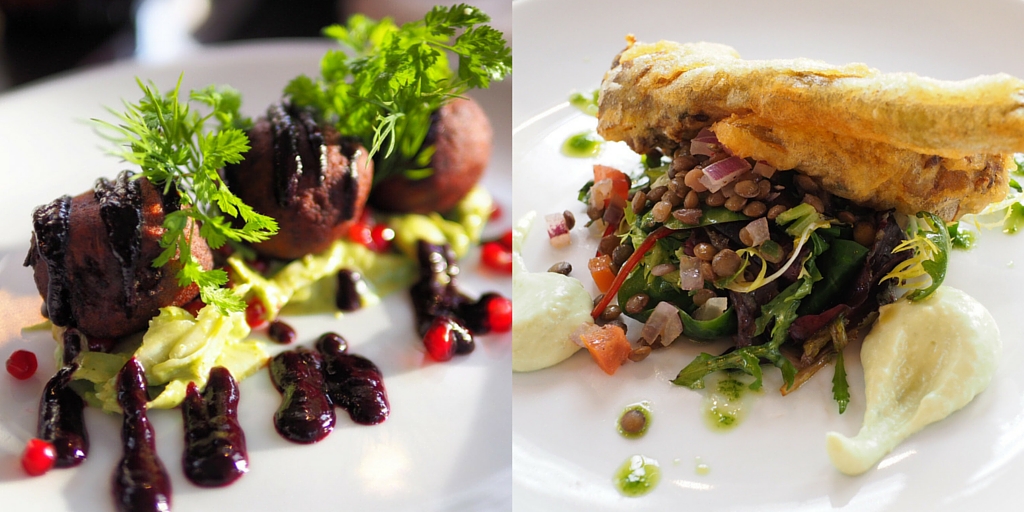 Once you find the right place and are seated, however, the menu is excellent and the service is friendly. The starters were, to my mind, a little more exciting and creative than the mains – not that the mains weren't also wonderful. We shared the Carciofini – baby artichoke filled with wild mushroom duxelles and dolcelatte served with puy lentil salsa and garlic aioli, which is one of the best things I've eaten, ever, and the Plantain Fritters filled with carrot, sultanas, mint and pine nuts served with chipotle and blueberry sauce and crispy fennel and pomegranate salad.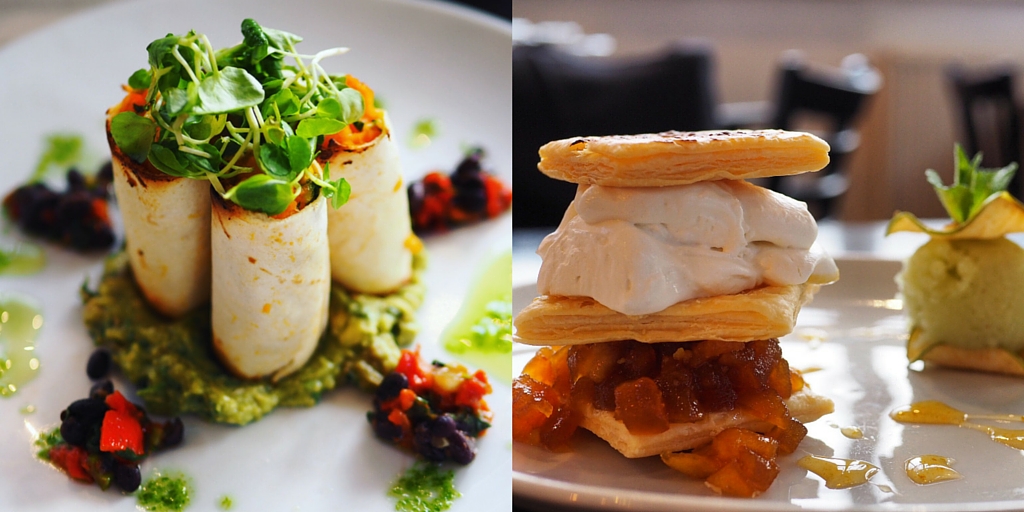 WILD FOOD CAFE – COVENT GARDEN – vegetarian
Mostly vegan, Wild Food café has a menu that focuses heavily on raw and nutrient packed food. There are little delicacies here to try like homemade coconut 'bacon' and vegan coconut cheese. The ingredients are organic, locally sourced, and they try to include wild locally foraged food. I had the Wild Winter Burger, and the patty was one of the most delicious I've ever tried, made from shiitake, olive and quinoa.
Mid-range
A meal here will set you back around £10 for a main, and have found ways to be more affordable – either by being buffet style or more of a cafe. However, they're also places you can still go for a nice meal and a catch up wth friends or family. For a main, a dessert and a drink you're looking at around £15-£20 a head.
VANTRA VITAO – OXFORD STREET – vegan
I love this restaurant. The ingredients are seasonal, organic, and locally sourced. The waste they produce is minimal. And it's central: right on Oxford Street. For this location, you can't argue with the price. They have a buffet, set meals, and raw sugar free desserts. If you like raw food, oily food, comfort food, curries, pasta… they've got it all. And after a year and a half of tired, endlessly reheated and greasy buffet vegan food in Asia Vantra reintroduced the glory and potential of buffets to me. Their food was fresh, full of flavour, comforting… I took a little bit of everything and there wasn't a single thing I disliked.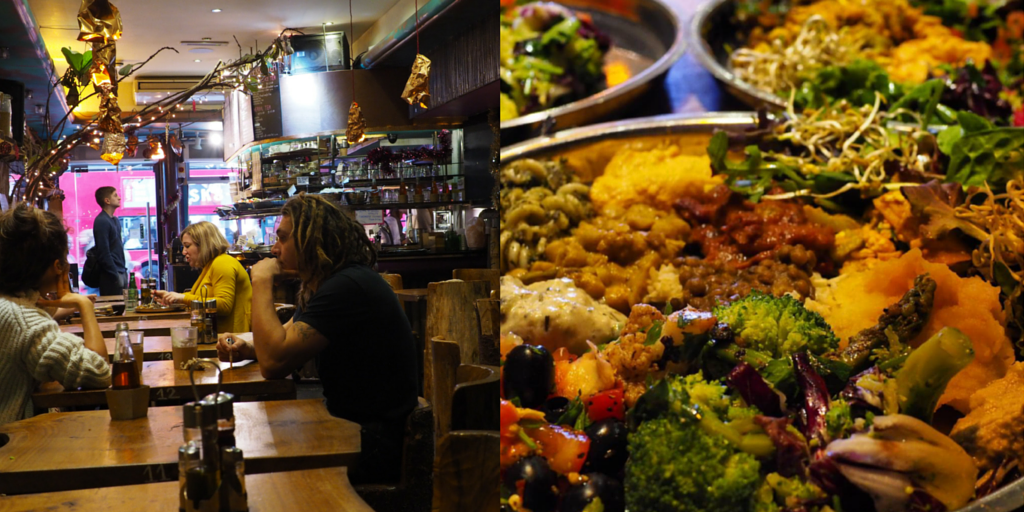 222 VEGGIE VEGAN – WEST BROMPTON – vegan
Another warm and scrummy vegan buffet. Not as much choice as Vantra Vitao, but it's also not as expensive (all you can eat) and you can get it to take away for a cheaper price. Even my non-veggie and rather picky teenage nieces and nephew found food they liked. I particularly liked the creamy pasta and the lasagne, my only grumble was that both two times I had the beetroot and carrot salad it was very over salted to the point of me not finishing it. Everything else was delicious.
And if you get nothing else, get a dessert. Don't fall for the trap of the all you can eat buffet and fill your stomach up. The cake, and especially the chocolate cake, is some of the finest that I've tasted. Rich, gooey, moist, warm and optionally with a dollop of ice cream sitting on top and melting down the sides. Need I say more?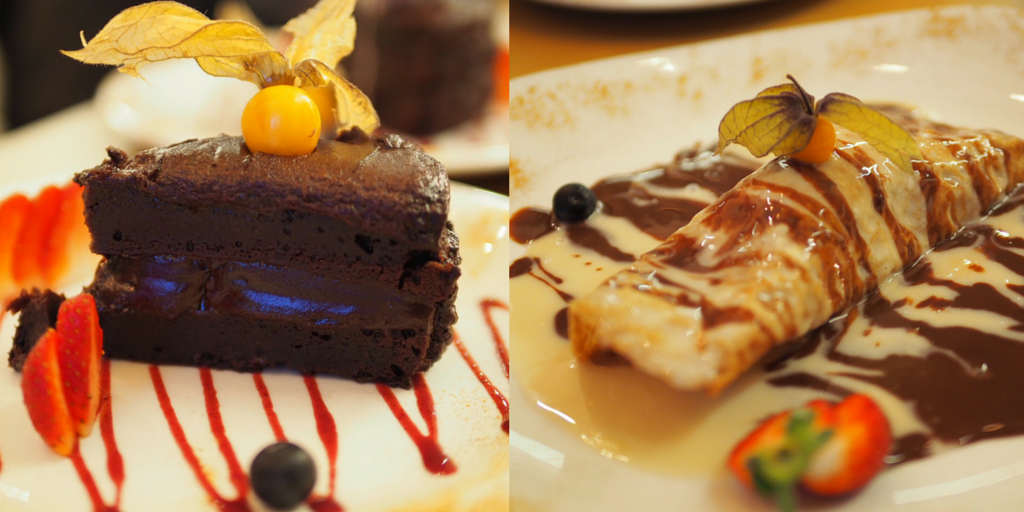 INSPIRAL LOUNGE – CAMDEN – vegan
CLOSED UNTIL FURTHER NOTICE
When I arrived here for a reunion lunch with a friend I had with me my small backpack which I was living out of for three days, as well as my camera case. I was also kind of tired. And my boots were still wet from the night before (the F.a.B bus night, see description below). It was my first time in Camden – and I was completely unprepared for the Yummy Mummy lunchtime rush that hits the trendy cafes around this area. I was a little late for the lunch because I got lost in the market and a crowd of tourists. Sigh. When I had finished being flustered and crashing my bags into strollers worth more than everything I own, and having discussions with mums about their toddler's development when waiting to order, I finally sat down with food.* It was surprisingly fast to arrive considering how busy the cafe was, and the staff seemed run off their feet. They'd run out of the raw burger which was what I really wanted, so I got a regular one instead which was good (especially the fries) but the bread was a little dry.
Unfortunately I've just seen that they're closed, which is strange because they were heaving when I visited. Keep an eye out of their page as there's a chance they're reopening in new premises, and you can still order food from their website.
*disclaimer about these reviews: after a year and a half in Asia, adjusting to the London vegan scene has been a bit of a culture and budget shock.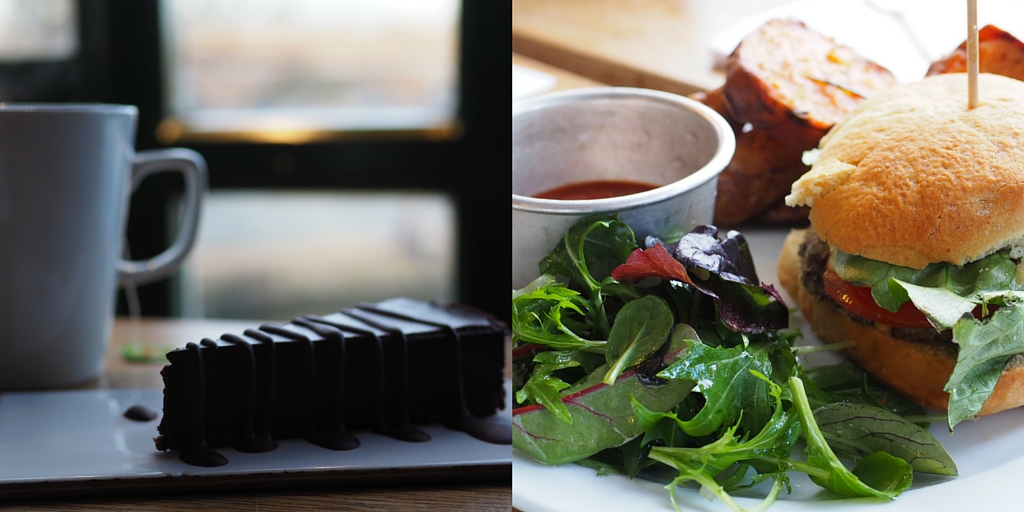 Budget Fare
You can get out for under £10 in these places. Good for a lunch or light meal with friends. And they all have a certain… quirk.
BONNINGTON CAFÉ – VAUXHALL – vegetarian
Bonnington Café is an old school veggie restaurant opened in the 1980s, and it hasn't changed much since then. A main costs £8 and the two options change everyday depending on the chef. This makes it a little hit and miss. The night I went with a friend was perhaps a little more miss – I'm not too sure the combination of raw zucchini noodles, roast potatoes and salad worked – but my friend was very happy with her curry. It's BYOB which keeps it cheap, and the dessert was a raw chocolate torte which was delicious. Even though the mains were a little curious, I like the original idea behind Bonnington and would happily go back on a different night to see what else is produced. Although it says it's vegetarian, everything was vegan on the night I went.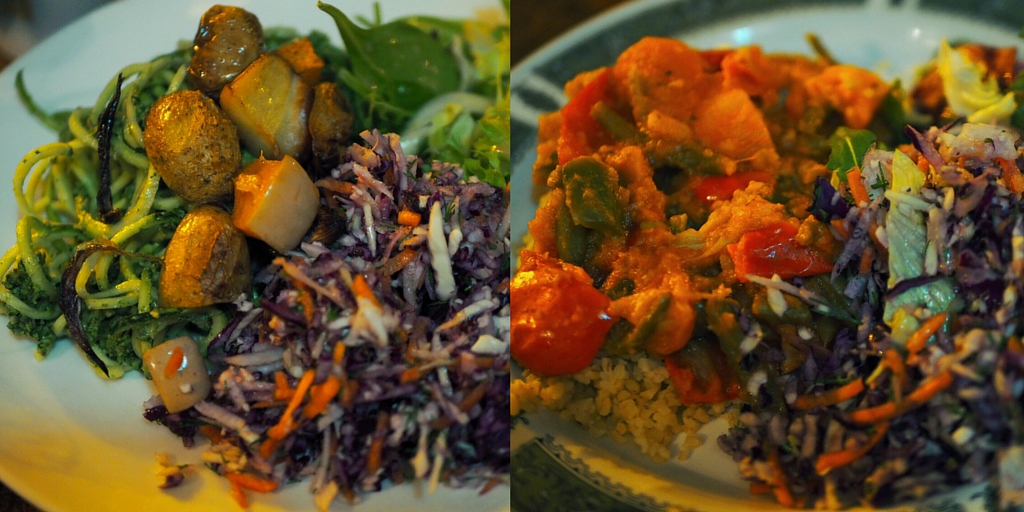 JUST F.a.B BUS – HACKNEY – vegan
It was tipping it down with rain the night we went here. Full scale pouring. The plan was a meal here then a night on Brick Lane, but by the time my feet were soaked, my ankles were soaked, and my calves were starting to get wet too… we called it a night and went back. Just F.a.B, however, was worth braving the rain. I left my camera at home, so if you want to see pictures you'll have to click on the link. It's a bus. An actual London bus, turned into a restaurant. The portions are a little small so if you're hungry get a side too, but the prices are decent, the food is tasty (especially the lasagne) and the service is cheerful. Highly recommended, and then you can tell people at cocktail parties "this one time I ate vegan lasagne on the top deck of a London bus." Because that's always a conversation starter.
VEGAN HIPPO – SOHO – vegan
CLOSED UNTIL FURTHER NOTICE*
I just found out Vegan Hippo are closed at the time of writing this, which is a shame. They do good food and excellent cake, but they need to get their service a little more organised. Is it table service? Do we order at the counter? What's happening? Hello, eye contact…? A friendly welcome and being told how the place works would be nice. The decor is fun and quirky, and the hot dog I had was good although a little heavy on the mustard. If they open again, let me know.
*I can't quite believe that TWO places on this list are closed now!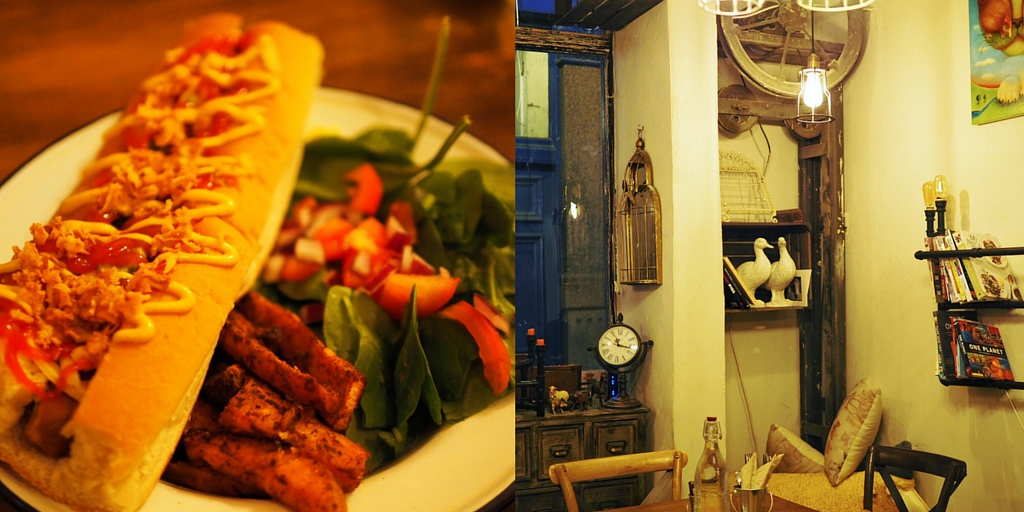 Dessert
COOKIES AND SCREAM – CAMDEN – vegan
If you go to London and don't visit Cookies and Scream, a completely vegan and gluten free bakery, you've missed out. The brownies in particular are amazing. On my first trip I had the sticky date and almond brownie, which was incredible, and on my second I had their award winning chocolate brownie. Oh my. There are no words to describe it. You just have to go there. Now.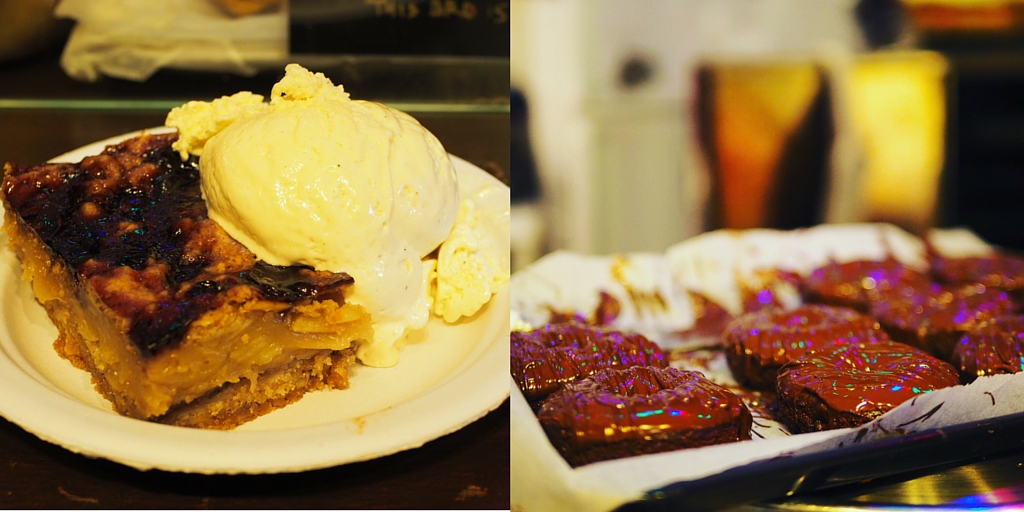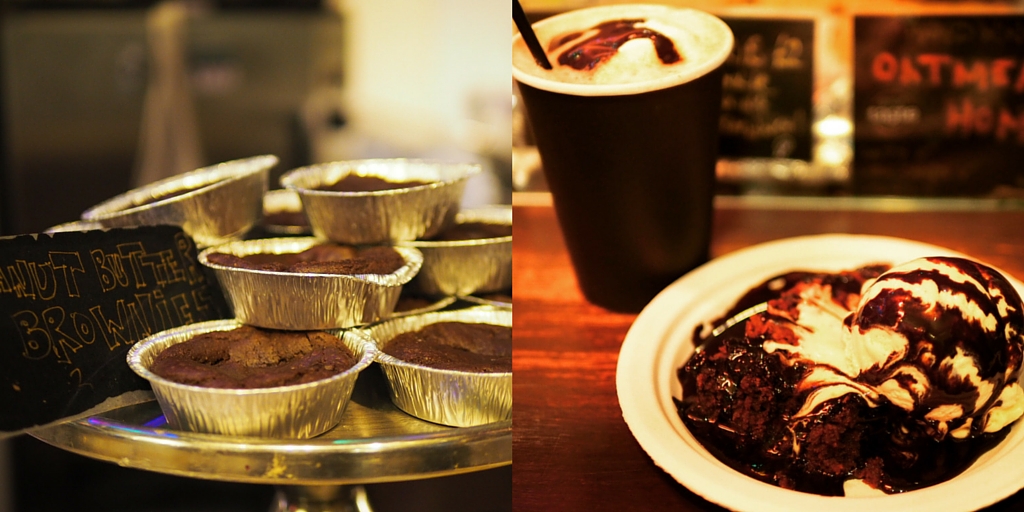 Takeaway vegan food
THE VILLAGE PIZZA – SOUTH LONDON (SURBITON) – vegan options
If it's cold, wet, windy and you want to stay at home and order a pizza with vegan cheese and mock meats (the full unhealthy option, if you know what I mean) then look no further. They have a special vegan menu with quite a few options, and it reminded me of pre-vegan hungover university days spent on the couch with a Dominoes. In other words, it filled a comfort food pizza home delivery shaped hole that I never realised was in my life. We got a 2 for 1 when we ordered that made it super affordable, but I'm not sure of the details.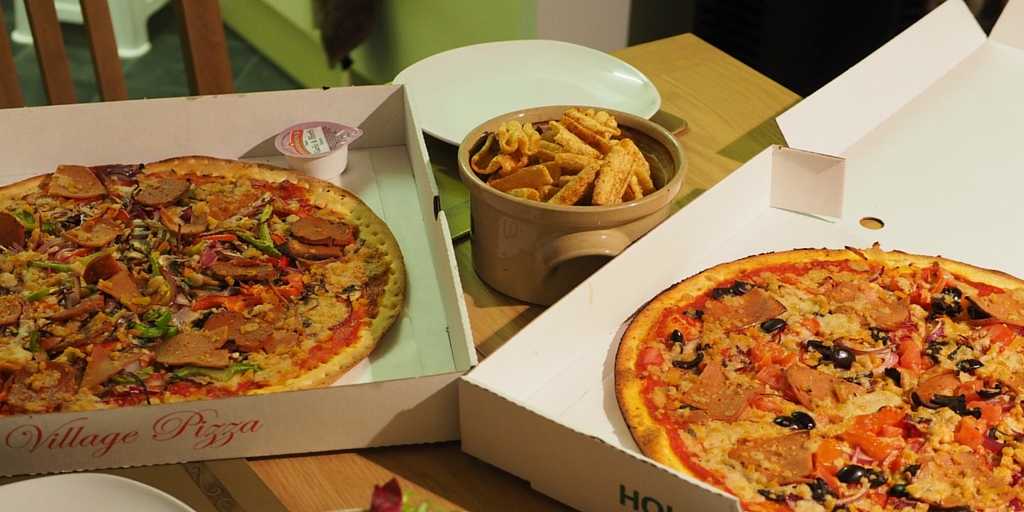 Where have you eaten vegan food in London? Anywhere else that needs to be on here?