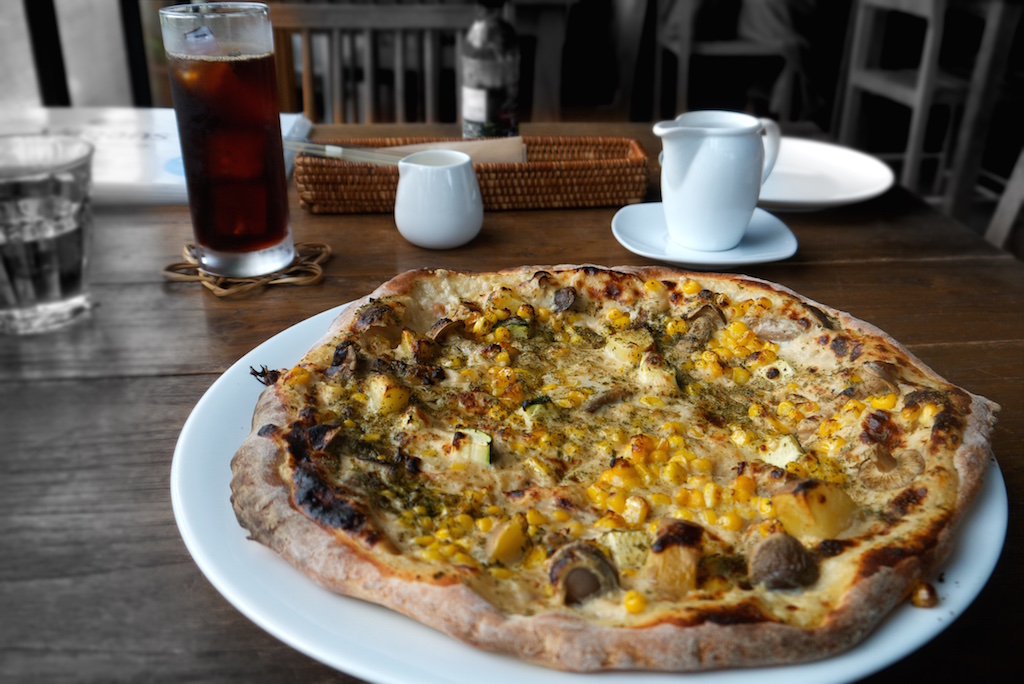 Kyoto. Kyoto, Kyoto, Kyoto. The end of my trip and the place that most frustrated me about Japan. It's pretty, it's full of temples, and it's full of tourists (myself included, I know). I was so looking forwards to the vegan food in Kyoto, as everyone I talked to about it employed hyperboles such as "it's a vegan paradise!" and "if I had to chose one city to be trapped in, I'd chose Kyoto!" (If you're reading this and you know this was you, go and sit in the corner in shame.)
Therefore, this list will include an addendum of 'places I wish I ate but they were always closed when I tried to go without explanation, or they're not open on weekdays, or they only do lunch.'
Sensing my frustration yet? And while I'm at it, why for the love of all things tofu, do the cafes in Kyoto operate on bar hours? When I wake up in the morning, I want to go somewhere and work and drink coffee before, are you listening Kyoto? Before 11.30am.
Okay, rant over, let's get on with the food. And don't worry if I don't seem that enthusiastic – I'm saving the best for last.
Cafe Matsuontoko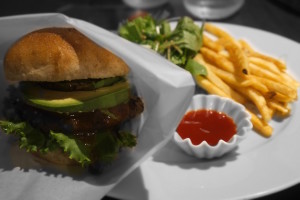 Avocado Burger
This place I started off with cool feelings about, but it won a place in my affections because it's pretty much always a safe bet for somewhere that's open, it keeps hours I can get on board with, and the burgers aren't extortionately expensive. But they're a bit small (the whole burger will fit in the palm of my hand, my hands are pretty manly but not that big) and they don't have that much in them: a patty, avocado if it's the avo burger, maybe some lettuce and a sauce. Notice singular of everything. Maybe the UK spoiled me, but I like my burgers to be bursting with flavour and huge. The taste is okay, I quite liked the avocado burger and the teriyaki burger which are the two I tried, but they're fast foody and nothing to write home about. The cafe itself is dark and gloomy with slightly odd seating, but some people like it.
The brownie is pretty good, the cream that comes with it is good too. Although right now, I'm writing this from a month long live-in yoga course which is making me detox from sugar and, by extension, cake. So everything cake like seems excellent right now.
A burger with fries will cost under 1000jpy, and the desserts are around 650. These burgers seem to be very subjective – opinions range from meh to delicious – so don't take my word for it, go and try them if you want something a little indulgent and comfort foody.
One last anecdote: the staff may seem a little unfriendly at first, but one night I ate there alone, tried to pay and then found that I'd left my purse at home. They had no problem at all about me saying that I was going to go away and come back.
Do or don't? Do
Food: 3.5/5
Atmosphere: 3/5
Value: 4/5
Morpho Cafe
I don't know why or how, but for some reason I seemed to be on a grand burger adventure in Japan (and yet I didn't eat any vegan sushi, because whenever I tried places were closed! So strange). On Happy Cow the fish burger is highly recommended, so I went with the crowd and went for that. My friend had the corn and potato pizza, which was unexciting to say the least. The burger reminded me of the fast food burgers I used to eat in Berlin: the right amount of grease, the right amount of mustard… it was pretty tasty and not too expensive. We asked the man does it need an extra side of hand cut fries, he said no, we said "how many does it come with?" and he replied oh, six or seven. We ordered a side.
The cake afterwards was good, but it was shaped like it should have had a gooey chocolate centre and it didn't, instead it was a little dry.
Do or don't? Do
Food: 3.5/5
Atmosphere: 3/5
Value: 4/5
Falafel Garden 
This place is omni, not vegan, but whatever is vegan is clearly labelled on the menu. If it's not labelled as vegan, it's not vegan so don't be caught out by the fact that some of the desserts look like they should be vegan – they aren't. I kept trying to get falafel in Tokyo (read about that here) but it was always closed, so it was amazing to finally get my fix after over a year in Asia. The owner is Israeli and has been making falafel in Japan for 20 or so years, and his falafel is amazing – definitely some of the best I've had. Generous potions, lots of sauce, moist, full of flavour… I went back here three times because like Cafe Matsuontoko, they're a safe bet for when other places are closed. They also do an excellent Baba Ganoush. A medium is 680jpy, and a plate of two different ones is a little over 1000 if you're hungry. You'll pay a lot less in Israel or Berlin, but in Japan it's a cheap meal.
Do or don't? Do if you don't mind them also serving animal products.
Food: 4.5/5
Atmosphere: 3.5/5
Value: 4/5
Cosy Cafe at Tamisa Yoga
You'll never guess what I'm about to say – I tried to go here twice before I managed, and both times they were shut. Argh! Was it worth it when I managed? I'm not really sure. It was nice but unmemorable. The quiche was good, the salad was good, but for what it was and the amount of food it was pretty expensive. I had a cake and a coffee after my dinner and it was pretty good, but I would have liked some sauce on my cake. Or something to make it a little more moist. However, the have a (I think raw) mango cheesecake that was always sold out when I was there, and it looks delicious. I had a chai tea latte that was good, but the one I had in Tokyo was a little better. All in all, a little average. The location is nice, it's part of a yoga studio and they sell health food store things too. The staff were very friendly, and one commented on my vegan t-shirt (hurrah!).
Do or don't? Maybe I'd go for coffee and cake, but not for lunch.
Food: 3.5/5
Atmosphere: 4/5
Value: 3/5
Vegans Cafe
BY FAR the best in Kyoto, people aren't exaggerating when they say that this is somewhere you have to go. I tried twice to go here and it wasn't until the third time that I finally managed. It was worth it, I just wish I'd been able to go a couple more times and experience the full magnificence of their Ice Cream Sunday with muffin crumbled all over it, I also didn't get to try their cake. I ordered one of their pizzas (creamy vegetable) with a thin crust (recommended), and it was so so good I would even compare it to Sfizy Veg in Berlin, which still holds the title of best vegan pizza I've had (except my own that I would make in Glasgow, hem hem) but only just.
And now the catch. They're only open 11.30-16.30, and they're closed on Wednesdays and Thursdays. Sometimes they're closed at other times, too, just for fun. The pizza is about 2000, but it will fill you up to bursting point and is worth it.
Do or don't? If you only eat at one place in Kyoto, go here. You can combine it with a trip to the Inari shrine, as it's nearby (the top rated tourist attraction in Japan).
Food: 4.8/5
Atmosphere: 4.5/5
Value: 4.5/5
Hiroshima – bonus city
Art Elk Cafe
There aren't any vegetarian or vegan places in Hiroshima, but there are a few vegan friendly places with vegan cake. I went to Art Elk Cafe, which has a small menu just for vegans including udon noodles, a tofu meal set, cake and coffee with soy milk. The owner is very friendly and speaks good English – very rare in Japan – and she's knowledgeable about vegans. The cake was soft and chocolatey, and came with fresh fruit scattered around the plate.
Do or don't? Do
Food: 4/5
Atmosphere: 4/5
Value: 4/5