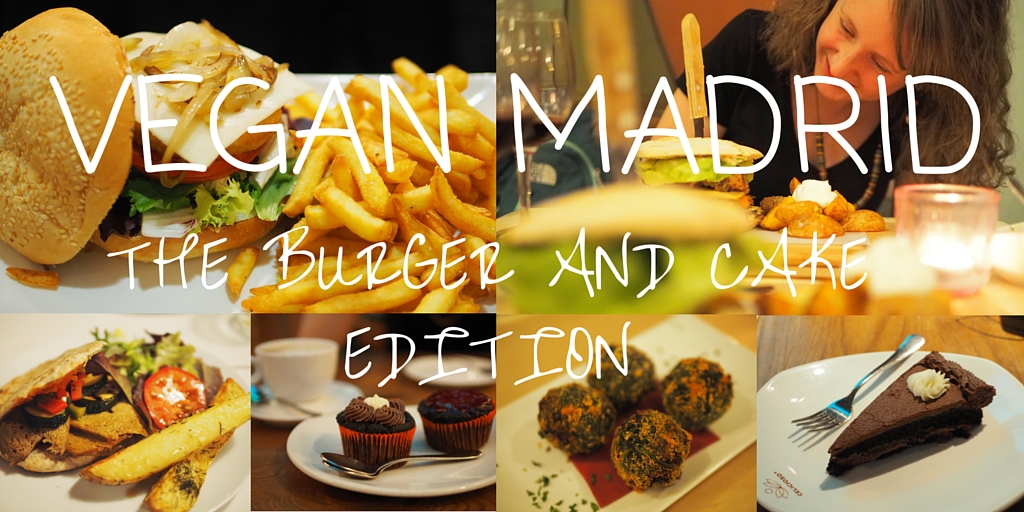 Honestly, Madrid as a city didn't excite me that much. Sandwiched in my trip between the beautiful, romantic cities and winding streets of Seville and Barcelona, it seemed a little… meh. Except for one thing: the vegan food. While most of Spain has a definite paucity of vegan food, Madrid's vegan scene appears to be booming. Here's my selection of what and where you need to eat when you're visiting the capital, depending on the mood you're in. Except, for some reason, I was permanently in a burger mood. And then I was confused today when I looked in the mirror at my expanded waistline. Totally worth it though.
BEST GOURMET BURGER – VIVA BURGERS
This is a birthday or special occasion sort of place, or a 'I want to taste on of the best vegan burgers in the world, because I'm just worth it' place. Don't be deceived by their size in the pictures, these burgers are massive. And the frustrating thing is, their starters are also pretty amazing, so you're going to need room in your stomach. As an appetiser we had the spinach and…… croquettes, which tasted much healthier than the other croquettes I tasted in Madrid, but were delicious in their own right. We dipped them in ali oli sauce, and then when the croquettes ran out I may or may not have eaten the rest of sauce with the spoon when I thought no one was looking. When it came to the burger options we had trouble deciding, they all looked so good! In the end, though, we settled on the…. and the… with an added slab of smoked vegan cheese. Despite the names of real cheese (including Emmental and blue cheese) being on the menu, it is in fact a 100% vegan restaurant. They were utterly delicious. My mouth is watering just thinking about them. If this was my last meal… I'd die happy.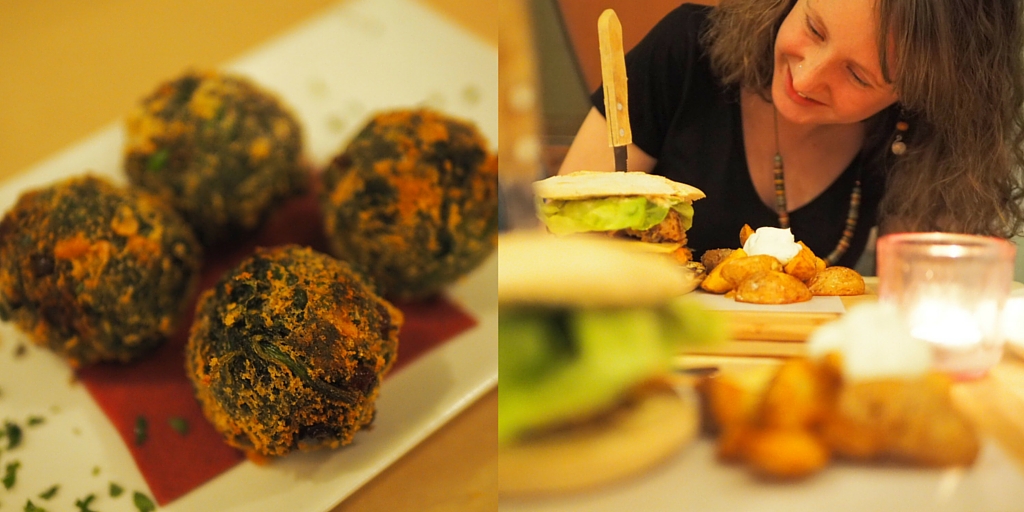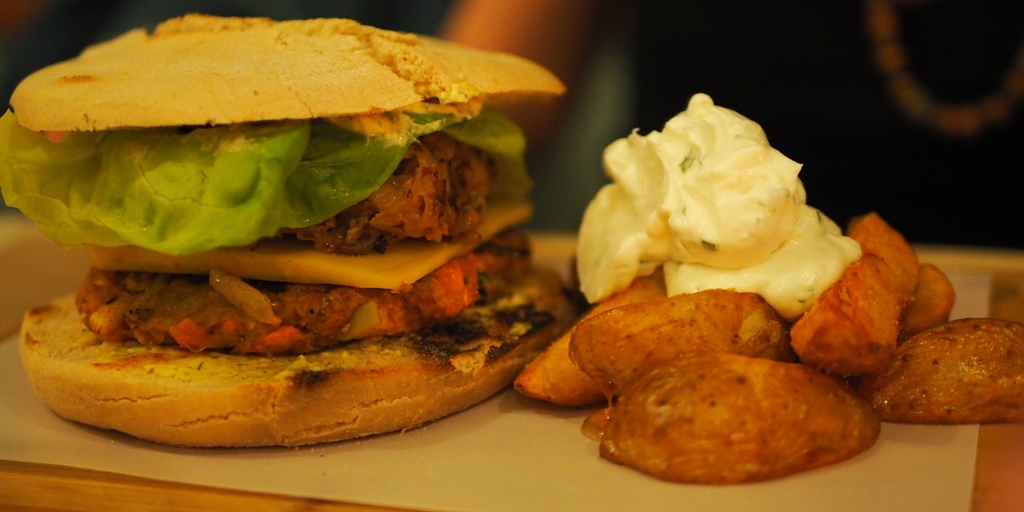 Cost: €13.50 + €1 for extra cheese per burger. €2.80 for a glass of wine, and €6.50 for the croquettes.
Taste rating: like angels dancing across my tastebuds.
Would I return?: wild horses couldn't keep me away.
BEST FAST FOOD STYLE BURGER – B13 BAR
It me three tries to find B13 open. Why haven't I learned to check the opening times, yet? When I got there, they didn't disappoint. They don't accept card, but you won't need much cash to fill yourself up here. I've a little bit fallen in love with croquettes, so they were an obvious order, along with onion rings and fries that were generous portions and pleasantly crispy. The burger patties were mock meat, Frys – unless I'm mistaken – but I use the same brand myself for the burgers I make at home, so I was perfectly content with them.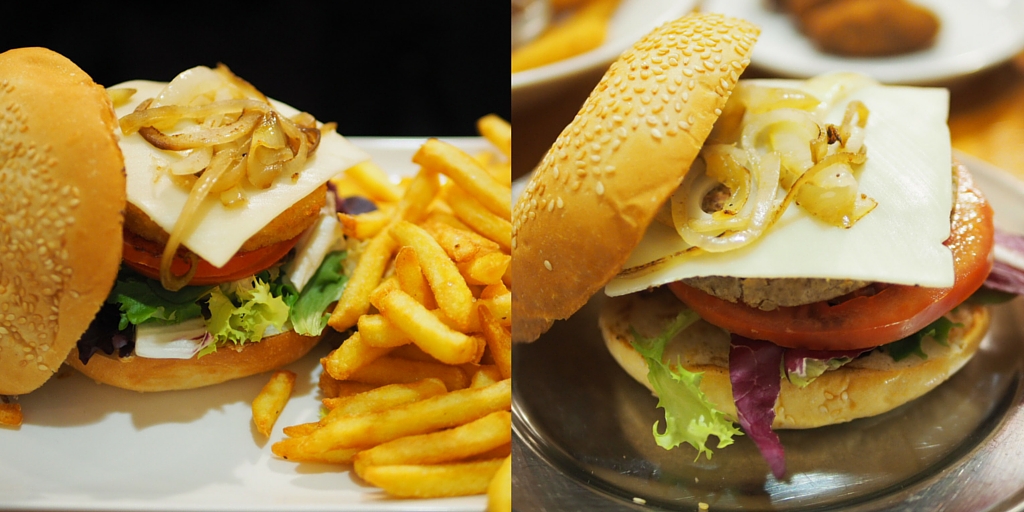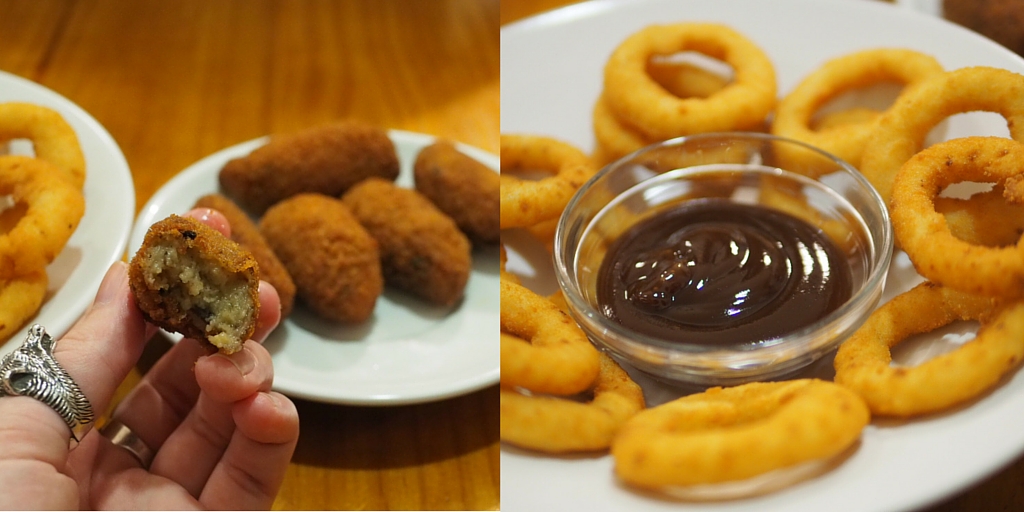 Cost: €20 for 2 drinks, 2 burgers, onion rings, a side of fries and croquettes, enough to stuff both of us.
Taste rating: like your guilty little secret turned into fast food, and wasn't so little anymore.
Would I return?: oh hell yes.
BEST ATMOSPHERE – OVEJA NEGRA

I have a soft spot for vegan places that are full of dogs and t-shirts/pins/patches for sale. It's not somewhere I'd take my parents, but I'd go there like a shot for a drink and some food with my friends. As we ate, a pug in a silly coat ran around happily getting attention from everyone, and then a greyhound in a jacket arrived who was clearly a regular. Trying to stray away from the burger habit I've got myself into, I ordered the chorizo in cider tomato sauce, and the croquettes (that's not a habit I'm abandoning anytime soon. Anyone got a good recipe for when I leave the country?). Spain being Spain, we were given a basket of bread top mop up the sauce with. My couchsurfing host ordered the burger, which looked decent.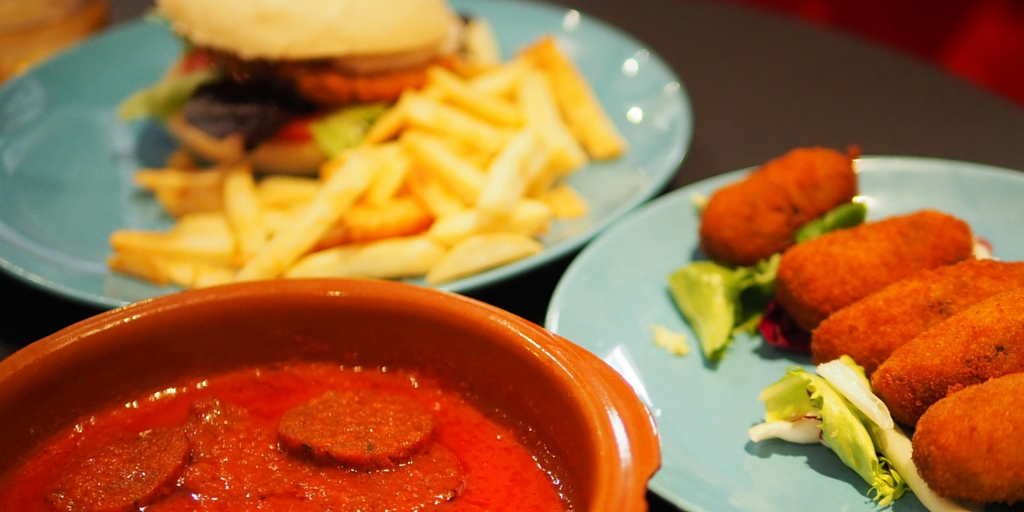 Cost: €20 for 2 drinks and our food.
Taste rating: like it needs some good company and great chat to complete the perfect evening out.
Would I return?: yep, and I'd bring my dog. (That I don't have, anyone want to lend me one?)
BEST TAPAS/LUNCH MENU – VEGA
Or… best non-burger option, judging by everything I ate in Madrid. I went here twice after B13 foiled me the second time, and we needed somewhere close by for lunch so I decided on a revisit. The first time we had the seitan steak with roast vegetables, and the patatas bravas, the second time was for lunch so it was the set menu – a choice between 2 of each of the starters, mains and desserts. We all chose the seitan kebab and the chocolate liquor dessert. The kebab came with roasted vegetables, which were delicious, and was a more refined kebab compared to, say, the sort at Vöner in Berlin. It was delicious.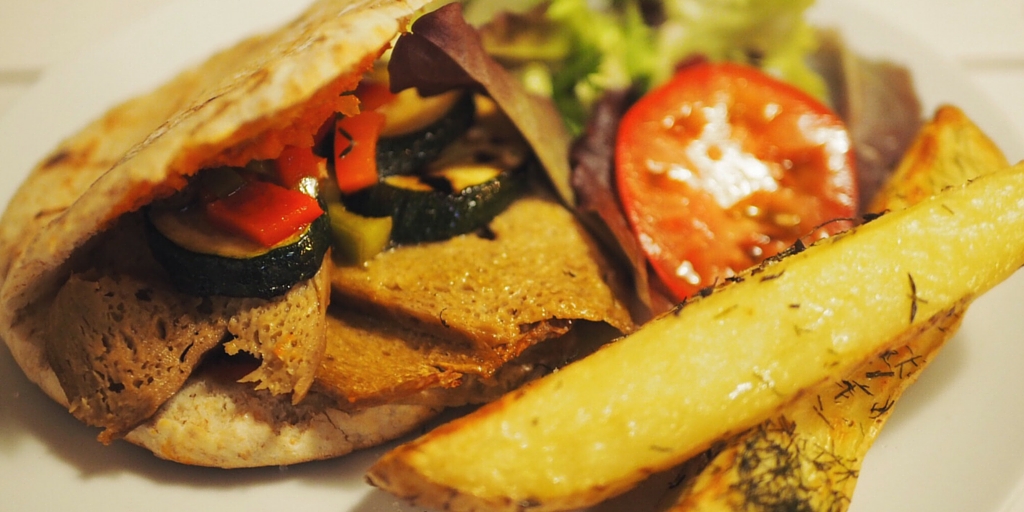 Cost: €11.90 for 3 courses on the lunch menu, €7.90 for two. Mains for around €8.
Taste rating: like the Tyrell's crisps of kebabs and steak plates.
Would I return?: I did already.
BEST COFFEE AND CAKE – CELICIOSO
Celicioso are totally gluten free, and have a clearly marked vegan section on the menu. A chocolate cupcake, a chocolate raspberry one, both of those in cake form, and a carrot cupcake. We remain a little unsure of what's actually in this, considering the vegan and gluten free aspect (I did ask later, they're rice flour), but they taste delicious. Actually I went back the next day. They're vegan gluten free, so they don't have calories, right?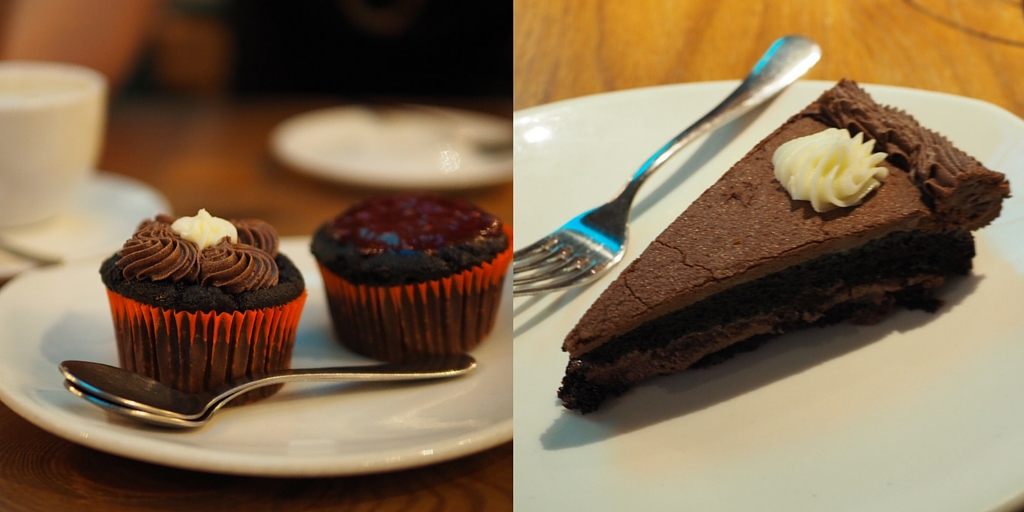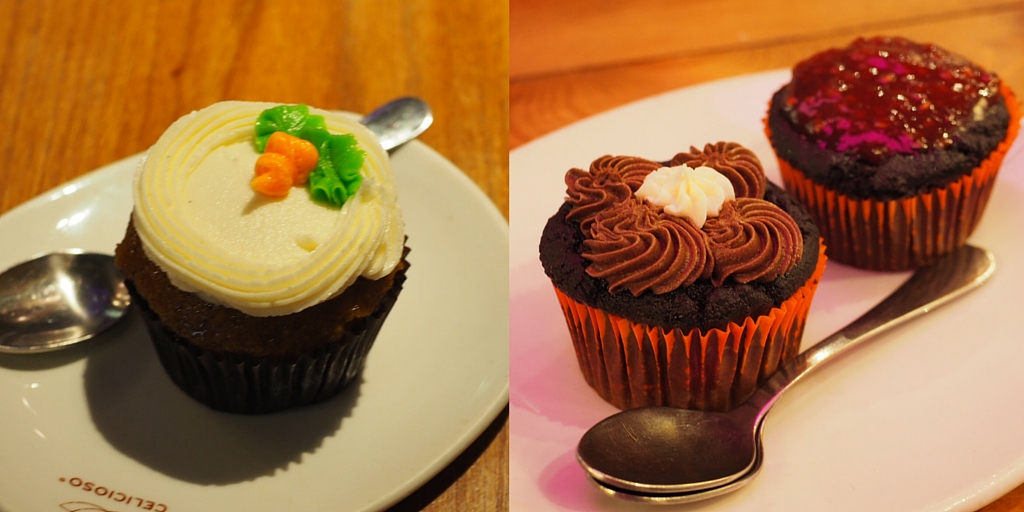 Cost: about €2.80 for the cupcakes and €3.20 for the cake.
Taste rating: like magical fairy candyfloss in the shape of a cupcake.
Would I return?: I went back a day later and got the cake…
Have you been to Madrid? Anywhere I really should have gone? I got into a bit of a burger loop, I must admit… let me know in the comments below.
Pin it for later: