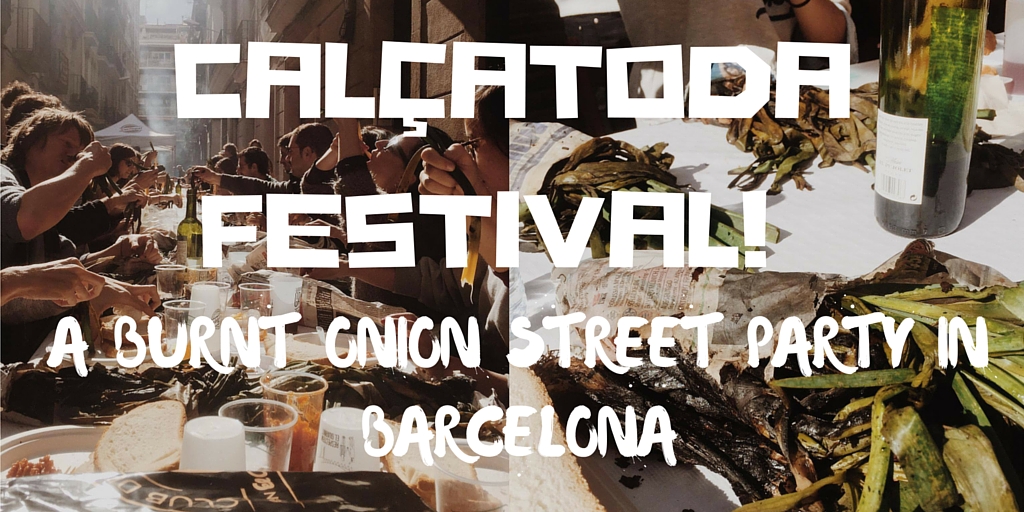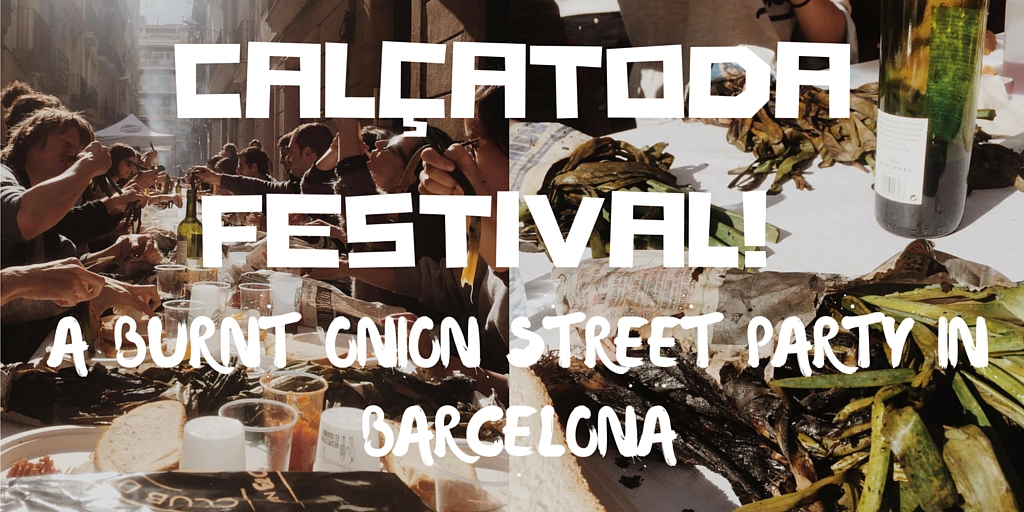 On the way to Barcelona, my Blablacar driver told me about this Catalonian food I had to eat called Calçots. "It's these grilled onions, in sauce," he said. I smiled politely, not really having a clue what he meant, and not thinking it sounded appetising enough to remember. The next day, however, I got a message from The Vegan Word saying her street is having a Calçotada party, there's a vegan menu, and do I want a ticket. 'Calçotadas…' I thought. That sounds familiar, isn't that the oniony thing?
Sunday morning arrives and the street party committee office is a hive of activity. Yes, there's actually a street party committee office (in what appears to be a large garage filled with papier mache animal heads from a previous event). By early afternoon, tables have appeared and already a crowd has formed. At 2.30, when we head out to find a seat before the 2.45 kick off, the street is swarming with people and it's only with great difficulty and a lot of negotiating in Spanish that we can find two empty seats. Somebody, clearly cannier than us, brought their own uncooked potatoes in a bowl. I'm not sure what they were going to do with them, but there they were, on the table.
Bread arrived, wine arrived, and after a while hot, blackened Calçots wrapped in newspaper arrived. Calçots are a variety of spring onion that are larger, sweeter and milder. Apparently they were created by  peasant farmer Xat de Benaiges at the turn of the 20th century in Valls in Tarragona Province, although their origin is disputed.
Normally a festival held in country villages in Catalonia, it was a little odd to see a street in Central Barcelona fenced off for a barbecue. They were served with the traditional romesco sauce, and slices of bread. As an alternative to the sausages, vegans and vegetarians were provided with a potato, an artichoke, and some roasted peppers.
To eat the Calçots, you have to peel off the black outer layers with your hands, getting the burned bits everywhere. Then you dip the fleshy inner into the sauce, again using your hands to mount a decent amount of nutty tomato goodness on the stem. Then you tip back your head, lift the whole thing high into the air, and lower it down into your mouth. Bite, chew, swallow, repeat. It will probably help if you bring a bib, and some baby wipes for afterwards when your hands turn everything you touch black.
The normal number to eat is 15. I stalled at 12. It was a lot of onion, but Caitlin managed the full 15 like an allium eating trooper. Whoever was DJing was having the time of their life – hopping from Coldplay, to Classical, to Salsa, to Reggae before you could say 'mas pan por favor!' The whole experience cost us €10 each, however if you don't like to display your onion eating skills in the public outdoors, you can travel to New York and have the experience recreated for only $100 a head. If you want to stay local, visit Catalonia in February or March to catch the Calçotada season.
¡Salud!
Pin for later: