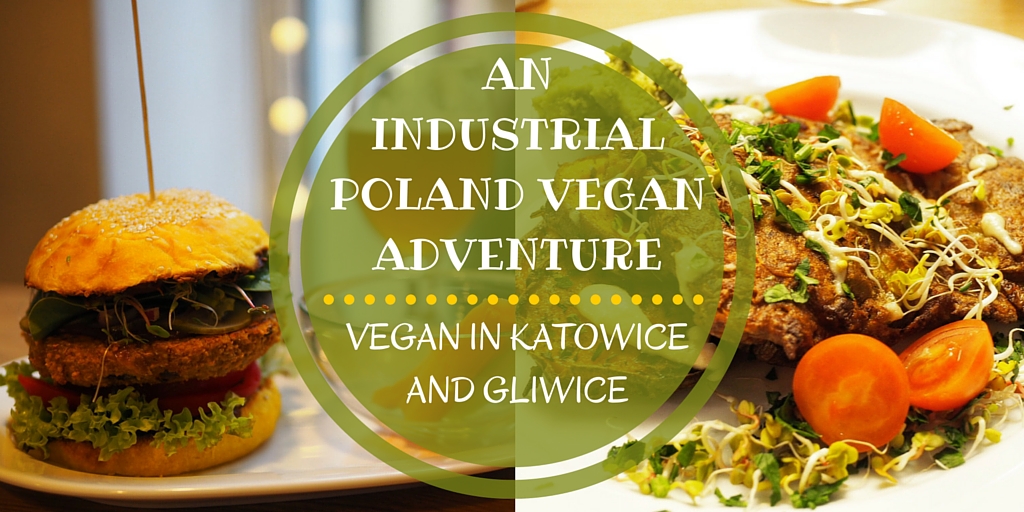 Poland. They're all about the sausage. Or at least, that's what my friends who live in Poland like to tell me. Being Vegan in Poland, or even vegan in Katowice and Gliwice, though, is a piece of vegan cake. Or a easy as vegan pie. Or as simple as vegan pierogi. Oh no, wait, that's not a saying… moving quickly on, here is my guide to vegan food in Gliwice and Katowice.
Like most countries, the larger cities have plenty of vegan options. On this particular trip, though, I wasn't in the big cities, I was visiting a friend in Gliwice. Gliwice is a pretty anonymous but nonetheless nice small city in upper Silesia, and home to just under 200,000 people – mainly Polish, with the occasional English teacher dotted amongst them. The English level in Poland is pretty high, so it wasn't too much of an issue finding food and I taught myself to read the basic non-vegan ingredients so I could read labels on biscuits etc. It's worth taking ten minutes to do this, especially if you're travelling on through Central/Eastern Europe as there are similarities/crossovers with other Slavonic languages like Czech and Serbo-Croatian.
Vegan – wegańskie
Vegetarian – wegetariański
Milk – mleko
Lactose – laktoza
Whey powder – serwatka w proszku
Yoghurt – jogurt
Egg – jajka/jajo
Cheese – ser
And if you want to eat out in either Gliwice or Katowice, here are some suggestions:
ZIELONY MOST BISTRO – VEGAN – KATOWICE
I was so excited to find this relatively new restaurant in Katowice, the first all-vegan restaurant in the city. When we went to visit it was one day after International Women's Day and so I was offered a free glass of wine, which was available to all women that week. They offer a decent range of vegan, organic wines and beers included a smoked banana beer that I tried later in the evening. Sounds weird, but tastes pretty decent and not at all like bananas, thankfully! The menu is constantly changing and improving, so instead of a paper menu you have to check the chalk board. It's not in English but the lovely staff are more than happy to translate and offer recommendations. The restaurant is dog friendly, and they support a local dog shelter and provide food and water for visiting canines.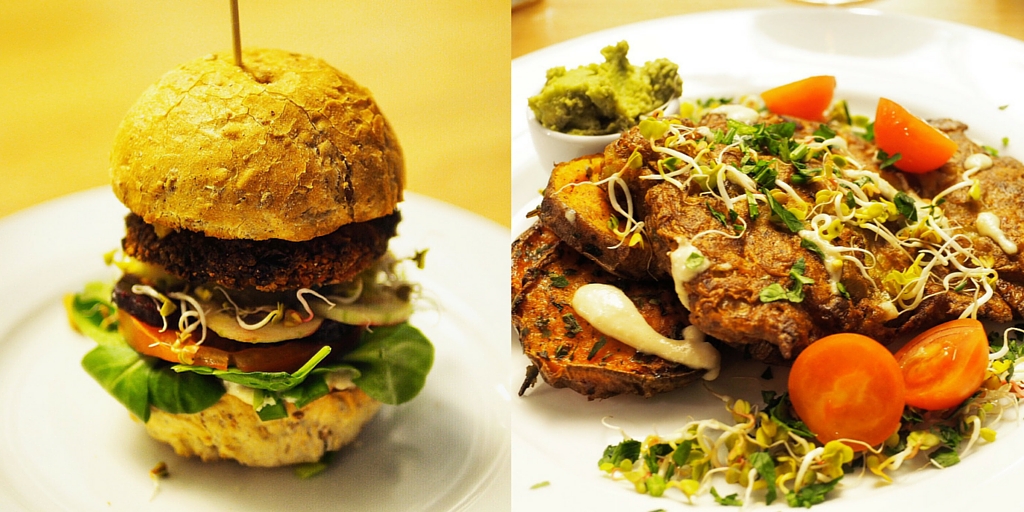 The food itself is excellent – very tasty, decent portion sizes, creative, and very reasonably priced. The only part of the meal that I felt let the restaurant down was the dessert, but considering the work they're putting into constantly improving the menu I have no doubt that chef will develop excellent desserts in no time at all.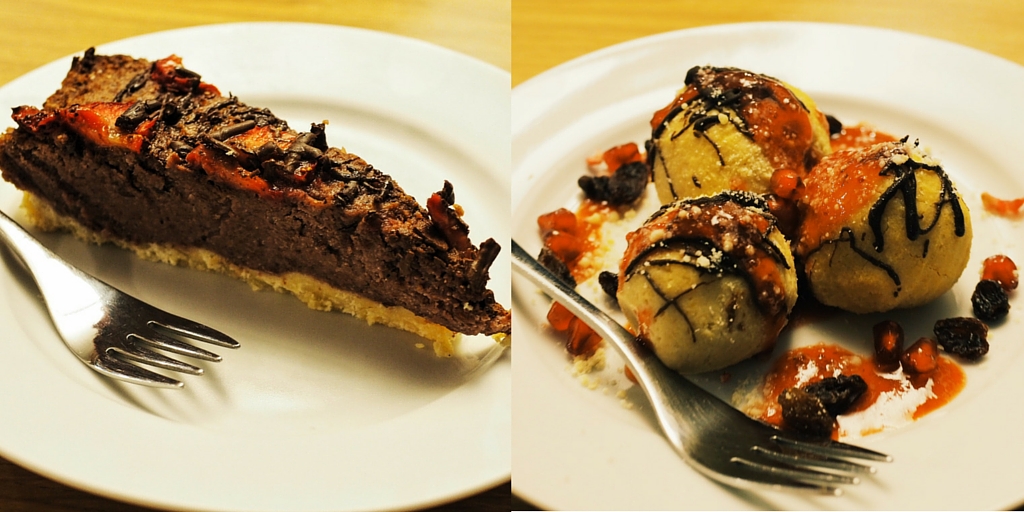 I tried the leek rosti with roast sweet potatoes and an avocado dip, and it was divine. My friend had the big vegetable burger – apart from the fact that I love the name, it was also excellent. A hearty and healthy vegan burger.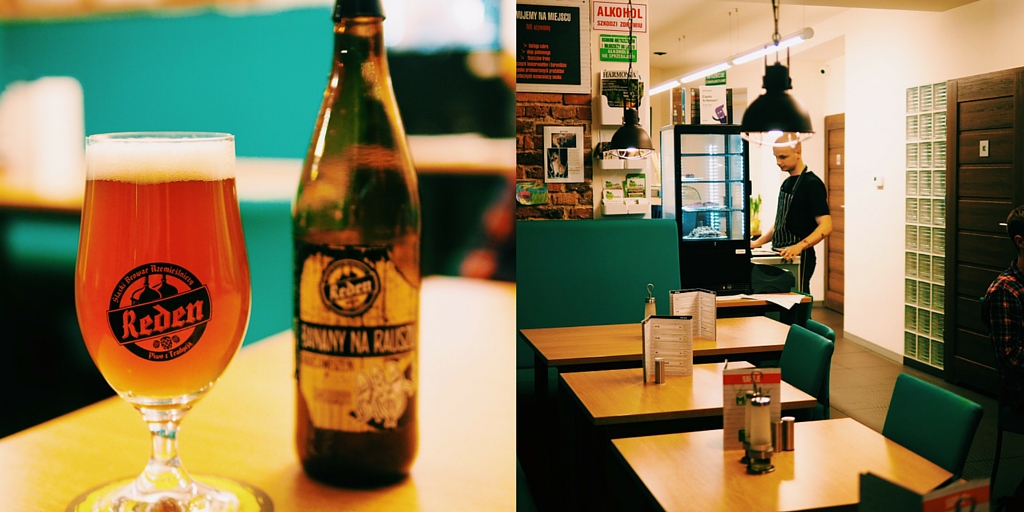 Taste rating: healthy, satisfying, full of flavour.
Would I return?: Definitely
MIHIDERKA – VEGAN – GLIWICE
Mihiderka is also a pretty new restaurant, and it the first fully vegan restaurant in Gliwice. The menu isn't in English here, either, but one of the staff members has excellent English and will happily translate and help you choose if you're stuck between all the options. Mihiderka has a large range of burgers, and some veganized variations of Polish food. I had the Zapiekane which was similar to a shepherd's pie but with lentils, and I then had the tofu baked cheesecake to finish. My friend had the sweet potato burger and an IPA beer. While I was waiting for my Zapiekane they gave me a salad to keep me busy, standard procedure for the Zapiekane as it takes a little longer.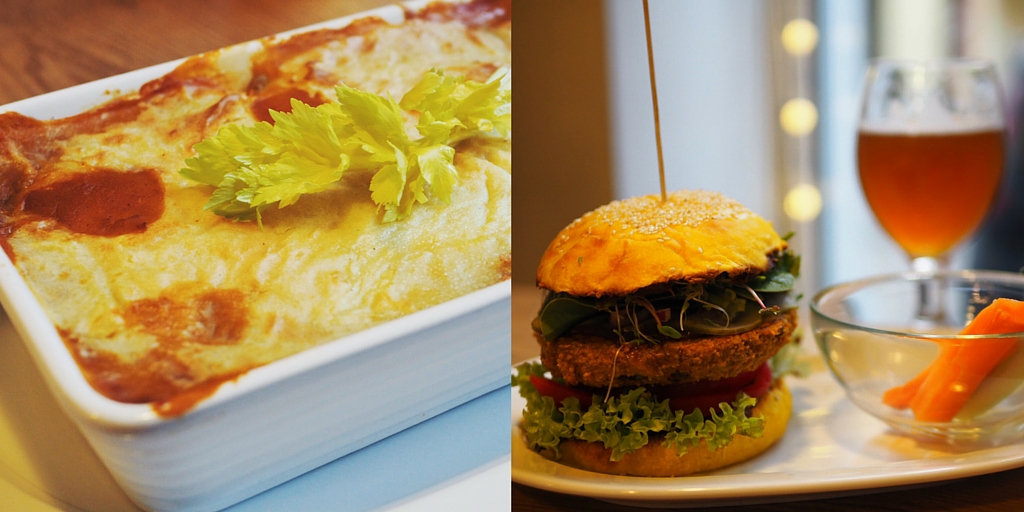 The only thing I wasn't sold on was the cheesecake, but then I'm not a fan of baked tofu cheesecakes in general – I've never especially found one that manages to disguise the savoury texture. Otherwise, everything was tasty and the portions we large. The price was exceptionally reasonable. We left stuffed and happy, and ready to deal with the cold outside.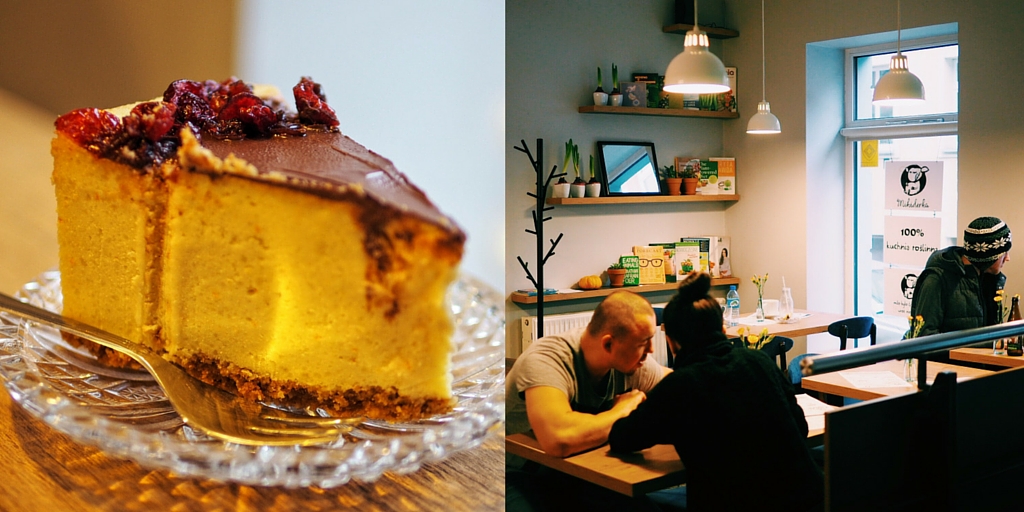 Taste rating: good enough to pretend it wasn't cold outside, and to blanket my spirit and soul with warm feelings for when I stepped back out into the freezing weather.
Would I return?: absolutely, in fact I met another vegan who lives in Gliwice who goes every day, and I can see why.
BO TAK WEGE PRZESTRZEN – VEGETARIAN – KATOWICE
Bo Tak is a more established vegetarian restaurant, with vegan alternatives and options clearly marked on the menu. I liked the venue a lot, as it seems small downstairs but is light, airy and spacious upstairs with a lot of tables. The waitress was friendly and helpful. We didn't have much time here, so we only tried one dish which was the mushrooms stuffed with olives and vegan cheese. We had to wait a little longer as the waitress told us the first one they made was too small, so because we were sharing she'd sent it back. This was very considerate of her, but the dish that arrived made us both wonder how small the first one was that this one was bigger! Each of the mushrooms was the width of my thumb. They were nice but not exceptional, but I'd like to try a few more things off the menu.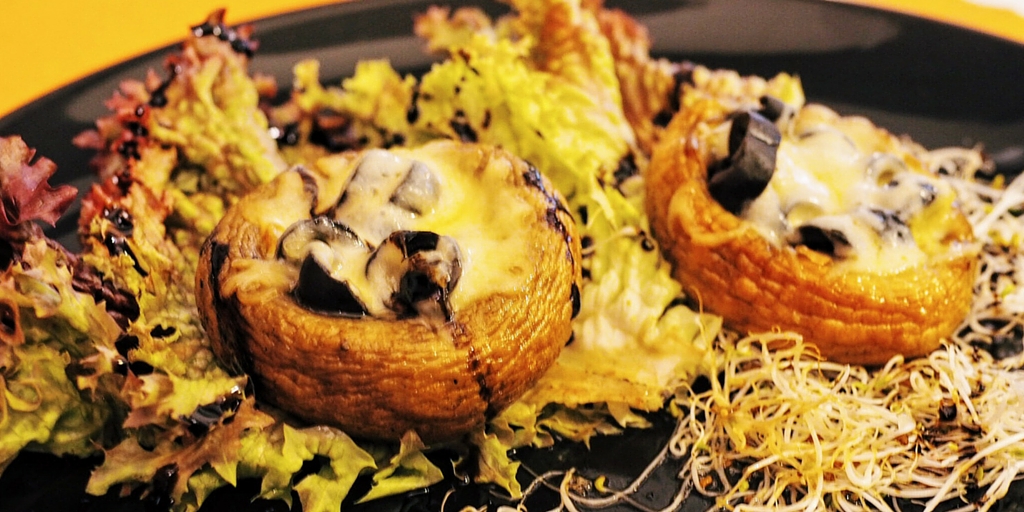 Taste rating: like mushrooms, olives and vegan cheese.
Would I return?: They did a good soy latte, so I'd go back for coffee and to try a different meal, but I wasn't especially impressed by how many vegan options there were on the menu, and thought the mushrooms were overpriced for the size.
ZŁOTY OSIOŁ – VEGETARIAN – GLIWICE
We went here for lunch, and of all the places it's definitely my favourite for the decor. The food is a buffet with clearly marked labels in all dishes stating if they're vegan or vegetarian, and if they're gluten free. At least 50% of the dishes were vegan, and they were extremely well priced although the portion size seems to vary.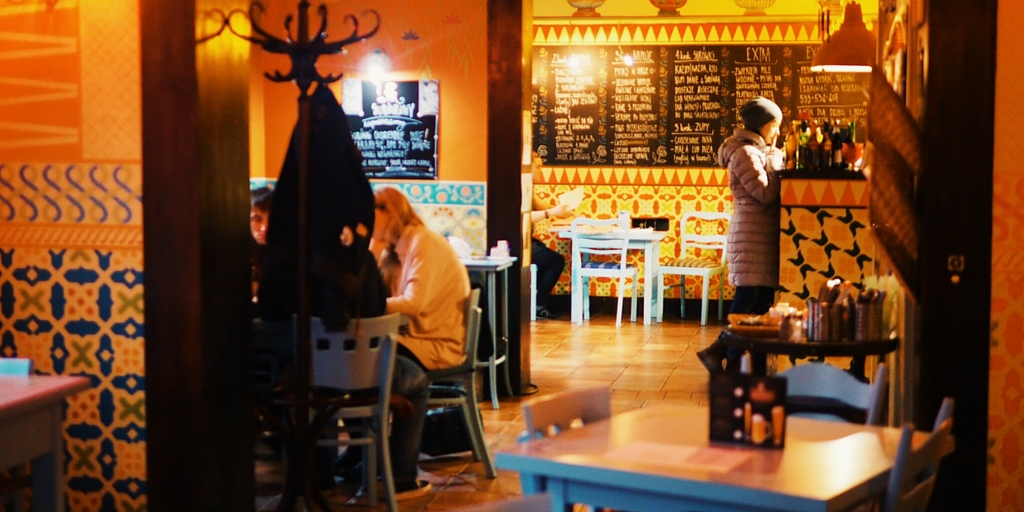 My friend ordered the goulash, and got a plateful, while I ordered a vegetable slice of sorts, and it was considerably smaller. There's a free salad bar that you can help yourself to once you've ordered a dish, but being Poland everything is pickled and fermented. The food was good and hearty.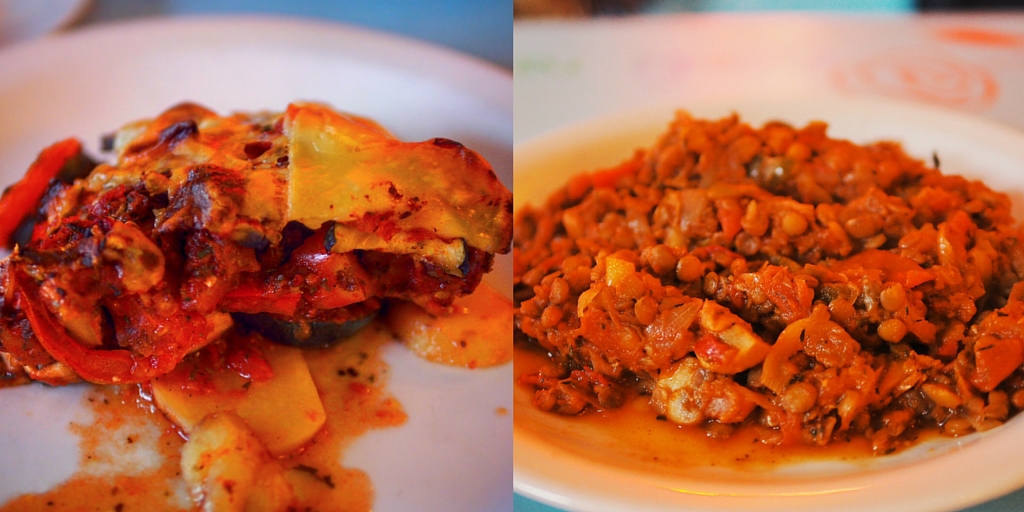 Taste rating: like a home cooked meal on a cold winter day.
Would I return?: For a cheap lunch that will fill me up for the afternoon, definitely.
HEADING TO POLAND? PIN IT FOR LATER: