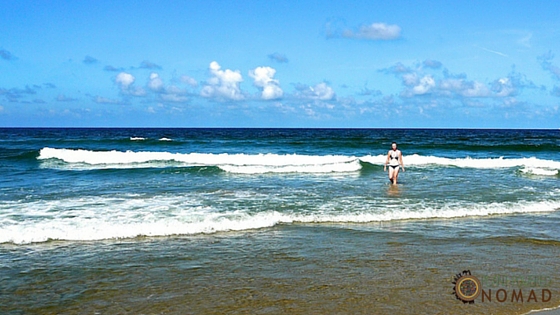 Looking for a place to stay in Hoi An that's a little bit different? Somewhere close to the beach, social, full of cool people but where you'll still get a solid night's sleep? Look no further than Under the Coconut Tree, a place where people come for two days and stay for two weeks.
WHERE TO SLEEP
Under the Coconut Tree offers family rooms which you can rent as a group, dorms which are open air, and beautiful private rooms that have space between the walls and the ceiling for a breeze to waft through. The music and the lights go off at 10, and everyone gets a lot quieter so I slept soundly every night here, and woke up early when the sun got strong.
WHAT TO EAT
Under the Coconut Tree have a bar and a restaurant with the same, more or less, prices as the restaurants outside. There's a decent choice for vegans and vegetarians, and both Western and Vietnamese food. Everything I tasted was good, although I particularly liked the chilli and lemongrass tofu. The restaurants outside are excellent, too. If you're vegan/vegetarian I particularly recommend The Tamarind Tree across the street who have an extensive veggie friendly menu and the best fried spring rolls I tasted in my time there.
GETTING AROUND
There's a scooter rental shop right across the street where, for 80,000VD ($4) a day, you can rent an automatic scooter to buzz around on. The roads in Hoi An itself can get a little busy, but the road in and out  of the town is a straight road and safe enough to drive on. It will take 10 minutes to motorbike in, or half an hour with a push bike. If motorbikes aren't your style, a taxi is around 70-80,000VD and a mototaxi is 40-50,000. Make sure you agree a price before you get in, or ask the driver to switch on the meter. Be careful at night when it can be a little dodgy – agree the price, and be careful of your money as they'll swap the 100,000 you gave them for a 10,000 and then ask for more.
WHAT TO DO
I spent a lot of time in Hoi An itself, which is beautiful and very pretty to walk around and explore at night when the lantern festival happens. It's also an excellent point to do day trips from. For the fish eater, right up the road is a man who runs cooking classes that are smaller and more personal than most. For a veggie option Minh Hien Vegetarian Restaurant in town runs vegetarian cooking classes. For motorbike day trips, you can go to My Son. Located 50 km from Hoi An, My Son was an imperial city during the Cham dynasty between the 4th and 12th centuries. You can also drive the scenic Hai Van pass, or keep going to a lake a little further away.
Cham island is another day trip, or if you prefer hiking you can visit the Marble Mountains. At night relax with a cocktail at Soul Kitchen up the road from Under the Coconut Tree – they have live music every night. More often than not, though, you're just going to find yourself relaxing on the beautiful beach that's only a minute's walk from the hostel.
THE STAFF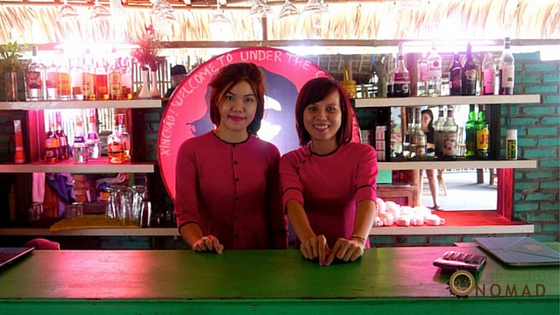 Without a doubt, what makes Under the Coconut Tree really special is the wonderful staff who work there. Aside from the staff on the front desk, the housekeeping staff are a comedy team who bumble around laughing and pinching the bottoms of the long-terms stayers. On my first night there, the man in the bottom bunk of my bunk bed crashed his motorbike. Everyday housekeeping would arrive and clean him up, putting iodine and fresh bandages on his wounds. In the afternoons they would check up on him, then tweak his nose and tut at him. Having subsequently crashed a motorbike myself in Cambodia, which has also left me with a lot of wounds and bandages that need changing, I can confirm that this is definitely not standard behaviour for hostels. I would have given my one remaining undamaged leg for the wonderful housekeeping staff to wander by each day and tend my wounds. The staff on the front desk are equally wonderful, and we all hugged goodbye when I left. In the week I was there, Under the Coconut Tree became family and a home.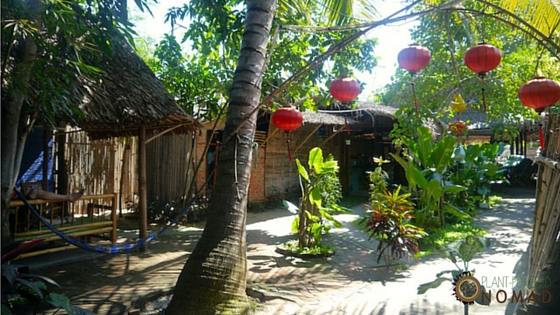 Under the Coconut Tree books up fast, so make sure you make a reservation. Book your stay here.
Disclaimer: all the opinions in this are completely my own, but if you book through the link above I'll make a tiny commission at no extra charge to you, which allows me to travel for a little longer and keep writing useful posts.