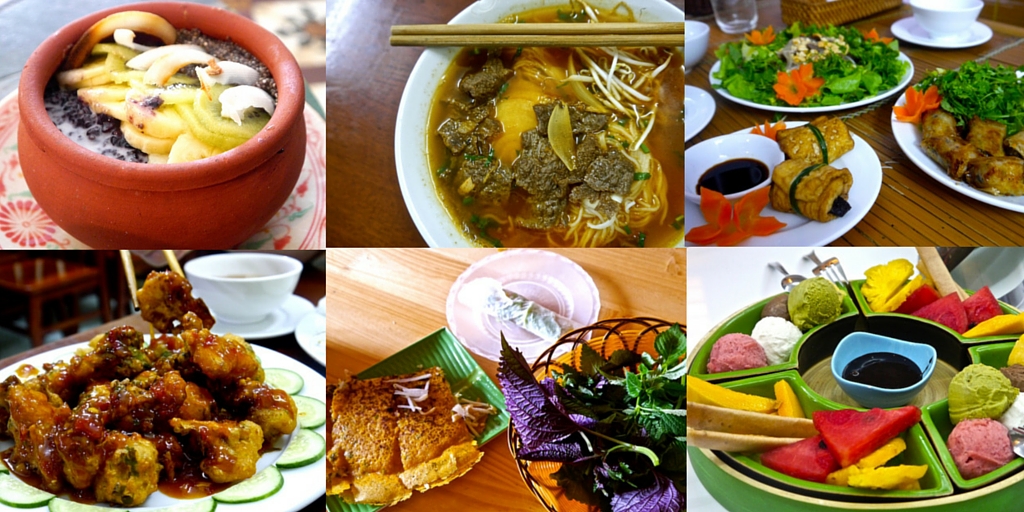 There's no shortage of vegan food in Hanoi. In fact, in nearly two weeks there I only got round about 2/3rds of the restaurants, and that's with my appetite, too! I even found a few more places that aren't on Happy Cow. Despite the crazy scooter traffic, hassling street vendors, and smoggy pollution blocking the horizon, I fell in love with Hanoi. It's vibrant, crazy, and full of life and – most importantly – food.
First off, get your lingo down. My wonderful friends at Vegan Food Quest have written a handy guide of how to say your dietary requirements in Vietnamese, as well as a guide of what's what in case you're confused by what you're ordering.
Secondly, allow half an hour more than you think you need to get there for when the address has moved. I've tried my best to update the locations on Happy Cow, but the pin doesn't always send you to the right location regardless. There are so many little alleys in Hanoi, and at the end of the day, it makes finding them more rewarding (I think afterwards, anyway. Hangry me doesn't really agree.)
100% VEGAN RESTAURANTS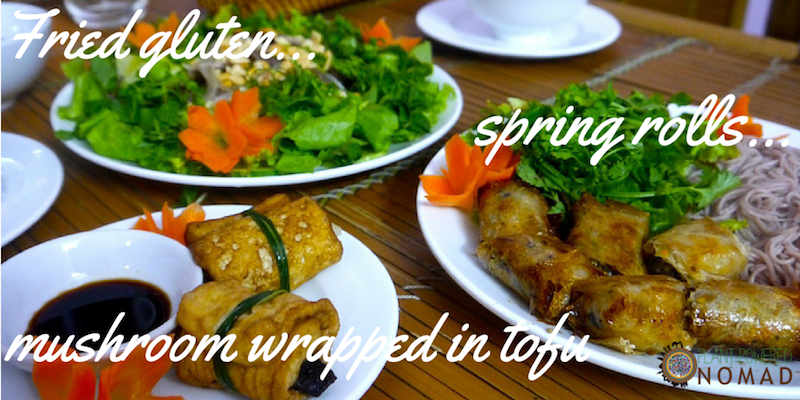 May Trang/White Cloud
White Cloud had just, literally just reopened in their new premises the night I visited. It was also their 6 year anniversary since they first opened. As a result their menu was limited, but the lovely owner gave us a load of food and refused to let us pay, because it was a special occasion. The food was delicious, light and full of flavour. I'd love to go back some time and try more from their menu.
Note: on Happy Cow it's changed to saying closed since I went. I don't know if this is because they've closed since I was there, or if it's because someone went to the old address and reported it closed. If you go please let me know! Open lunch and dinner times, closed Sundays.
New address: No 299 Au Co street, Tay ho District, Ha Noi, Viet Nam.
Tel: 0912143647 Homephone: 0466517859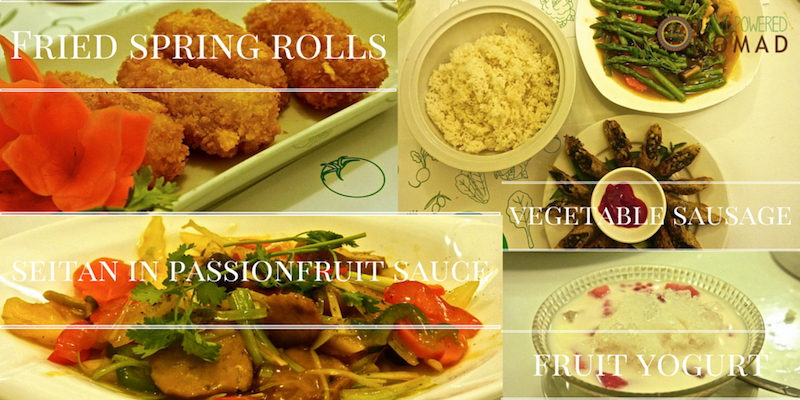 Hieu Sinh Vegetarian Restaurant
Hieu Sinh only opened in July 2015 and is a little further out than some of the other places. It's well worth the visit though. Unlike most of the fully vegan restaurants in Hanoi, Hieu Sinh doesn't do mock meats. Everything I tried was delicious, especially the spring rolls which are breaded and fried, and the vegan yoghurt which is sweet and creamy and doesn't have the curious sour taste of some soy yoghurts in Asia. I tried to go back a second time early in the morning and they were closed, so the hours on Happy Cow aren't correct and need checking. They're open till late in the evening, though. If you're vegan in Hanoi, don't miss visiting Hieu Sinh.
Bo De Quan
I here went with a friend after a Muay Thai class, and we were both extremely hungry. We tried to order everything on the menu, and the woman looked at us (two 130lb, quite tall women) in horror. 'Too much food!' 'We're really hungry!' we said. Perhaps luckily for us, they didn't have half the dishes on the menu (a common theme in Asia) and we had to settle for the two soups, some spring rolls, and a Vietnamese pancake. The banana soup came with rave reviews, but although it was good we both agreed we preferred the other one which was a stew like concoction. The spring rolls and the pancake were both good, and all of it set us back hardly any money at all. Towards the end of the meal a rat wandered up to the counter and started helping itself to some fresh broccoli in a bowl. The woman came in, saw the rat and screamed a lot of Vietnamese at it, then looked at us and split her sides laughing. If you're used to the food hygiene standards in Asia, then go here. Don't worry, you're not going to get ill. The food is good, cheap and hearty. But if you're expecting a Western style place, maybe think twice.
Truc Lam Trai
Truc Lam Trai isn't quite vegan as they still use honey, but it's definitely somewhere to check out. They have an extensive menu of mock meats that are tasty but not too real to freak me out, although the Ukrainian couchsurfer I went with didn't realise it wasn't really fish that he was eating until we told him it was vegetarian. It certainly looks real (unlike the chicken). Truc Lam Trai wasn't the cheapest place, but neither was it expensive and it's was tasty and lots of food. Worth a visit if you like mock meats.
Com Chay Ha Thanh
Don't follow the directions that Google maps will send you to for this one, it took us about half an hour of wandering to find it. Follow the alley and street address. 116 Ngo 166 Kim Ma – go to 116 Kim Ma, go down 116 Ngoc (the alley) then turn left at the first left, walk for about 20 second and it's on your right. Don't give up! It exists, and once you've found it once you can find it again. It's really worth it. They have an English menu, although they don't speak English, and they have a huge range of food that is excellent. This is one of my favourite local places that I ate at. The food was exceptional, especially the cauliflower – it was a little but different. Take the time to find this place, you won't regret it.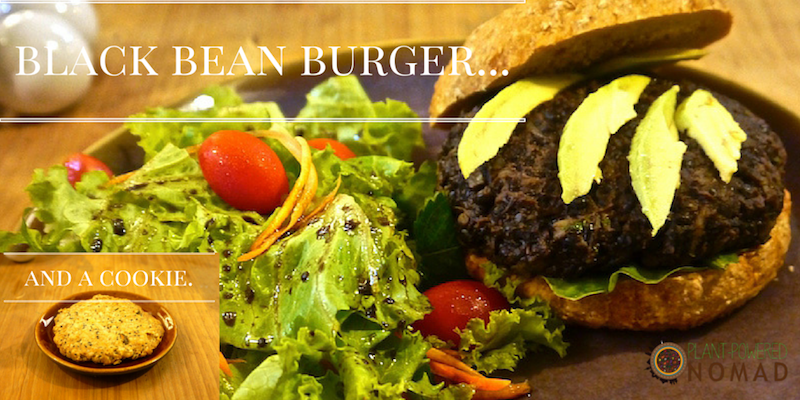 Zenith Yoga Cafe
Vegan, not vegetarian like Happy Cow says. The only place in Hanoi to get vegan cake, although they had sold out when I went there. I had the black bean burger and the cookie. The bean burger needed more flavour and a sauce of some sort – it was very dry – but other than that it was good. The cookie was very dry and more like a biscuit to dunk. Sadly I couldn't finish it. The shakes were delicious. It's the most expensive restaurant in this list, but I would go back to try some other options and take a Yoga class with them. The studio itself is beautiful and the staff are friendly.
VEGETARIAN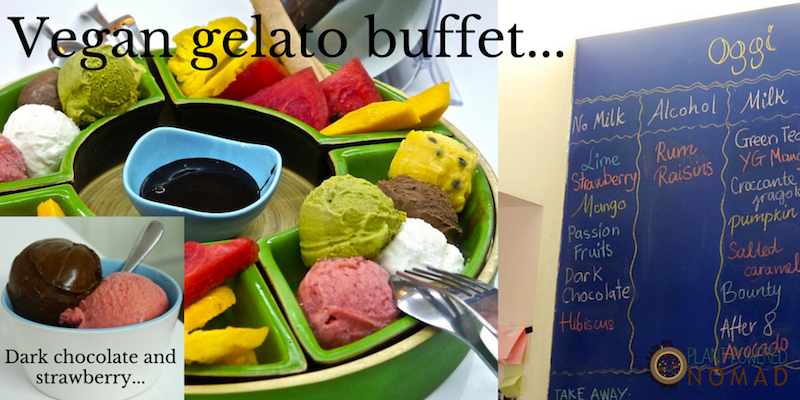 Gelato Italia
This is one of those really really exciting discoveries. Gelato Italia is an Italian run ice cream shop in Tay Ho, and it's really, really good. Especially the dark chocolate. On one of the days I went, I discovered that I'd got there just in time for the all you can eat buffet for only 110,000D (about $5). I made myself a little ill that night. They have a list on the board of what's suitable for vegans, and their list changes regularly I've heard. It's hard to find good vegan ice cream options in Asia, so this was a very exciting find.
OMNI (WITH VEGAN OPTIONS)
The Hanoi Social Club
This is one of those 'chill here all day' places. They offer a vegan breakfast of a coconut chia bowl, which is delicious, and they have vegan options clearly marked on the menu. They also have homemade soy milk, which curdled and developed a weird cakey consistency when it was turned into a latte. It wasn't pleasant. The music is good, the staff are lovely, and they have a handmade jewellery store on the first floor that has beautiful and original handmade items. I couldn't resist buying a couple of pieces. They also sell vegan chocolate. They just need to get their latte sorted! The prices here are more Western prices, but the portion sizes are good, as is the food.
Joma Cafe
Joma Cafe are a chain that you can find all around the city, and of all the cafes I found they're the best option for vegans. They have Arabica coffee (read about why Vietnamese coffee isn't vegan here) and soy milk that makes a pretty tasty soy latte. They also have a few soup options (although make sure you ask for no cream) and a couple of Western style hummus/veggie options – a plate and a wrap. If you're looking for somewhere to sit and work with a coffee and some food for a few hours, I definitely recommend Joma Cafe.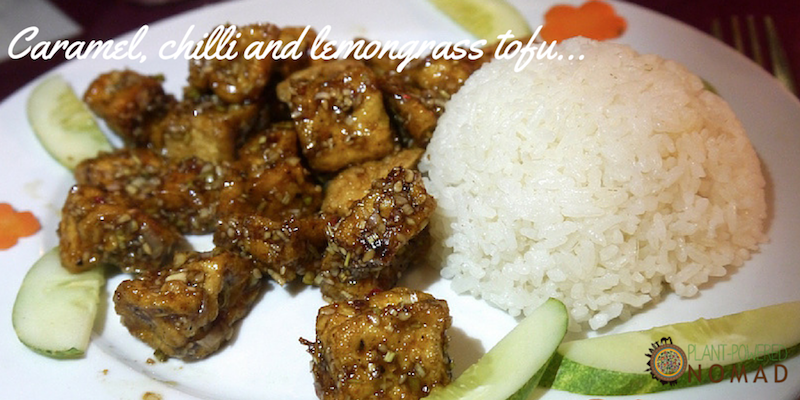 Aubergine Cafe
Aubergine Cafe was the first place I ate when I arrived in Hanoi, and it was good – really really good. The options were a little different to the usual ones, and the decor is quite cute and endearing. The staff are very welcoming and lovely. For a busy backpacker area, the food was a very reasonable price and I meant to go back several more times during my stay in Hanoi, I just never made it. There's a clearly labelled vegetarian menu, and f you're in the area and looking for somewhere for lunch, definitely give Aubergine Cafe a try.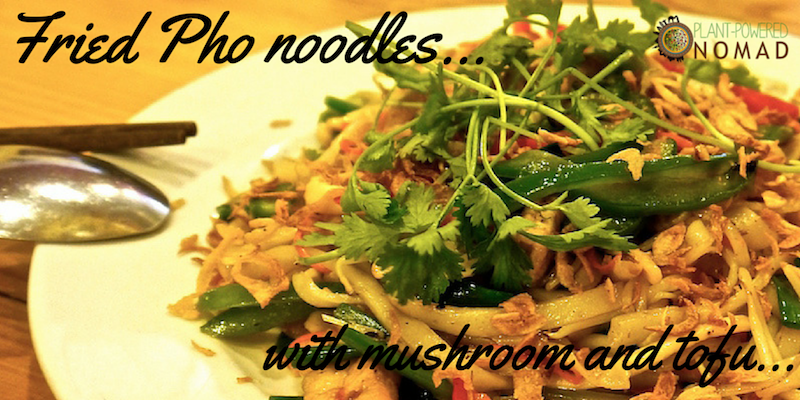 Minh Thuy's
Minh Thuy's is another omni place with a clearly labelled vegan menu, although you have to ask to not have egg added to your food. It's good Vietnamese food in a convenient area, and is a very decent price. There are lots of options for vegans, and you should definitely wander in for a bite to eat if you're in the neighbourhood and hungry.
There are still quite a lot of places I didn't get to on this trip. Have you found more places in Hanoi that are vegan friendly? Let me know in the comments below.