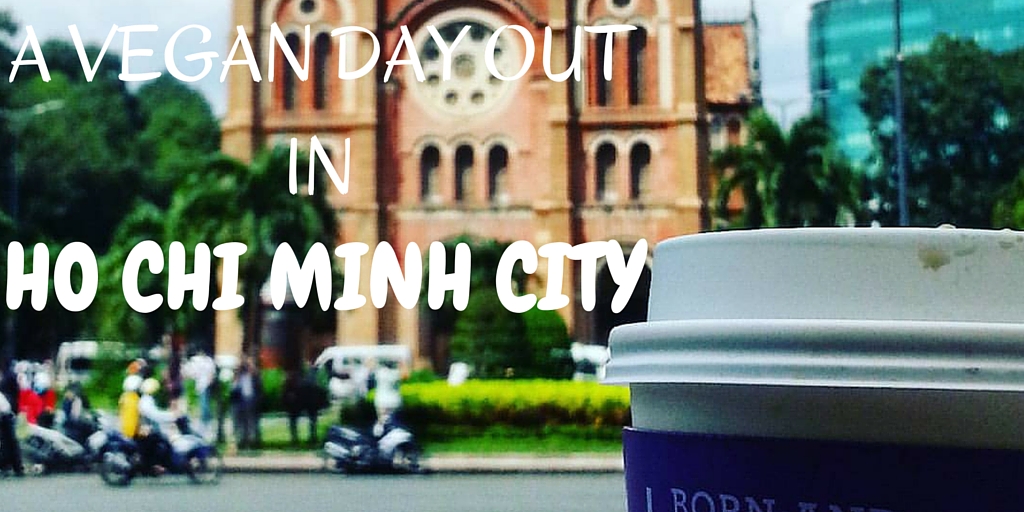 There are plenty of places in Vietnam to get stuck for longer, but Ho Chi Minh City – or Saigon to some – isn't one of them. It's fast-paced, polluted, and bustling. Some love it, some hate it. Start early, and you can get a decent amount of things seen and experienced in just 24 hours. Here's my guide to where to eat, what to do, and where to sleep if you have just one day in Ho Chi Minh City.
WHAT TO SEE
The War Museum should, naturally, be at the top of your itinerary. Get a jump start on the day by grabbing a coffee and heading to the cathedral and post office, which are quick to whizz round. I avoided Vietnamese coffee while I was in Vietnam as the beans are such poor quality they're roasted in butter or animal fat to give them flavour (read more here) so I opted for a soy latte from The Coffee Bean and Tea Leaf. Expensive for Asia, but large, caffeinated, and vegan. We settled for just admiring the outside of the cathedral. From what I can work out, getting inside requires a tour and having seen the inside of the real Notre Dame, I doubt it's worth the money and time. The outside is pretty spectacular though, and exceptionally un-Asia. If it wasn't for the scooters whizzing around it would be easy to forget what city you're in.
Head into the post office after the cathedral. Find postcards, write them, and post them here too if you're a decent enough family member to do that (I haven't send my parents a postcard in far too long). You're in the post office after all, so why not? You don't need long to visit here (and it's free!) so just wander round it staring at the majestic architecture of French-Colonial rule, then wander out and try to find your way to the war museum.
The war museum is open from 7.30am-12, then closes for lunch and doesn't reopen till 1.30. Allow a couple of hours to read everything. I think I spent about two hours here and although I read everything I moved fast, so you might want to allow a little more just in case. The war museum is truly an unmissable part of Ho Chi Minh. If your dark tourism desire isn't sated, then you can try to squeeze in the War Museum in the morning and then the Cu Chi tunnels in the afternoon. Because it was a beautiful day I enjoyed just wandering round in the sun and looking at the architecture – until it started raining, that is.
WHAT TO EAT AND DRINK
If you still have an appetite after seeing the results of Agent Orange, then head round the corner to Hum Vegetarian. It's not vegetarian, not vegan, but there are a lot of vegan options and the staff are happy to help. It's pretty pricy, but it's one of the best places I've eaten in South East Asia as it blends modern vegan and raw vegan cuisine and Asian cuisine together in a wonderful mixture of colours and flavours.
If you're looking for somewhere to go later, then Saigon Vegan is right next to the main bar area and is a good place to watch the world go by from over dinner, before you head out yourself to get a drink and explore the area.
WHERE TO SLEEP

I went for a little more luxury in Ho Chi Minh than I usually allow myself, and stayed at The Common Room Project which I highly recommend. It's a gorgeous and luxurious hostel hidden away down an alley in a huge old house. It feels more like being guests at someone's country house than staying in a hostel. There are kitchen areas attached to every dorm, large comfortable beds with mattresses that are one and a half that of a single, and the common area downstairs is beautiful and friendly. It's an easy place to meet people and is definitely worth splashing out on. You can book your stay here.
What would you put on your must see/eat list if you only have one day in Ho Chi Minh City? Let me know in the comments below.
Disclaimer: all the opinions in this are completely my own, but if you book through the booking link above I'll make a tiny commission at no extra charge to you, which allows me to travel for a little longer and keep writing useful posts.