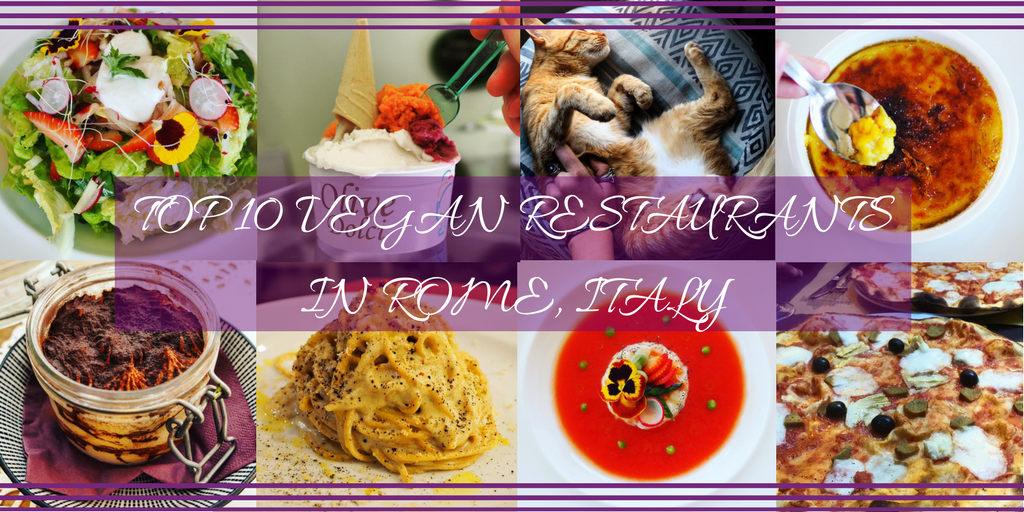 This is possibly my favourite city guide that I've done (and one of the biggest, crikey!). Rome, one of my favourite cities in the world, plus some of the best vegan food I've ever eaten? Heaven. So without further ado, on to the food, because as Caesar would say: veni, vedi, cenavi – I came, I saw, I ate.
Fine Dining

Ranging from the extremely high end to the price of a nice meal out, this is my selection of vegan and vegetarian restaurants in Rome that are something special, and not to be missed.
HOTEL RAPHAËL – vegetarian
At the end of 2015 Hotel Raphaël turned the hotel eco and organic, and the restaurant became entirely vegetarian. The restaurant is on the terrace, and in nice weather you can sit out and look over one of the best views in the city. Not only that, but the menu was designed in the style and with the help of Pietro Leeman, one of Italy's most renowned vegetarian chefs and the creator of Joia.  Each dish is so beautiful that I wanted to frame it and hang it on my wall, but luckily I overcame that urge and ate the food instead. It was as delicious as it looked, and I especially liked the addition of pansies on each of the dishes to tie them all together.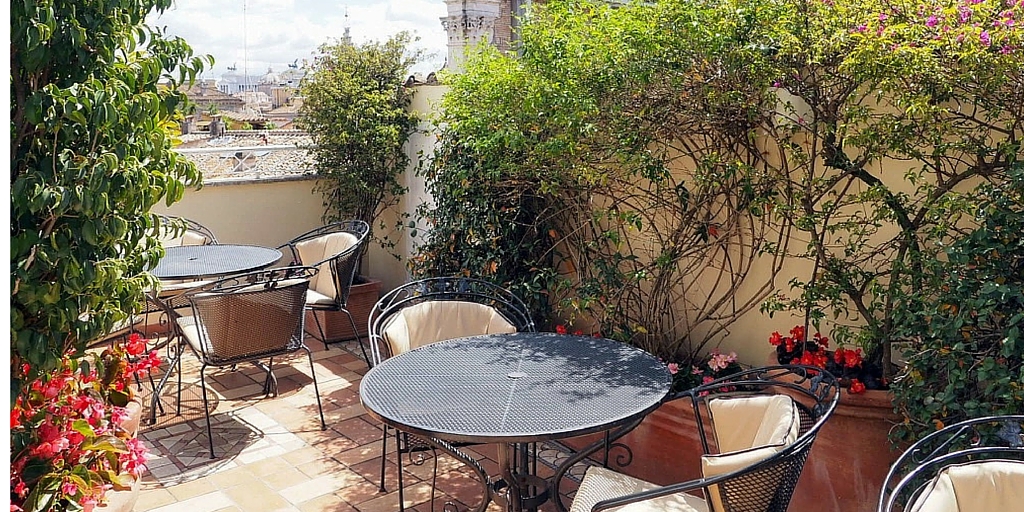 If you want to stay the night as well as eating lunch or dinner there, then you can book a room here. Each floor has a different design, and the whole hotel is also eco and organic – right down to the toiletries in the rooms which are vegan and cruelty free. The breakfast bar is a thing of awe and wonder. Everything is organic, and although it caters for the carnivores there are more than enough vegan options. No staying here and having to survive on the fruit platter in the morning! There's a huge juicer and a fresh orange juicer, too, so you can get your nutrient fix first thing.
A meal for two: €100-150 without drinks.
Happy Cow | Facebook | Website
LA CAPRA CAMPA – vegan
La Capra Campa opened 4 years ago as a vegetarian restaurant and changed to vegan almost immediately, alongside the owner's personal shift. It's a small but cosy restaurant with outside seating, a little outside the city centre and the tourist attractions but well worth the trip out. The menu is inventive, offering vegan versions of traditional Italian dishes and even homemade nut cheeses that have been seasoned for a month. You can also buy these in blocks. The food was exceptional – some of the best I've had – especially the seitan dishes. Even though we were stuffed we managed room for dessert, and I was particularly impressed by the cardamom and bergamot cream.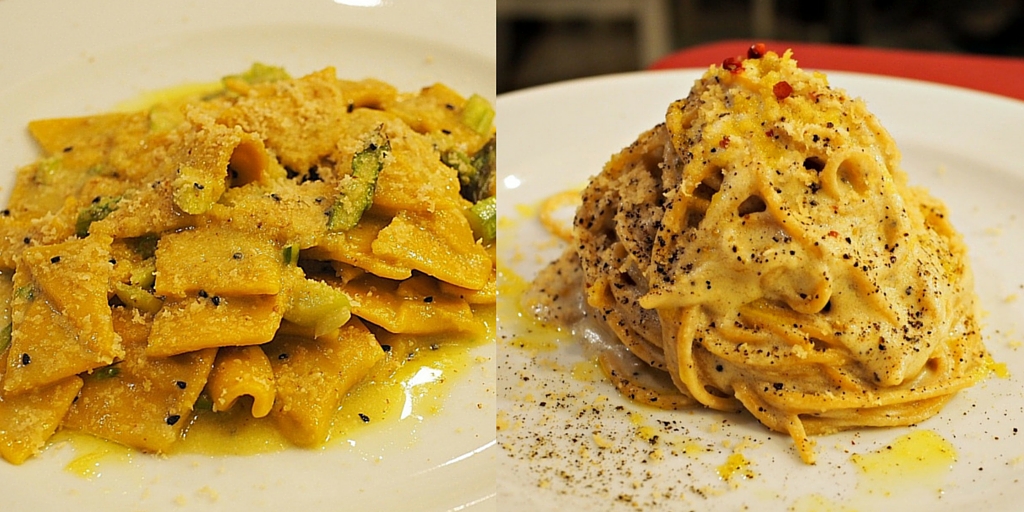 A meal for two: €50-80 without drinks.
Happy Cow | Facebook | Website
BIBLIOTHE – vegetarian
One of Rome's longest running vegetarian restaurants, Bibliothe serves Ayurvedic food and runs events and readings on Ayurvedic and Indian philosophy. If you're not familiar with the concept of Ayurvedic food, then it's a little different to what we think of as Indian food. It's created to be balanced for the body, rather than overloading with spices and flavour. When I went around 1pm, it was packed with locals on their lunch break, all eating the Thali which is a plate of rice and several small dishes. It was served with a bowl of bread, which was homemade and delicious. The menu is a mixture of vegetarian and vegan, but the cakes are almost all vegan. I tried the zucchini cake with spices and toasted almonds, and the apple crumble. Thinking about that zucchini cake now makes me want another piece, here… mmm. I wish I could make them like that. If you're in Rome and want a break from pizza and pasta, Bibliothe is the perfect choice.
A meal for two: €30-50 without drinks.
Happy Cow | Facebook | Website
IL GECOBIONDO – vegan
Il GecoBiondo (a clever name that includes the words eco and bio, look closely) opened in 2007 and turned vegan in 2008, and so claims the title of being the oldest fully vegan restaurant in Rome. It's a Trattoria, which means the dishes change day to day, so there's no menu – you just choose how hungry you are (the second option comes with pasta) and then the dishes start rolling out. Because it's more buffet style the presentation left a little to be desired, but the food was very good nonetheless. Like several of the other restaurants on this list, it's not very central but if you're hungry after a long day of sight-seeing, then it's worth the visit as the food is tasty, healthy and filling. It's also all locally sourced and organic – even the alcohol.
A meal for two: €40-50 without drinks.
Happy Cow | Facebook | Website
Buffets
Rome boasts 2 totally vegan buffets, one pay by weight, one all you can eat. Both are fresh, creative and delicious.
PASSIONE VEGANE – vegan

Passione Vegane is a fully vegan buffet that's a little out of the city, close to Ciampino airport. Many of their customers are omnivores wanting to eat more healthily who go there on their lunch break. Unlike Ops! below, which is a pay by weight, Passione Vegane is all you can eat, so make sure you're hungry. In the evening it costs a little more, and you get a few extra options like seitan and a different pasta dish. There are gluten free options, but there's contamination in the kitchen so it's not suitable for severe coeliacs.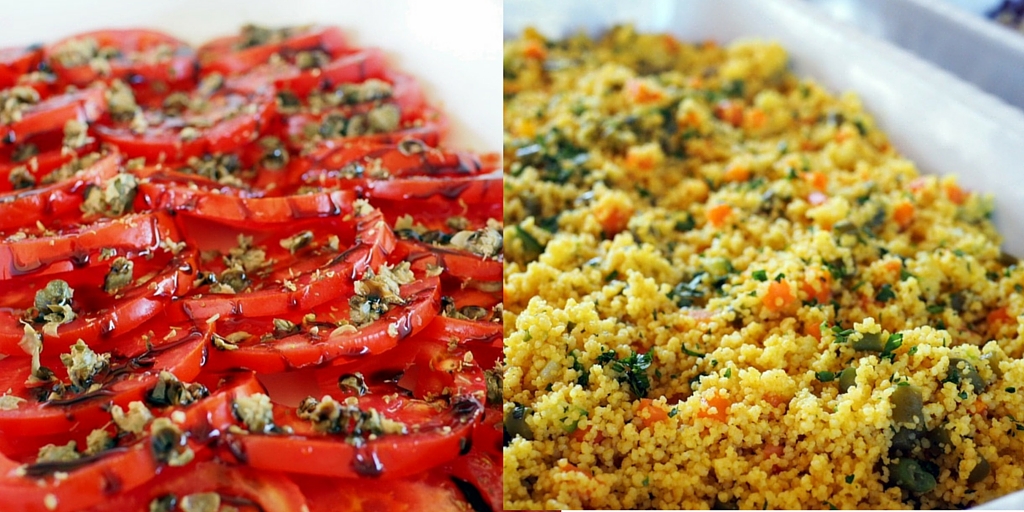 The desserts are extra, but are amazing. They served me the first creme brûlée I've eaten since I went vegan, and it was perfect. The biscuits, too, are exactly like the non-vegan Italian biscuits I used to eat as a child when I went for Sunday morning coffees across the road in the Italian coffee shop with my dad.  If you're on your way to Ciampino, or if your hotel's a little out of the city, then it's a perfect place for lunch and dinner.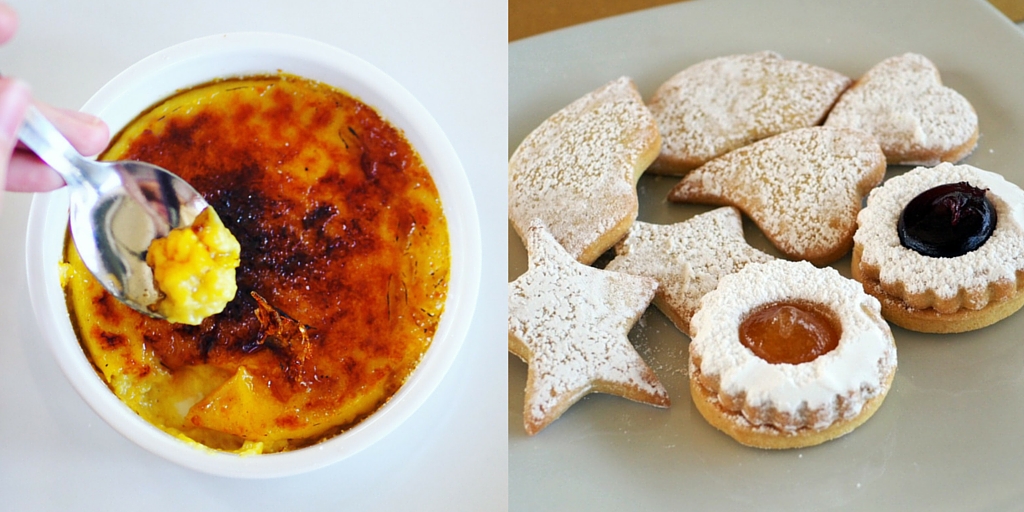 A meal for two: €40-50 without drinks.
Happy Cow | Facebook | Website
OPS! CUCINA MEDITERRANEA – vegan
If you've heard vegans who've been to Rome talking about the restaurant options, then you've probably heard of Ops! already. It's a pay by weight buffet close to the centre of Rome, not far from the Borghese. If you go, make sure you're hungry as there were so many delicious looking options I couldn't help but fill up my plate with food.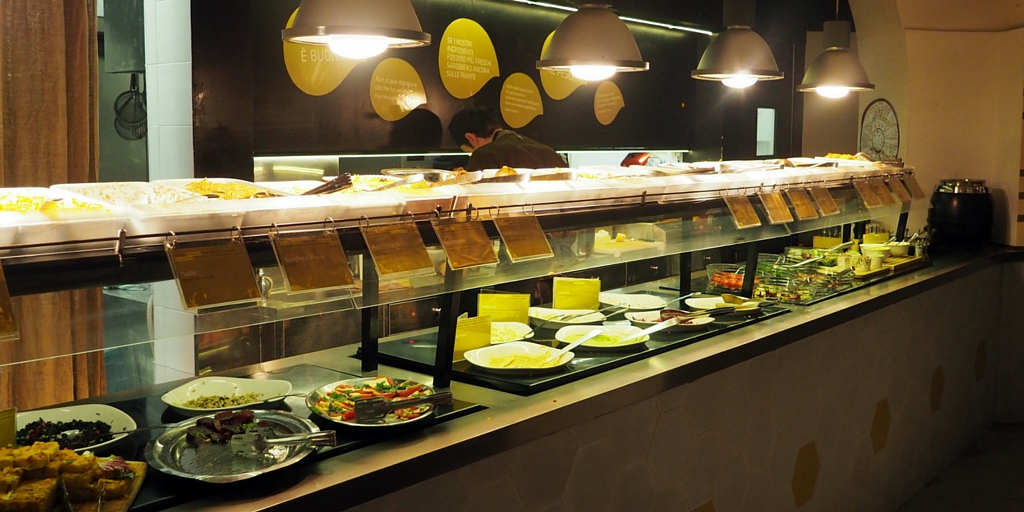 A meal for two: €40-50 without drinks.
Happy Cow | Facebook | Website
Pizza

There are pizzerias all over Rome, but relatively few with vegan cheese. Of all of them, there's one that stood out.
RIFUGIO ROMANO – veg-options
The only pizzeria where I found a decent number of vegan options with vegan cheese, Rifugio Romano is run by a family, most of whom are vegans. They still serve meat, there seem to be more vegan options appearing all the time – and impressively the menu has tempeh, tofu, vegan cheese and vegan desserts. It's not in the prettiest area, but it's very conveniently located as it's right by Termini, so very central. The pizza was good, and the cake afterwards was to die for.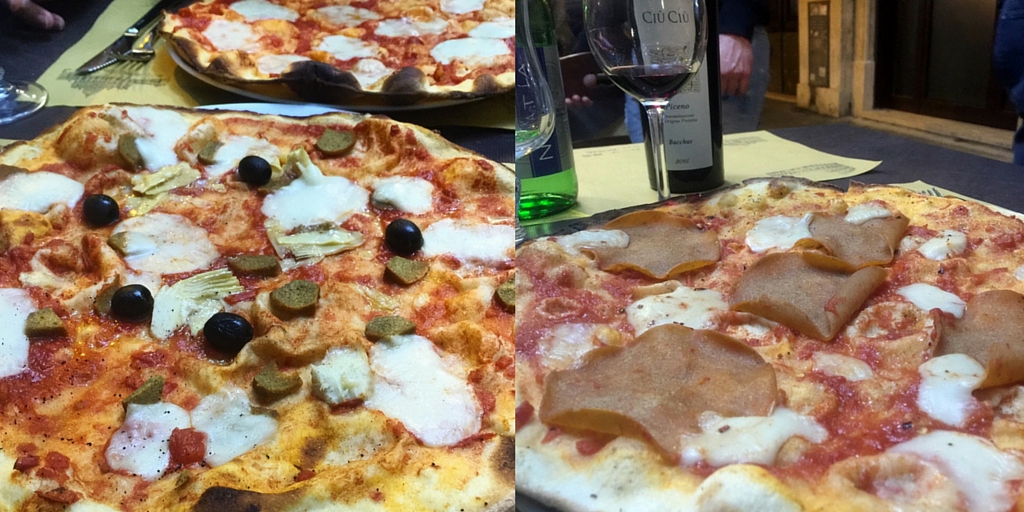 A meal for two: €40-50 without drinks.
Happy Cow | Facebook | Website
Cafés
Rome has a coffee culture, but not a coffee shop one. So if you want to find somewhere vegan to chill with a coffee between sight-seeing, you're a little short of options. There is an amazing one, though (although it's actually a bistro), and it has cats.
ROMEOW CAT BISTRO – vegan
Finally a cat café makes it onto one of my vegan food guides! I generally avoid animal cafés as they're a form of animal tourism that's often overlooked on the lists of things you shouldn't support. The cats in most cat cafés are pedigrees, bothered and hassled during the day and locked in cages at night. Adopt don't buy, and don't support businesses that buy either. But… Romeow, like some others now popping up, is a cafe with rescue cats where the customers aren't allowed to force the cats to come to you. The staff clearly genuinely love the cats, too, and seem very happy in their feline-filled workspace. There are 6 cats, and you can watch them wandering along the walkways and sleeping in the sunny spots as you drink your latte and eat a piece of cake. I did try the food, and it was good (although small portions) but the desserts… oh the desserts… were incredible. My personal favourite of the ones I tried was the chocolate mousse cake that had a caramel layer between the base and the mousse. Oh so good. So so good.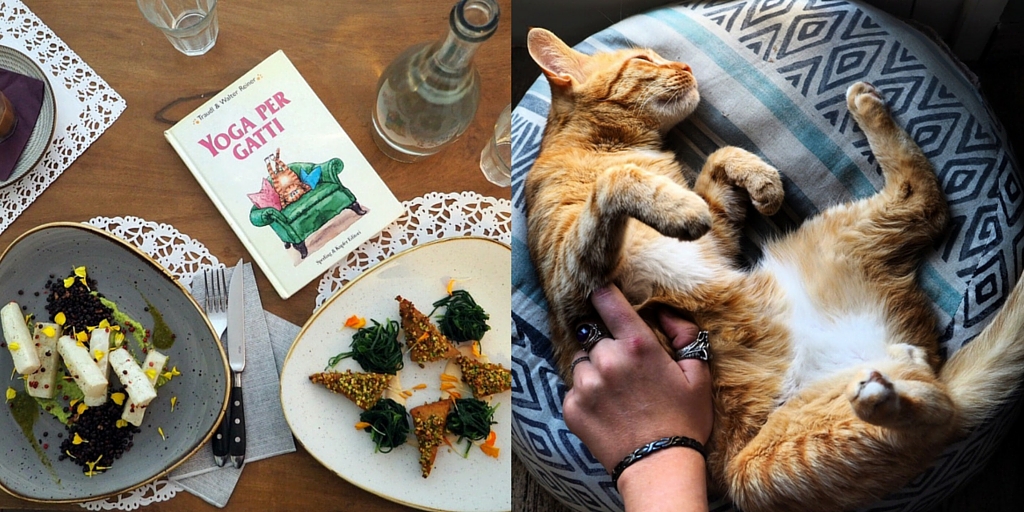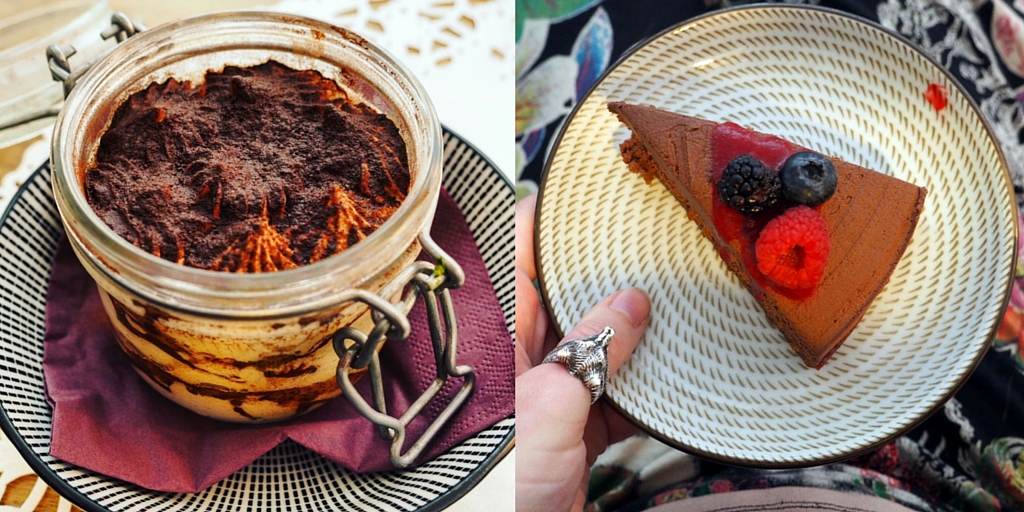 A meal for two: €40-50 without drinks.
Happy Cow | Facebook | Website
Gelato and desserts

This is something Rome does particularly well, and you won't be short of options if you have a sweet tooth. Two in particular stood out.
OLIVE DOLCI  – vegan
Most gelaterias offer sorbets, and a few even offer soy options, but if that's not your cup of tea (or cone of ice) then head down to Olive Dolce, where they've replaced milk with… olive oil. This is one of those things that made me raise my eyebrows to start with and go: "what?! Olive oil gelato?" but once I tried it I was sold. You've got to taste it to believe it. They're experimental with their flavours, and the mild flavour of the olive oil allows them to really shine through and be much stronger than with regular milk. I tried black tea, baobab, goji and naranjilla. I could have easily returned every day.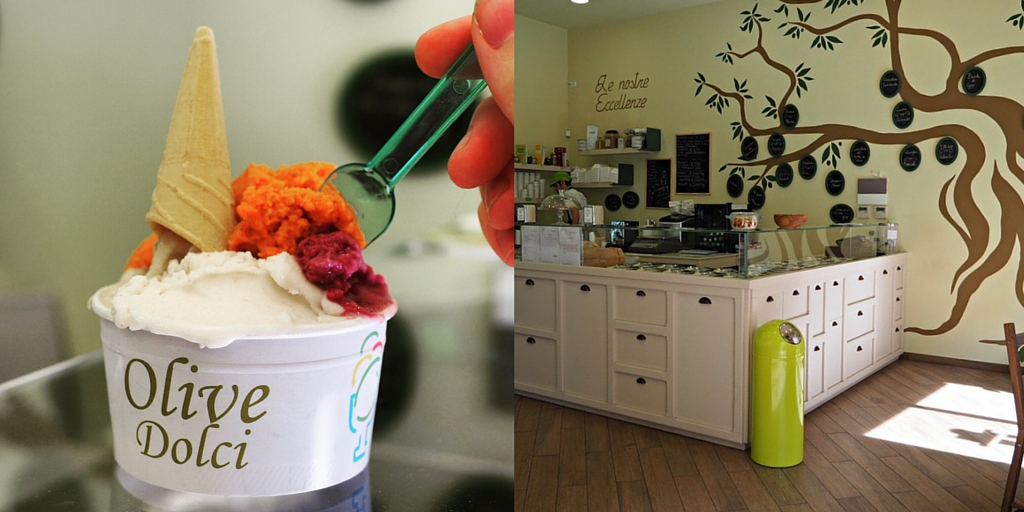 4 scoops in a tub: €4.50
GREZZO – vegan

Grezzo, tucked away in the cute little alleyways of the Monti neighbourhood, is the first pastry, chocolate and gelato shop in the whole world to serve fully raw, vegan and gluten-free recipes using only organic ingredients. Looking at the counter and the beautiful creations on offer, I couldn't quite believe that is was all raw and vegan. I could have easily eaten half their stock, but I was restrained and tried just one orange and chocolate cake. Next time, my lovelies, next time.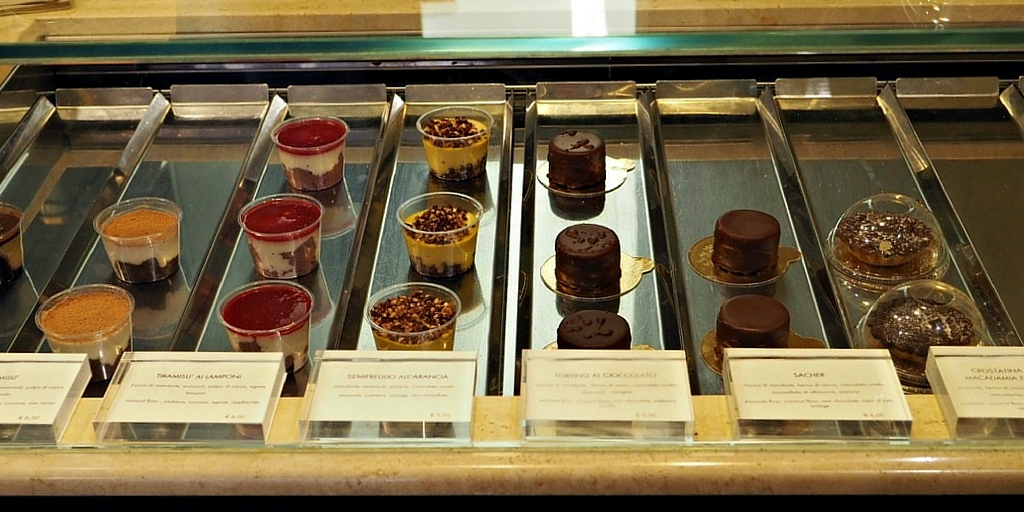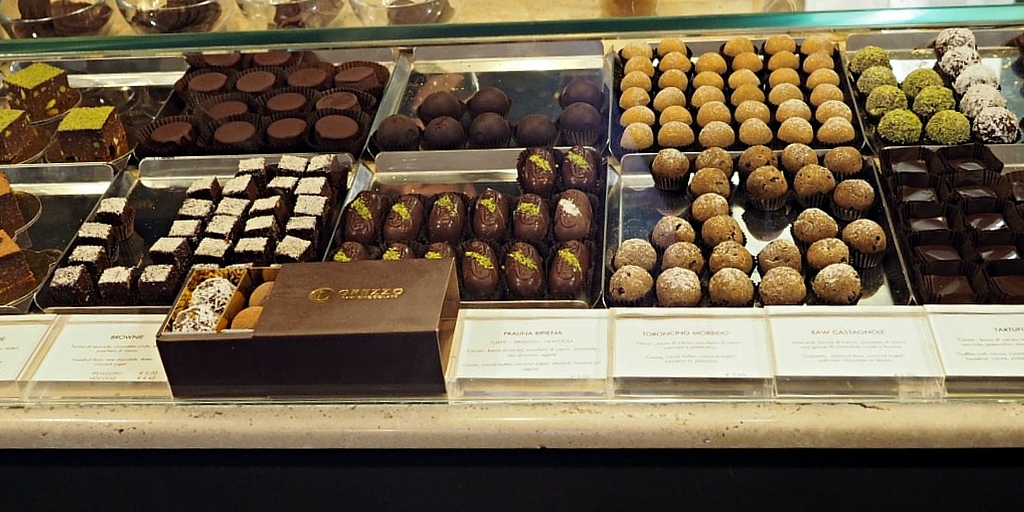 One cake: €6
Happy Cow | Facebook | Website
PIN FOR LATER: