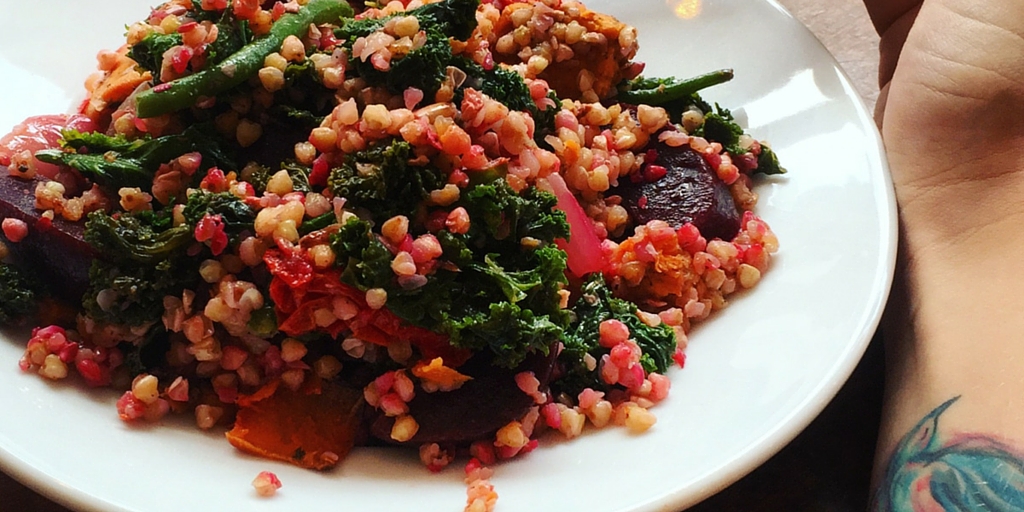 I returned to Europe a few weeks ago after a year and a half in Asia. When the one month countdown until my flight back started there was only one thing on my mind: food. Sorry family and friends, UK vegan food like English muffins with scrambled tofu has you beaten. Although Asia has some amazing vegan food… I've eaten raw vegan sushi in Hong Kong, vegan pizza in Japan, the best noodles of my life in Taiwan and enough vegan cake to fill a small house, incredible Pho in Vietnam, and waffles of dreams in Thailand… there are still some things Asia doesn't provide. Here's my list of what I miss. Warning: it's incredibly self-indulgent, laced unsubtly with nostalgia, and I was drooling as I wrote it.
1. Warburtons crumpets. Light, fluffy, toasted, coated in Pure vegan butter. They were my comfort, my Sunday morning lazy breakfast, and they're a weird bond I have with my childhood friend who would come to my house on Fridays when we were kids and eat a whole packet. We kept some in the freezer just for her.
2. Warburtons English Muffins. With scrambled tofu full of red onions, smoked paprika and mushrooms, then some vegan cheese grated on top. Which brings me to number 3…
3. Violife vegan cheese. Damn this stuff is incredible. I remember the day it was recommended to me by a health food shop in Glasgow, and I grated it onto a pizza that very night. It was creamy, stringy, cheesy… exactly what a pizza cheese should be, but without being pumped out of some poor cow's mammary glands.
4. Vego chocolate bar. This was just voted the best vegan chocolate bar, and you just have to taste it to know why. It's not like a regular vegan milk chocolate bar which tastes a bit weird and frankly not at all like milk chocolate. This one is rich, creamy, and chocolaty with a generous lash of hazelnuts spread out through the bar.
5. Vegan yoghurt that is easily available. If I wanted yoghurt with my granola or my apple strudel, I just had to pop down to the local shop and pick some up. In Asia I've seen the occasional homemade vegan yoghurt for sale in restaurants, but by and large it's scarce and not readily available.
6. A good soy latte. That's big, and rich, and has a proper flavour, and is made with good coffee. And I hate to admit this, but I'm also looking forwards to a bit of cold so that I can properly appreciate the warmth of a hot drink as I wander down the street wrapped in woolies. In my entire year and a half in Asia, the only soy latte I can genuinely say stood up to my local coffee shops in Glasgow was the extortionately expensive one I had in Tokyo. It was worth every penny. You can read about my struggle in Taiwan to find a soy latte here, it became quite the mission.
7. Linda McCartney vegetarian sausages and sausage rolls… with ketchup on bread I baked myself. If you've lived in Asia you'll know that 99% of apartments don't have a proper over . Maybe a toaster oven here and there, but nothing you can bake a proper loaf in even if you could get hold of the rye and spelt flours I used to mix together to make my loaves. Linda McCartney's sausages were like my guilty pleasure when I wanted something more substantial for breakfast or lunch. I would take 3, pop them in the microwave for 3 minutes, and boom. Vegan sausage sandwich.
8. Mashed potato. With vegan butter, and black pepper, and a bit of vegan cheese, some onion gravy and veggie sausages. Enough said.
9. Frys burgers. I used to buy these from Holland and Barrett, and I remember the first time I ate the chicken one I had to go and check the box to make sure they were really vegan. One week I found them in the penny sale (buy one get one for a penny) and just stocked up, then couldn't resist and ate burgers every day for lunch and dinner for four days straight. In my defence, it was essay writing time and I needed something to keep me powering through all the deadlines.
10. Veggie Deli. Pretty much all the range. Sometimes I'd just go in and buy the ready to eat veggie sausages as a snack if I was in town and wanted something cheap and tasty. Goodness their food is good.
11. Swedish Glace. Only once in Asia have I found vegan ice cream (semi) readily available to buy in the shops, and that was in Hong Kong and carried a bit of a price tag. I miss being able to wander down and buy a tub of cheap, creamy and delicious ice cream when I want to have a film night with a friend, or one of those 'why am I single' evenings where I eat ice cream and watch romcoms. In fairness, I more do those nights for the pure joy of eating a tub of ice cream and watching a cheesy film than any actual sense of being alone, before you start signing me up to speed dating nights.
12. Kale, and a good salad with herby tofu. In case you think this list has got too comfort foody, this was one of my favourite quick midweek meals with croutons I made from bread I toasted in the oven in a little oil and sundried tomatoes. Asia has amazing fruit, but the vegetables definitely could be cheaper and of a better quality, unless they're the local ones. I also miss nestling into a sofa with a big bowl of steamed broccoli. It's the little things.
13. Veggie Haggis. Can you tell I've lived in Scotland? I love veggie haggis. It's all peppery and herby and moist and full of goodness. And it's so much better than the real thing. So much. I made a pizza with it one year for new year, and it was delicious.
14. Romano sweet peppers. Because they taste really good and I haven't seen them for sale here at all.
15. Birds eye potato waffles and vegetable fingers. If you're not British you'll probably not know what I'm talking about here. They're good: trust me.
16. A good cup of tea. With almond milk. Mornings just aren't the same without it.
And on that note, I'm out. It's all too much. Too many emotions about food. It's been a glorious reunion this past month, but I really need to get back on the Yoga mat and burn off some of those crumpets…
Have you lived in another country or travelled for a while? What foods did you miss? Let me know in the comments.