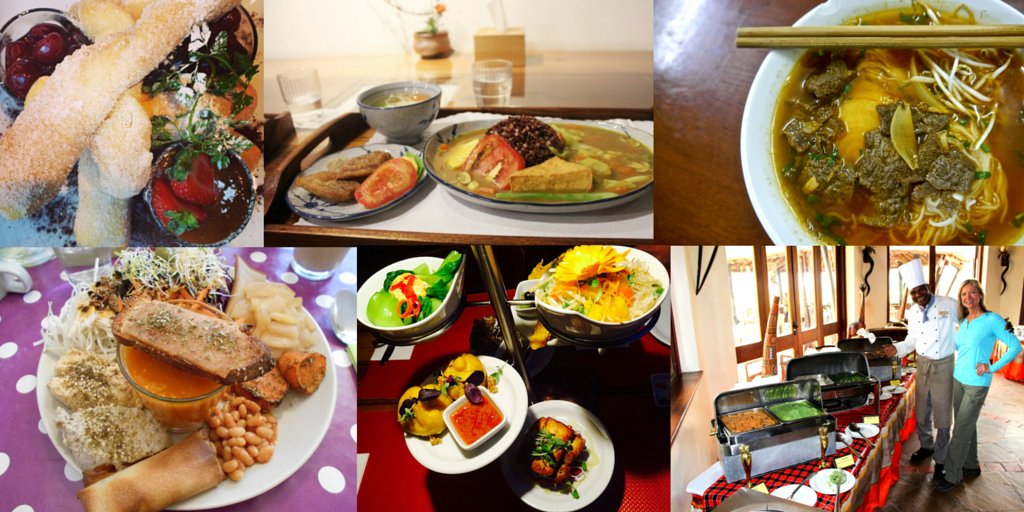 I asked 5 vegan other travellers to tell me where the vegan meals we need to eat in 2016 are – from Brighton to vegan food in Africa, the results might surprise you.
A VEGAN BUFFET AT THE FOOT OF MOUNT KILIMANJARO, AFRICA
Some of the best vegan food we've ever had has been at Ol Tukai Lodge in Amboseli Park, at the foot of Mount Kilimanjaro, in Kenya, Africa.  The chef prided himself on the vegetarian cornucopia in his kitchen.  As a matter of fact, when we arrived for our first meal at Ol Tukai, and asked the dining room host about vegetarian food, he introduced us to the chef who, he was excited to tell us, always prepared a bounty of dishes without animal products.
As it turned out, a good 70% of the food at the Ol Tukai buffet was vegetarian or vegan.  Vegetable dishes outnumbered meat dishes three to one! The chef was more than please to pose for some photos with me at his extraordinary colorful buffet.
Pictured are pasta with marinara, sweet pea sauce, ugali and traditional dark greens, dal and rice.  And that doesn't count the salad bar, out of frame in this picture.
We have been to Africa on safari twice for two weeks at a time and the situation at every lodge has been similar.  Plenty of vegan fare, and high quality at that.  More Africa safari lodge food photos here.
Lani can be found on her website:  http://www.lanimuelrath.com, and is author of The Plant-Based Journey.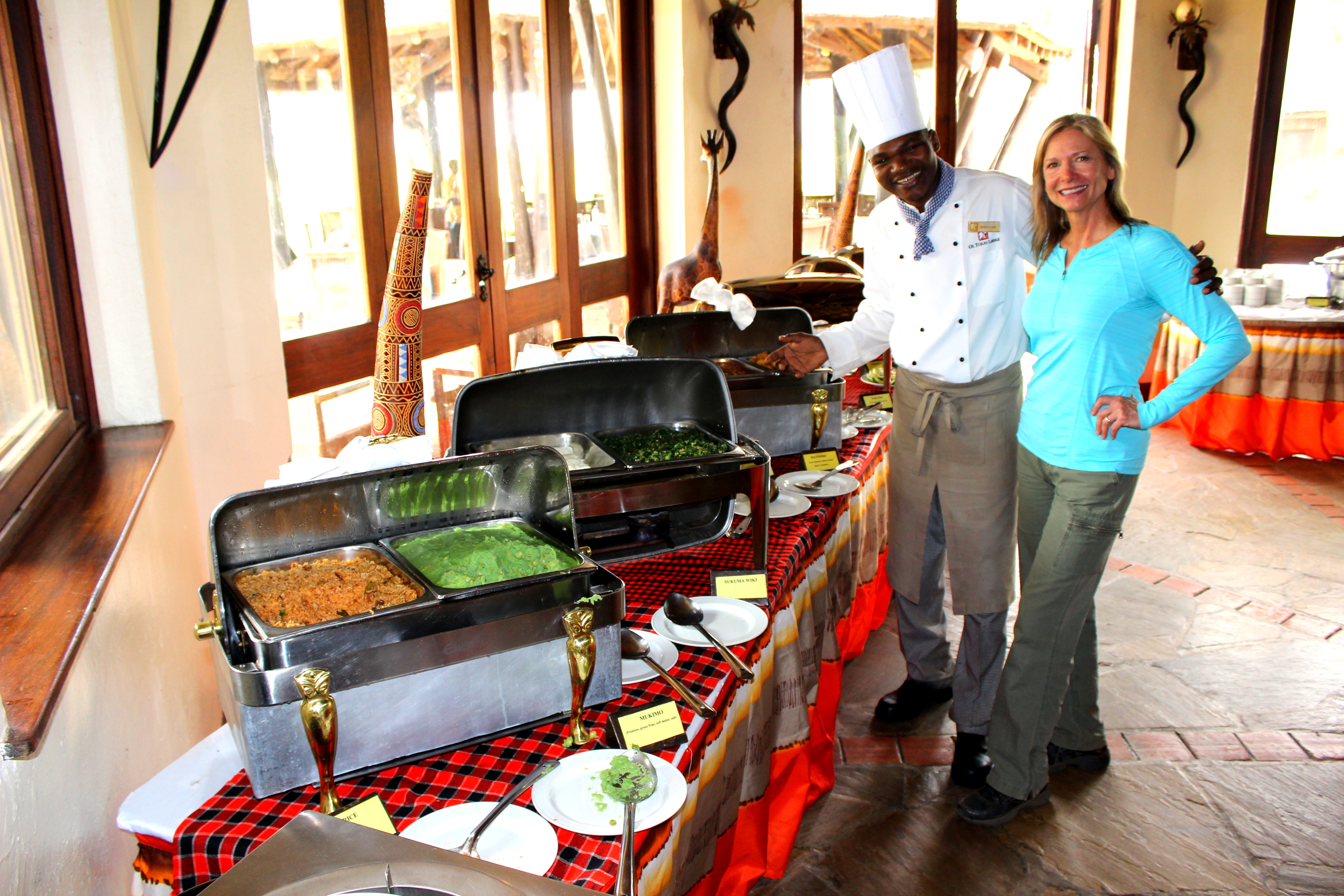 VEGAN TAPAS IN BRIGHTON, UK
In 2016, you need to eat vegan tapas! There is so much delicious vegan food all over the world nowadays that it's actually quite difficult to pin down the best. However, I personally love sampling lots of different foods, and as many in one meal as possible. So, I'm naturally drawn to tapas, but they're rarely all vegan. On a trip to one of my most beloved cities, Brighton, England, I heard about Rootcandi, the UK's first 100% vegan tapas restaurant, and I had to check it out.
Six small plates of vegan delicacies on a three-tiered display stand is nothing short of a delight for all your senses. The world-inspired cuisine, like the Pan-Asain tapas platter I had, which is delicious, nutritious, and beautiful, really makes this place stand out. I'm sure this spot will mature nicely, so I definitely recommend a visit here in 2016.
Amanda is a vegan solo full-time traveler who puts the burger in Burger Abroad.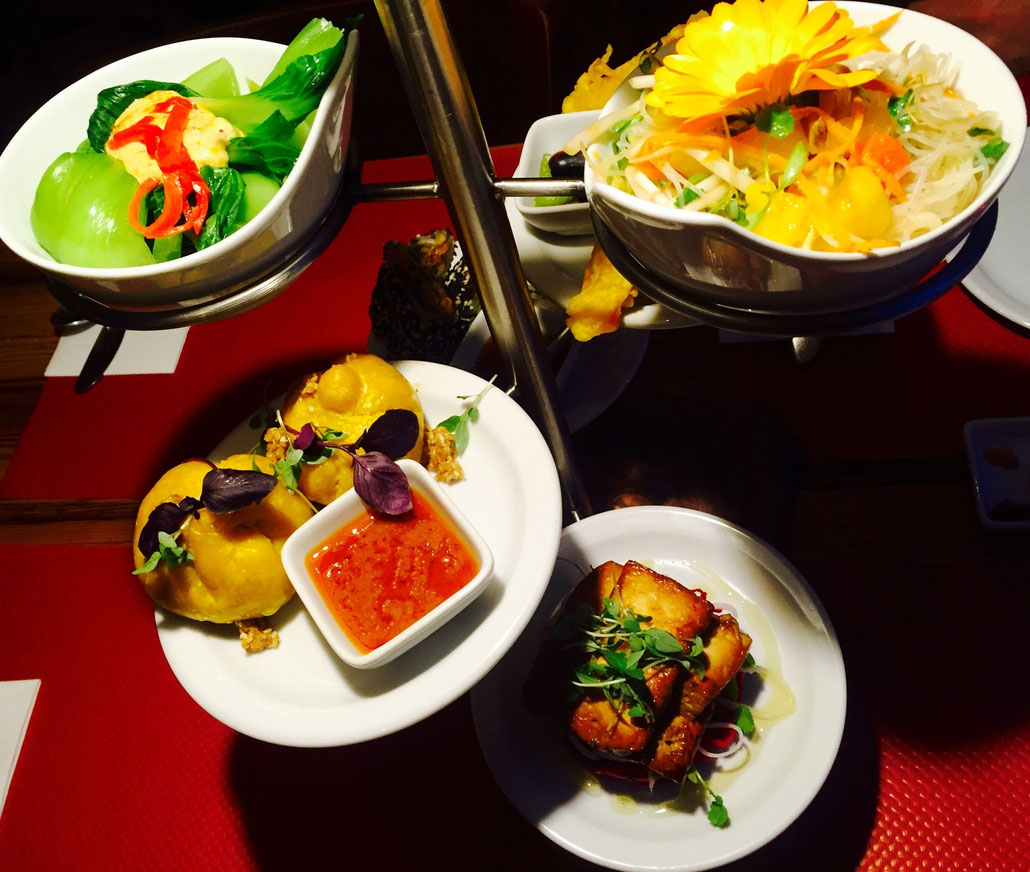 BBQ SAUCE ROASTED CAULIFLOWER AND NOODLE SOUP IN HANOI, VIETNAM
Luckily, on this particular mission to find vegan food I had a companion. I say luckily because it was hidden down a tiny alley, off a totally different section of street than the one to which Google Maps had directed me. We eventually wandered past the sign we were looking for "Com Chay" and the word "vegetarian". A scruffy kitten let itself be picked up and cuddled as we ordered and were told that they didn't have half the things on the menu.
Fortunately, they did have this 'beef' vermicelli soup and BBQ sauce (or something similar and Vietnamese) roasted cauliflower. Despite the scruffy surroundings it stands out as one of the best meals I ate in 2015. There are many little places like this down alleys in Vietnam, just keep your eyes open and see what you find. Read more about my vegan in Hanoi discoveries here.
Amelia (that's me) from Plant-Powered Nomad wanders the world alone teaching English and Yoga, and eating awesome vegan food along the way.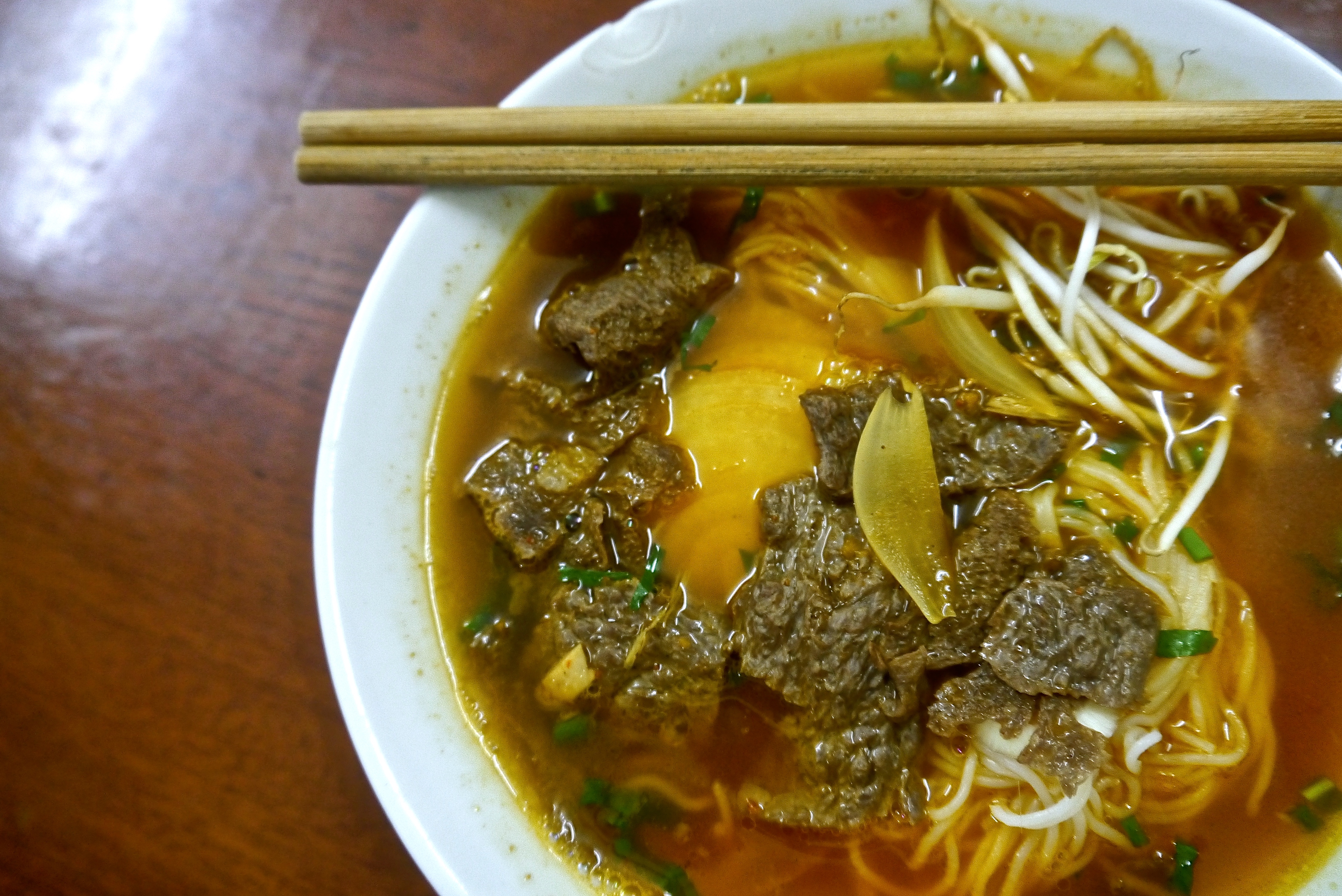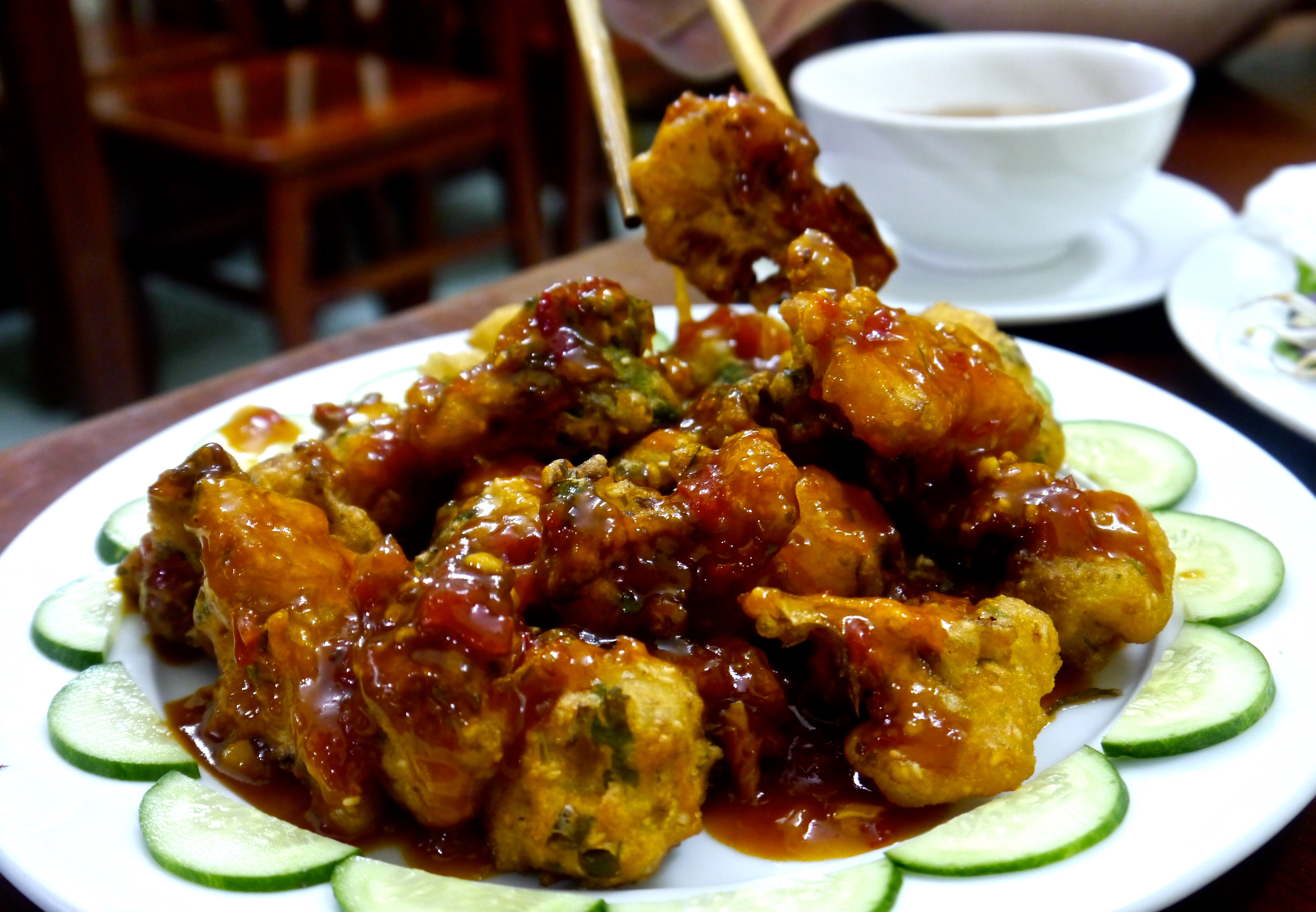 VEGAN JAPANESE CURRY IN LUODONG TOWNSHIP, TAIWAN
Whenever I think back to the time I spent living in the small township of LuoDong in Taiwan, where I taught English for a year, I always think of this small vegetarian restaurant where we used to go to eat vegan Japanese curry, a sweet, yellow apple-based curry. It was full of fresh, seasonal vegetables and served with stream wu-gu fan (five grain rice, or purple rice).
It's a small, local but exquisitely designed vegetarian restaurant hidden amongst sprawling apartments near to the rice paddies at the edge of town and is run by a local family who grow all their own food on their organic farm, including growing their own rice, seasonal vegetables and even making their own cheese (very rare in Taiwan).
We used to wander down on a summer's evening after work and went by scooter in the cold and torrential rain, pleased to be welcomed in by the friendly family and ready to fill out bellies with hot curry. Even after going there every week for over 6 months, we never found out the name of the restaurant but it's located at 54 Jingye Road opposite the Beicheng Elementary School.
Charlie is a long-term traveller from the UK who writes about simple ways to travel sustainably, including house sitting, slow travel and eating local. Check out her slow travel blog Charlie on Travel and follow her travels on Facebook.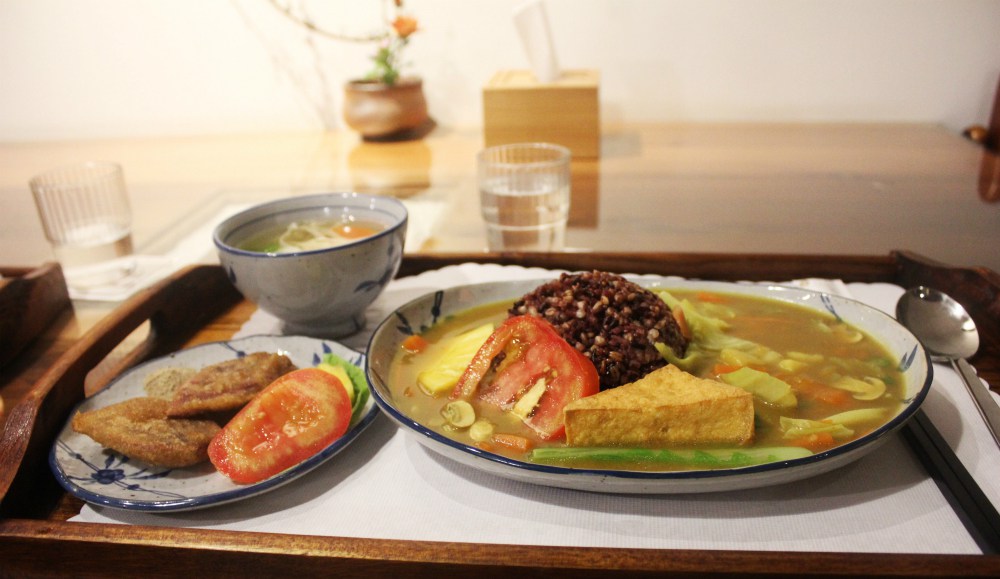 VEGAN BRUNCH IN TOULOUSE, FRANCE
South-western France, the home of foie gras, is not exactly the most vegan-friendly travel destination. While the staff in local restaurants were eager to help once I explained what vegans do and don't eat, sadly, they sometimes had trouble scrounging up enough vegetables from the kitchen to make even a decent salad. But none of that mattered, because it made the experience of dining at La Belle Verte in Toulouse all the more memorable. While La Belle Verte does serve meat, the cuisine offered here could best be described as "plant-strong". The owners give priority to using organic, local and seasonal ingredients, and they are knowledgeable about veganism and happy to cater for vegan diners.
On Sundays, they offer a brunch that is out of this world. The menu changes each week depending on what's available at the nearby farmers' market, but any non-vegan items can always be substituted with vegan ones. I was presented with a plate stacked so high that a piece of toast had to be balanced on top of my pumpkin soup! It was way too much food for one person, but that didn't stop me from eating every last morsel.
Wendy Werneth is an intrepid traveller, vegan foodie and polyglot who is on a mission to show the world how fun and fulfilling vegan travel can be. You can follow her adventures at The Nomadic Vegan and download her free ebook, 8 Steps for Fun and Easy Vegan Travel.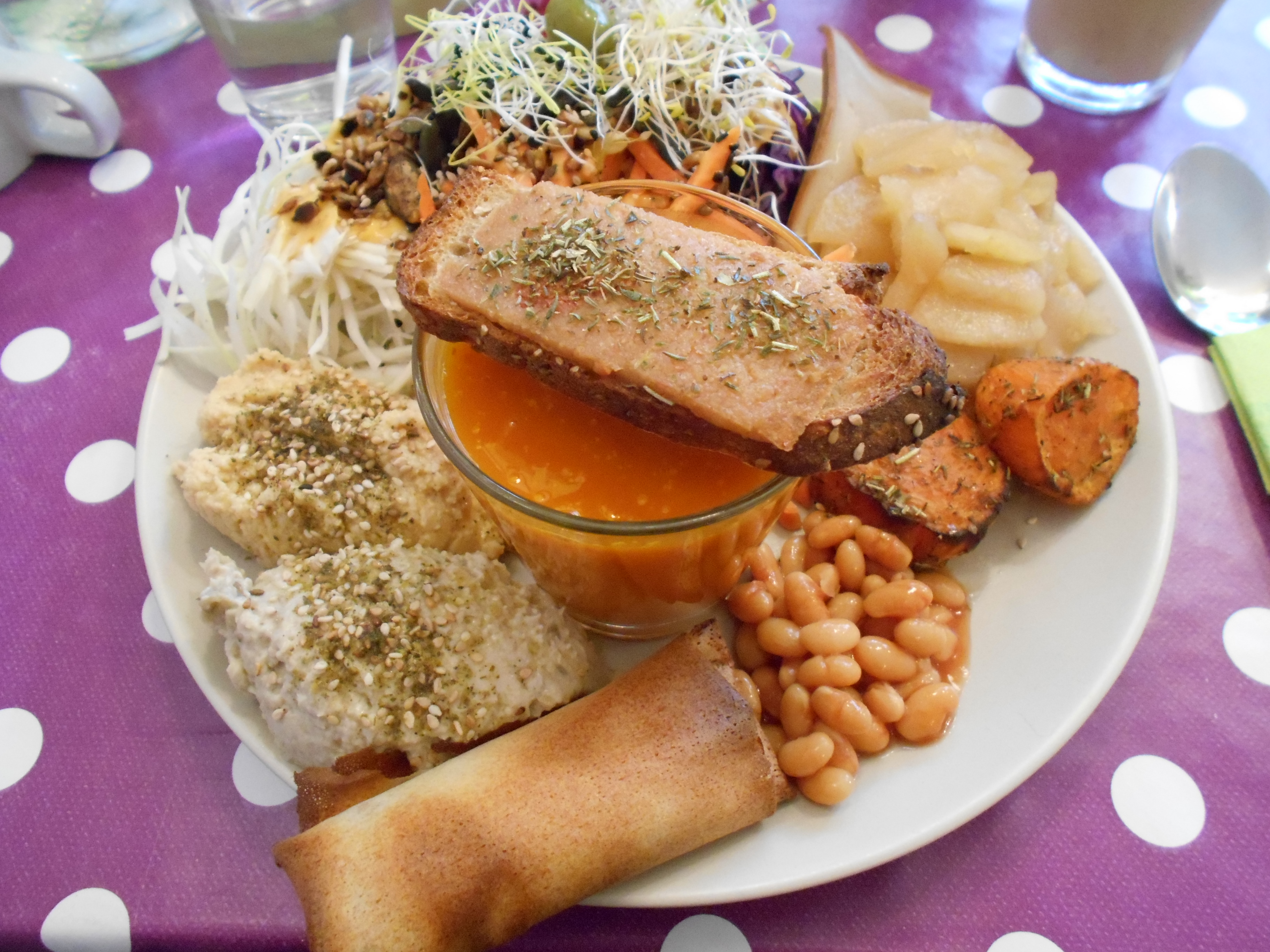 VEGAN CHURROS IN BRIGHTON, ENGLAND
All the food at vegetarian restaurant Terre a Terre is brilliant and inventive. They are famed for their unusual descriptions and wacky names – to the extent that sometimes reading their menu doesn't even help you understand what a dish is. But it's well worth the confusion…even on occasions when I haven't been able to deduce from the menu what my dish might be, it's still been delicious. Case in point, a description from the menu of the dish Soubise Soubise: "Blasted buckwheat basted Roscoff onion bunged to the brim with hazel herb onion caramel nut mince served with cranberry juice kraut, radicchio pear pickle, toasted cream swede pie, roast parsnip and potato pave."
However, Terre a Terre's dish that set me over the edge into rapture (including noises that should not be made in a restaurant with polite company!) was their churros, or as they call the dish, Churrisimo.  The cinnamon sugar dusted doughnut sticks come with traditional thick chocolate sauce but also a few of Terre a Terre's own unique additions: vodka soaked cherries and sea salt caramel dipping sauce.
Caitlin can be found at The Vegan Word. Caitlin is a vegan food and travel writer who has travelled to 30 countries (and counting) and just published her first book, The Essential Vegan Travel Guide.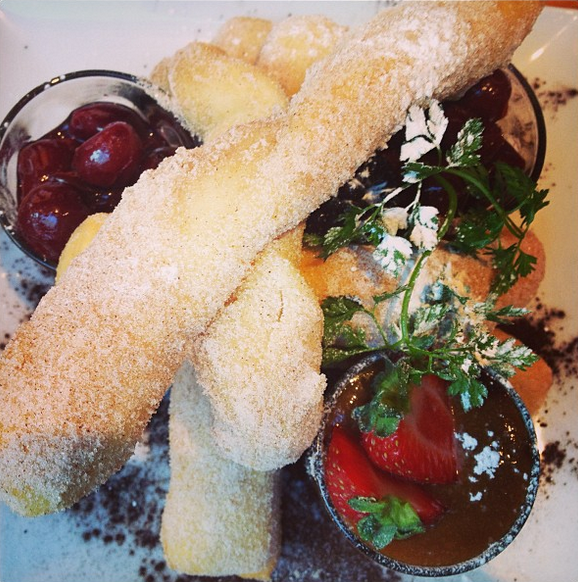 Have you eaten anywhere that you think should be on this list? Tell me about it in the comments below.