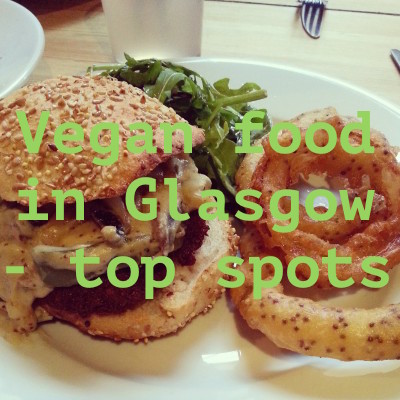 As the city where I became a vegan, the vegan places in Glasgow will always hold a special place in my heart. Even though I've now been away for a year, I still think of them fondly. These are the places where I ate the day I became vegan (actually I was having an oddly cheery break up there – going vegan has to be the best break up reaction ever!) where I ate with my family, my (now ex) boyfriend's family, after my exams, with friends, with couch surfers, on dates, on the evening of my graduation, and on my last evening in Glasgow before I flew out to Taiwan. They were my haunts and my comforts.
Sadly I have hardly any pictures because I wasn't a conscious blogger/IGer back then, so you'll have to use your imagination, and I'll have to go back. PETA voted Glasgow the best city in the UK to be vegan.
Given the reputation of poor health and deep fried food, you didn't expect that did you? Just go there to find out why.
Best place for live music while you eat – The 78 (all vegan)
The 78 was just down the road from where I used to live in Glasgow, so I was there a lot. As you can maybe tell from the name, the music is awesome. At least when I was last there, Sundays are jazz nights, and Thursdays are reggae nights. Their burgers are huge and decently priced, and the desserts are amazing. You'll end up stuffed. Service is friendly and reasonably efficient for a laid back place.
Best pizza- Mono (all vegan)
Stick toffee pudding, pizza, salted caramel cheesecake
Mono does weekday deals, and on Monday nights it's 2 pizzas for £10 which makes it perfect for an after work/uni pizza and drink with a friend. The pizzas are covered in very melty vegan cheese, and get a side of beer battered onion rings if you're really hungry. Their sticky toffee pudding is excellent if you feel like a dessert afterwards. Other vegan pizzas in Glasgow: Saramago does a crispier, larger, more artisan one that's also pretty tasty, and Black Rabbit does a 3 for two deal (I've now been told Black Rabbit has gone, which is a shame because they used to spray-paint rabbits on the pavements for PR and it made the city cuter). I found, however, that they were small, expensive, and barely had any toppings, so that's somewhere I wouldn't go back to. I think Stereo does a pizza too, but I haven't been there.
Best fancy meal, and best chocolate cake – Saramago at the CCA (all vegan)
A large, open, high-ceilinged space, Saramago is a break away from the pubs and bars where most of the vegan places in Glasgow are found. You can even check out the current installation upstairs, which is usually something by someone from Glasgow School of Art round the corner. It's the perfect place to go with your relatives when they visit, or for a birthday, and has been a big hit with everyone I've taken there. The highlight is definitely the chocolate cake, which is hands down the best chocolate cake I've ever tasted, vegan or otherwise, and I've had this opinion backed up by many omni friends. It's rich, moist, chocolaty and amazing.
Best non-Western food – the Hanoi Bike Shop (Omni, vegan options)
All these burgers and pizzas not to your taste? Although it's a lot more expensive than in Vietnam (no surprise there), The Hanoi Bike Shop is a good compromise if you feel like eating pho in Glasgow. The staff is very well informed and know what is and isn't vegan, and will check whether you're vegan if you're ordering something without meat. They make their own tofu and it's delicious. They also often have a vegan dessert.
Best Tapas – Stereo (all vegan)
This is the place that turned me vegan (well, it's where I ate the day I turned vegan anyway, so I guess that counts?). Not only do they do an excellent pitta burger, but they also have a tapas menu with amazing things on it like haggis fritters and vegetable tempura. They do weekday deals and their specials are always good. Live music is playing downstairs most nights of the week.
Best Chips/Fries – 13th Note (mostly vegan)
13th Note is the 4th vegan awesome music venue on this list – noticing a theme that Glasgow has going? The food is cheap and cheerful, and they're right across from Mono so you can switch it up. They do a super cheap burger if you just want something fast, and the chips that you can get with it have been acknowledged to be the best in Glasgow.
Best Bar Snacks – Brew Dog (omni)
Flying Duck (vegetarian) is good, but Brew Dog wins this one hands down because they have Haggis Baws – deep fried balls of vegetarian haggis with ketchup – and beer battered onion rings. They also have my heart because when you order a rum and coke they use Kraken rum (my favourite) and Fentiman's cola, which makes it just so much better than any other rum and coke in existence. Oh, the regulars are shareholders and have their photos on the walls, which is a lovely personal touch.
Best food shop – Quality Vitamins and Herbs
It took me at least a year of being vegan in Glasgow before I made it down here, because it's in an awkward spot on Sauchiehall Street that isn't especially close to any MRTs, and frankly, I was very cynical about how much of an Aladdin's cave it would be. Were there really that many products there that I wouldn't be able to get in any other shop in Glasgow? The answer – yes. The owners have seen the gap in the market of vegan food in Glasgow, and they've filled it. Violife cheese (it's amazing on pizzas), coconut yoghurt, quinoa crisps that taste like Quavers (hello childhood!) and vital wheat gluten so you can make your own seitan. And they're really nice, so just ask for something you need and they'll try to get it in for you. They're great at staying up to date with vegan products: for example they were one of the first in the UK to import the German milk chocolate bar 'Vego'. Oh, also, they have a great tea selection.