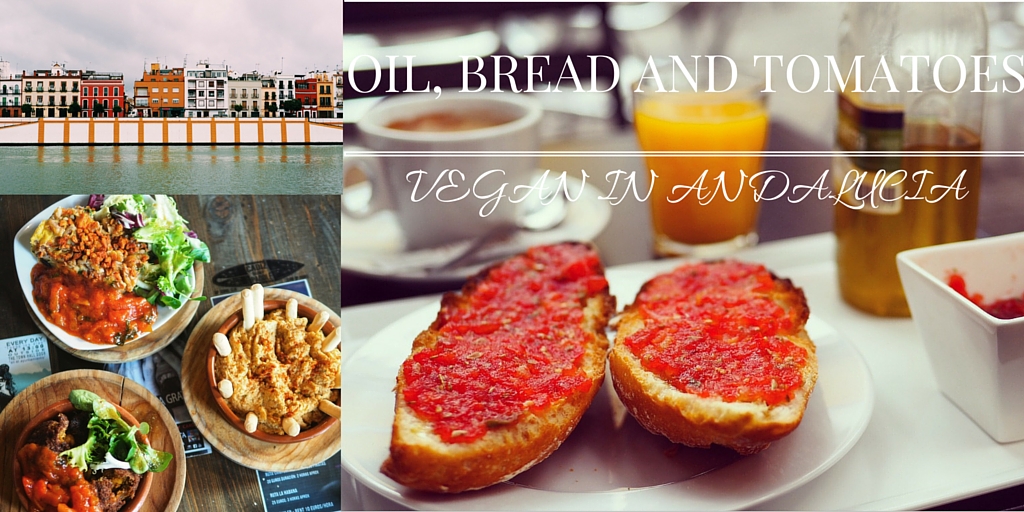 Spain isn't a country that most think of as being a haven for vegans, especially being vegan in Andalusia, where I fled to in February when Ireland and the UK got too cold for me. Unfortunately it was still cold in Andalusia, but without the benefit of central heating. Oops. Didn't think that through, did I. Some day I need to go and learn lessons from seals on how to grow blubber under my skin to stay warm.
Luckily, food was something that was still in my life, so I might have been freezing but at least I wasn't starving too. And although the main fair for vegans in Andalusia is tostadas con tomate y aceite (toast with crushed tomato and oil), a regional breakfast that you can ask for anywhere, there are plenty of other vegan options too. Here are my vegan adventures in Andalusia.
TARIFA
In off season Tarifa is small, sleepy, and very pretty. As the kitesurfing season kicks off, tourists and part-time residents flood in and it becomes a kitesurfer's haven. It was quiet, but I loved it in February as it was just starting to warm up and there were lots of opportunities for windy beach walks and hikes.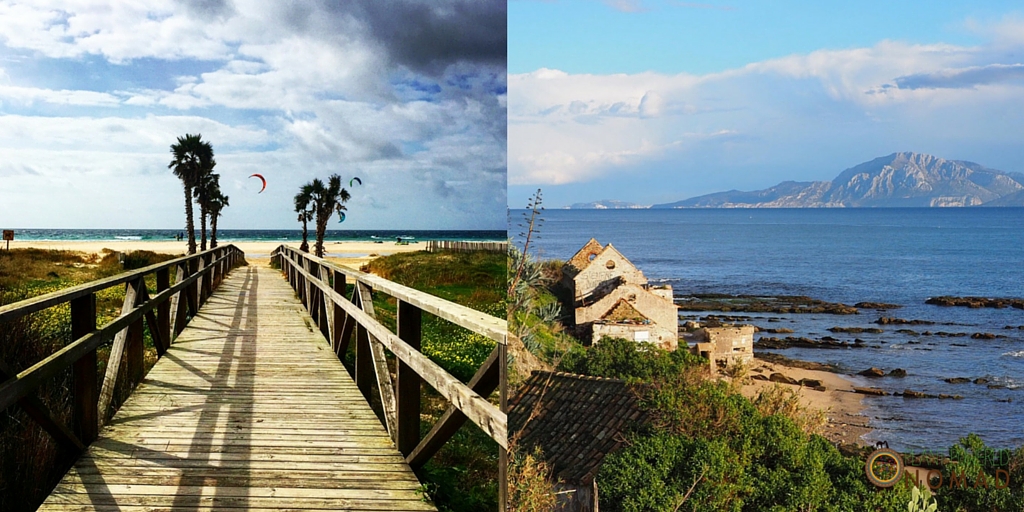 The EcoCenter – vegetarian
Tarifa EcoCenter is a restaurant with an organic shop at the back where you can buy things like seitan, tempeh, and various healthy type foods. For €10 you can also order an organic seasonal vegetable box that comes every Tuesday.
Everything I ate at the restaurant was excellent, from their pizzas to their salads. It's mainly vegan, but it's worth checking.
Cost: midrange.
Taste: yummy
Would I return?: for a nice dinner, definitely!
Chilimosa – vegetarian
I was so excited to discover that Chilimosa was right next-door to my first apartment in Tarifa… only to discover that they'd gone away on holiday for a month. Visiting Tarifa in off-season definitely has its downsides!
Cafe Azul – serves meat
If you're looking for a place that does a good, cheap soy latte (caffe latte con leche de soja) and a tostada con tomate y aceite, then look no further than Café Azul. It's not got wifi, and it closes in the afternoon for siesta (like everywhere else), but if you want somewhere to meet for breakfast it's perfect.
CADIZ
Cadiz definitely isn't as vegan friendly as Tarifa, but it's an extremely pretty town to walk around for a day. A little bigger than Tarifa, there are lots of winding streets that all look the same and are easy to get lost in. If in doubt just follow the sound of the sea.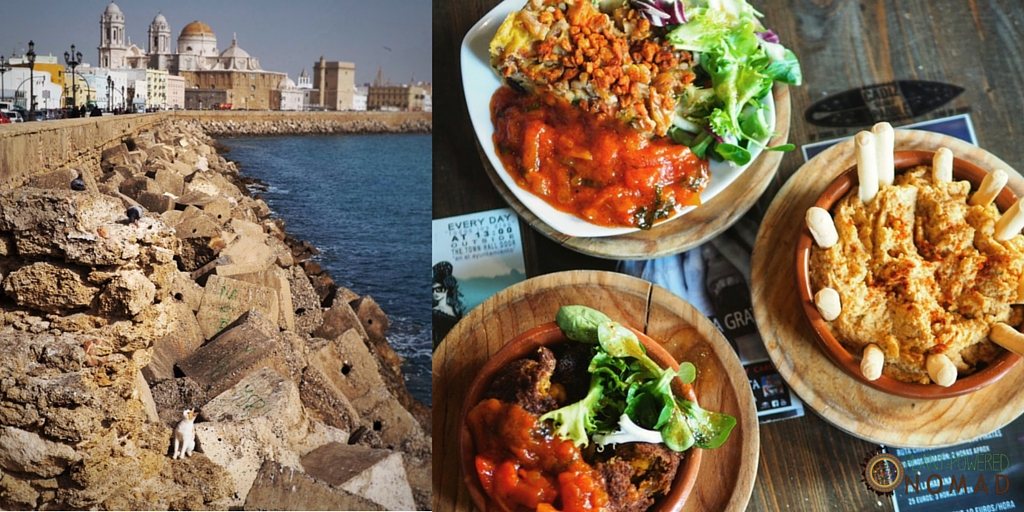 La Isleta de la Vina – serves meat
They may not be veggie, but they have a clearly labelled vegan tapas menu and their food was good. As it's tapas one won't fill you up – we split 5 between two of us and it was a decent amount of food. They have hummus, falafel, and a 'burger' which is more like a vegan quiche thing.
SEVILLE
Seville has some pretty amazing vegan food, and even… gasp… vegan cake! It's not too big a city, so take the extra time to get to the vegan friendly places rather than relying on regular restaurants, or you'll be eating a lot of espinacas con garbanzos (chickpeas with spinach), the vegan friendly tapas that's on almost every menu.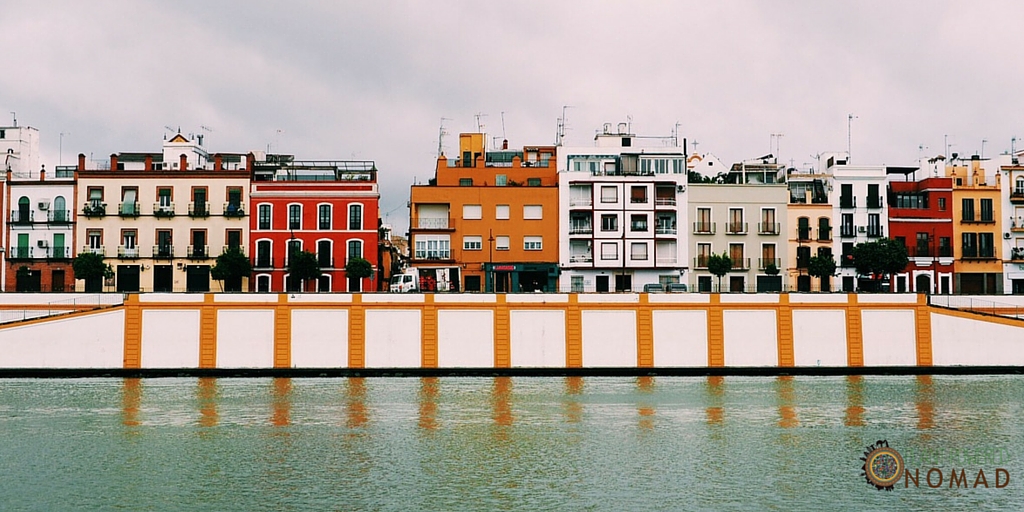 Bar Cardomomo – vegan
The owner is one of the sweetest women I've met, utterly enthusiastic and friendly. I popped in there at the end of the day and we spent quite a while using google translate to have a conversation. I only tried one tapas – the burger – because I was curious what a tapas burger was like. It turns out it's a really really tiny vegan burger, but a tasty one. I tried a piece of cake too, and it was decent.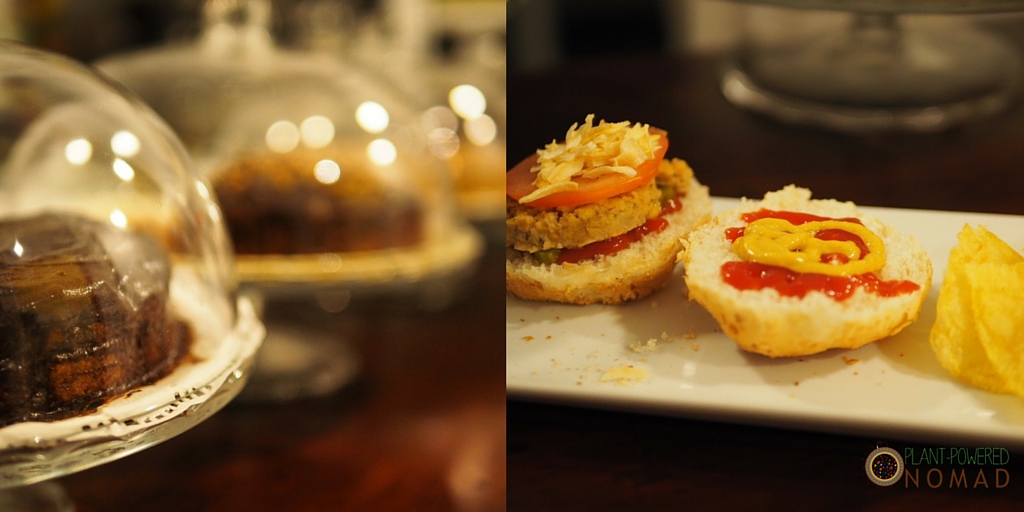 Cost: cheapish.
Taste: like tasty home cooked food, miniaturised.
Would I return?: sure, but mainly for the owner's company.
Veganitessan – vegan
This is my favourite place on the list, hands down and no contest. It's a small stall in an indoor market, but there are plenty of options on the many and an amazing selection of cakes and pastries. We tried two of the burgers, which were tasty and the potatoes that came with them were amazing. I know it's a little odd to rave about the potatoes, but they were some of the best I've ever had. I took away a chocolate croissant to eat on the bus the next day, but ended up eating it at 1am instead… it was calling to my from my bag, and my willpower caved.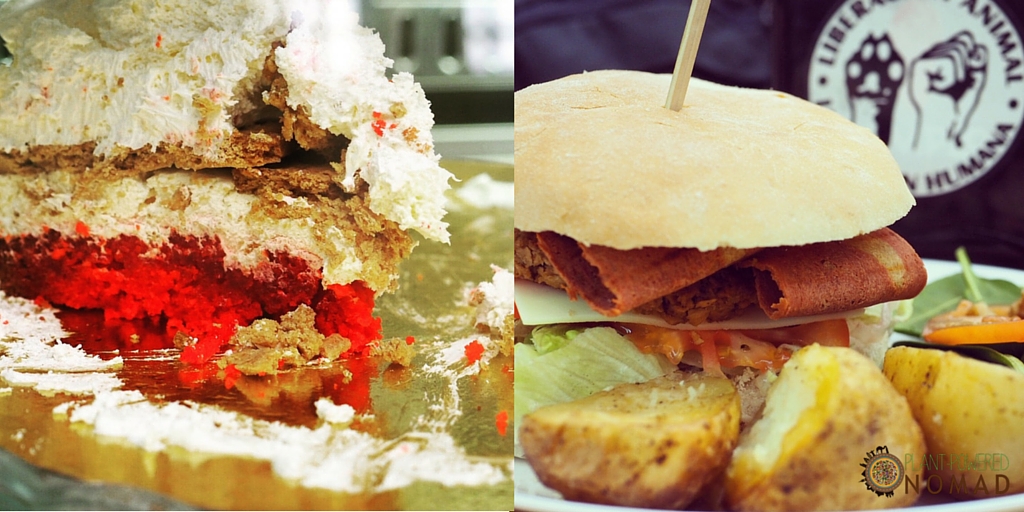 Cost: cheap.
Taste: burgers were good, desserts were amazing.
Would I return?: definitely, and in fact I did later that day.
Bar Ecologico Gaia – vegetarian 
Attached to a giant health food shop, Bar Ecologico Gaia is a more upscale restaurant than the others on this list and is well established in Seville as a vegetarian restaurant. About 50% of the menu is vegan, and there are some interesting options. I tried the bulgar wheat which was delicious and was a nice change from the oil and bread.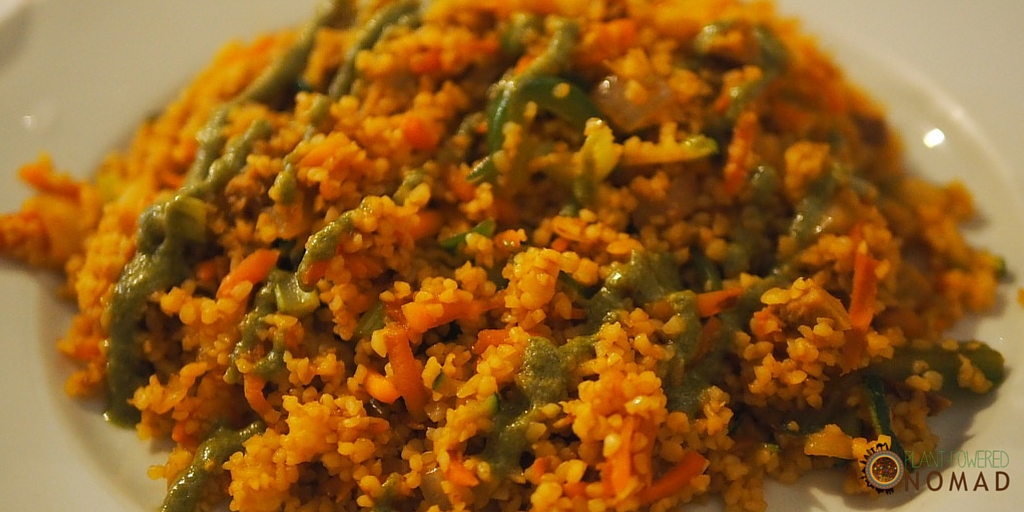 Cost: moderate.
Taste: delicious and healthy.
Would I return?: for a nice meal out, yes.
Mama Ines – serves meat
Best (and cheapest!) breakfast I had in Andalusia of tostada, latte and orange juice. I would have gone here every morning if it was closer to where I ended up staying. The tostada bread was light and fluffy with a crusty outside, and the tomato was thick and tasty. The tostada, orange juice and latte cost €2.50.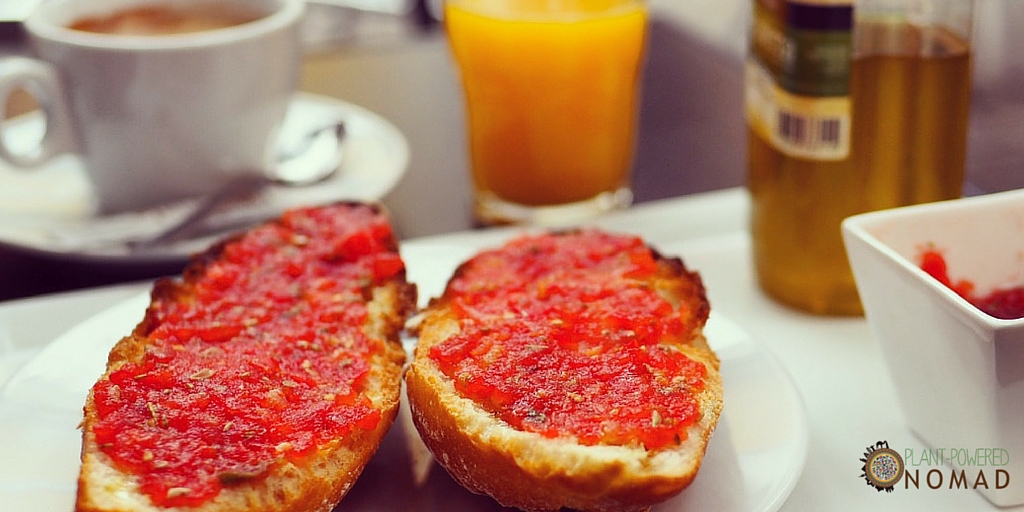 Cost: cheap.
Taste: mmmmm… *daydreams*
Would I return?: definitely.
Have you been to Andalusia? What did you find to eat that wasn't bread and oil?
 PIN IT FOR LATER: