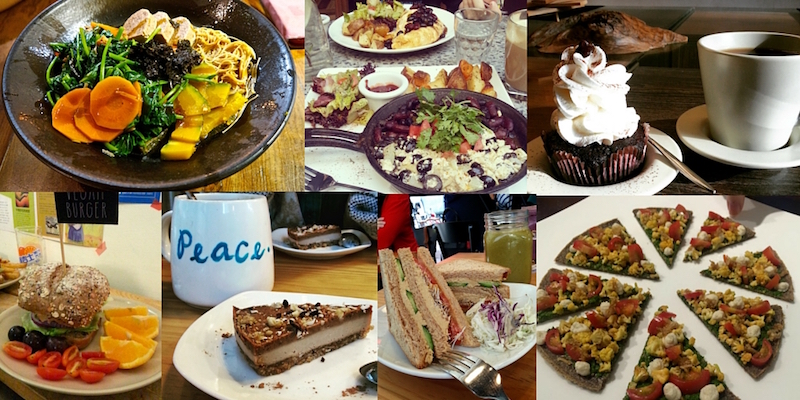 I wrote a Taipei vegan restaurant guide a while ago, but then I visited a few more places that became firm favourites and didn't add them to my guide. So here it is, in no particular order: the ultimate, not to be missed guide for vegans and vegetarians in Taipei, Taiwan.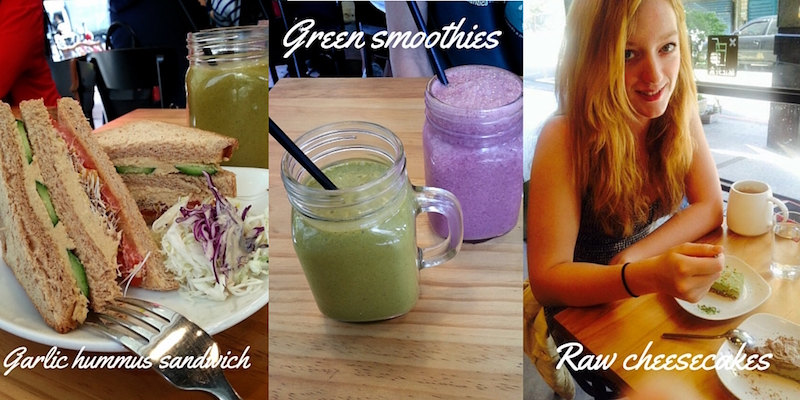 OOH CHA CHA
I love this place, and I've just started on my third loyalty card (yes, they do loyalty cards! Although only after I'd already spent a fortune there). Run by Spencer and Mai, who are hopefully expanding at some stage (not sure if this is fact or my wishful thinking) it's quite a small and often noisy and crowded cafe.
They do healthy green smoothie/juice mixes, sandwiches, macrobiotic bowls, and raw vegan cheesecakes that are utterly amazing. They also do some pretty tasty hot drinks that often get forgotten about.
My regular order: Balsamic Mushroom or Garlic Hummus sandwich; GoGo Goji drink; Mocha Fudge Pie.
Directions: walk out of Guting MRT exit 2, take the first right, and you'll be there 10 seconds later. If you go around lunch (12-2) or dinner (5-7) expect to wait. They get busy! They'll take your number and call when there's a seat available.
Happy Cow; Facebook; Phone – 02 2367 7133; Website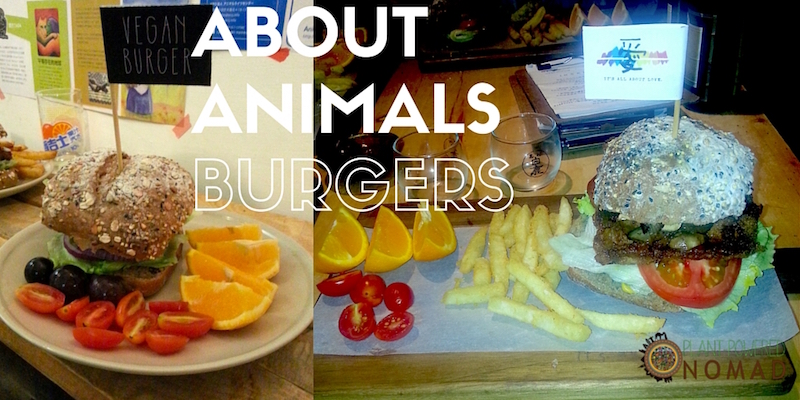 ABOUT ANIMALS
This one's a little more out of the way than the others, but it's close to iVegan so you can pick up some groceries afterwards. It's also the last to close, as they serve food till 10 most nights. About Animals is one of my top burger places in Taipei. Actually, their wasabi burger is so good, I've never ordered anything else when I've been there… it will satisfy vegans and omnis alike, just make sure you order a side with it if you're a big eater. The last 4 times I went in though… they didn't have it. So maybe call ahead. They serve burgers, hotpots, rice dishes, and various deserts. They also have beer in the fridge, and animal rights/lgbt rights/everything rights postcards and labels on the walls. They have good music and a good atmosphere to chill out with friends and enjoy a burger.
My regular order: the wasabi burger; fried yams; banana chocolate pie.
Directions: walk out of Wanlong MRT exit 2, and walk past the 7/11 and out onto the street. Turn right, then left, then right at a decorated white stone at about knee height and you'll be backtracking along a little lane. It's on your right. They're open later than most places, so they're good if you get hungry after 8.
Happy Cow; Phone – +886-983683024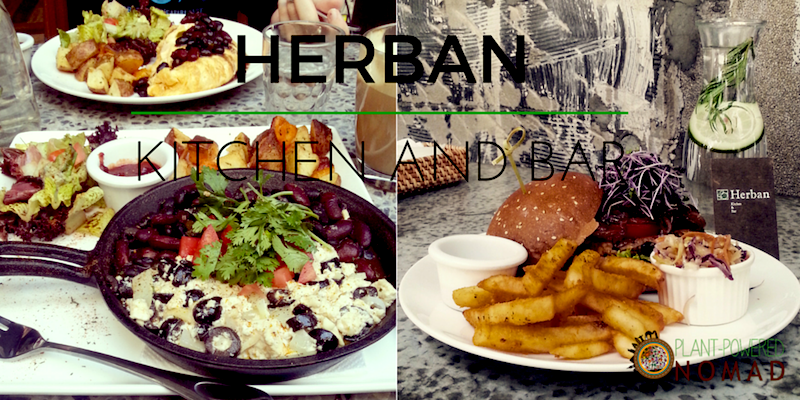 HERBAN KITCHEN AND BAR
This is the only vegetarian place to feature on this list, but it's also the only place that does a good vegan brunch and nut milk lattes. If and when Naked food does a nut milk option then their latte will take the vegan latte in Taipei prize, until then it's held by Herban. They also add syrups, which also not many places have as an option. The menu is currently about 50% vegan and is expanding all the time.
They're a little pricey (around 300nt for a main, plus 10% service charge) but the decor is amazing and they have outdoor seating. They now have a vegan dessert and a vegan burger, too, that's excellent.
My regular order: the tofu scramble and a cashew vanilla latte for brunch, the raw pad thai for dinner. They provide unlimited rosemary and lime water on the tables that's delicious, so I don't ever buy a drink apart from the latte.
Directions: walk out of Zhongxiao Dunhua exit 8 and walk straight on till you reach the crossing, then cross to the other side of the street. Walk straight on and take the first right at the family mart, then it's right again almost straight after. It's very easy to miss so look for a small sign on the wall and then walk down the tiny alley and you'll see it on your right at the end.
It's very popular, so if you're there for dinner try and book a table a few days in advance or be prepared to wait, especially on the weekend.
Happy Cow; Facebook; Phone – +886287737033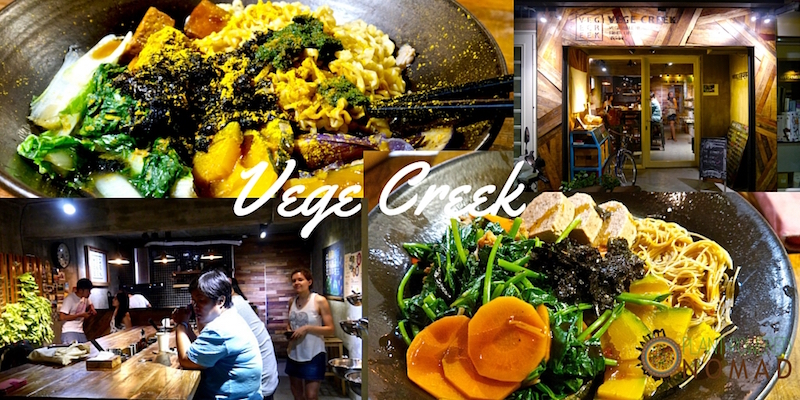 VEGE CREEK
I've had a love affair with vege creek since I moved to Taipei. It's cheaper and more convenient than the other places on this list (although still pricey for what it is). You walk in, take a basket, and select vegetables, mock meats and leafy greens from where they're around the walls, suspended in bowls. Then you select a noodle card, hand them your basket, and they boil it up for you in about 5 minutes in a medicinal broth. You can add spice and condiments to your own taste.
The best thing about Vege Creek is that it's so fresh. You see everything that goes in and 5 minutes later you have a hot meal. A filling bowl will cost you between 190 and 230nt, depending on how hungry you are.
Directions: there are 2 branches, one by S.Y.S Memorial Hall, and one in the 24 hour Zhongxiao Dunhua Eslite on B1. To get to the S.Y.S one, leave exit one and walk on, then follow the street as it curves round. Take the fourth right and it's on your left. To get to Eslite, walk out of Zhongxiao Dunhua exit 5 and walk straight on. Cross the large crossing and you'll see it on the other side.
Happy Cow; Facebook; Phone – +886227781967
MIANTO
Mianto is my favorite lazy Saturday/Sunday place if I want to go somewhere and work for a few hours. They have plenty of space so I don't feel like I'm taking up valuable customer room, they're really friendly, and their food is good and filling. They do pasta, curries and cupcakes/cakes. The pasta servings are more generous than the curries, so if you're hungry go for that. They also have a pizza. Prices are around 250nt.
See my complete review here.
My regular order: the mushroom and tomato pasta, a cupcake and a Miantochino. If I'm feeling cheeky I ask for some of the vegan ham to be added to my pasta. Mmm…
Directions: Walk out of Dongmen MRT, Exit 7. Walk straight and turn left on Xinsheng Rd. Continue till you reach the YuanTa bank. That is lane 146, turn left. Continue 50m and see Mianto on the right
Happy Cow; Facebook; Phone – +886223219749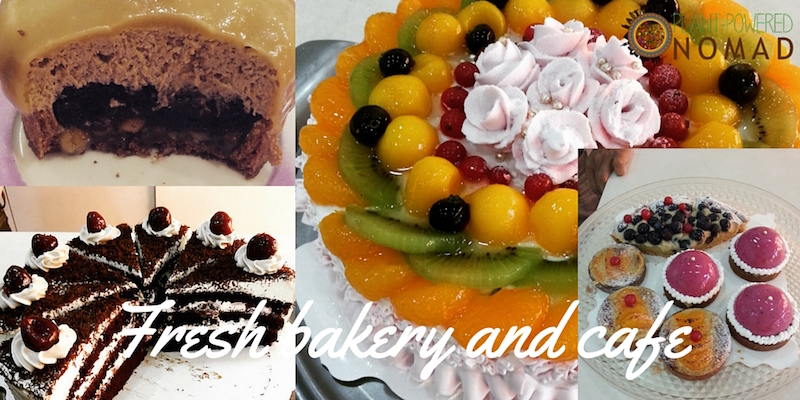 FRESH BAKERY AND CAFE
I love Fresh, and I go there a lot. You should definitely visit if you're in Taipei. The only reason they didn't make the top 5 is that they're a bakery, not a sit down and eat place, although you can have a seat and they'll make you feel welcome. I recommend the banana chocolate cake and the bacon and cheese bread. They're also very reasonably priced.
Directions: Walk out of Kunyang exit 4 and cross the large street, then go left and you'll see it to your right about a minute later.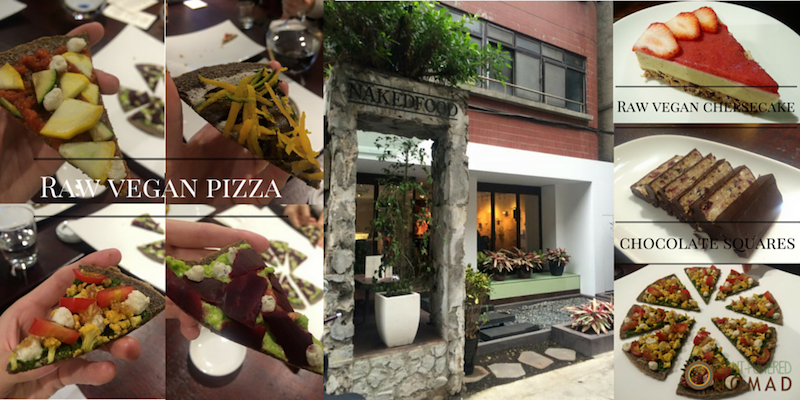 NAKED FOOD TAIPEI
This is Taipei's first raw food vegan place, but their prices are high and their portions are small. You're going for the experience, more than the food. My omni friend asked me the other day if I'd been there, just to complain to me about the size of the portions for the price! Probably  not somewhere I'd take a non-vegan if I was looking to introduce them to vegan food. Find my full review here. Warning – the wine may or may not be vegan, the owner was unable to find out.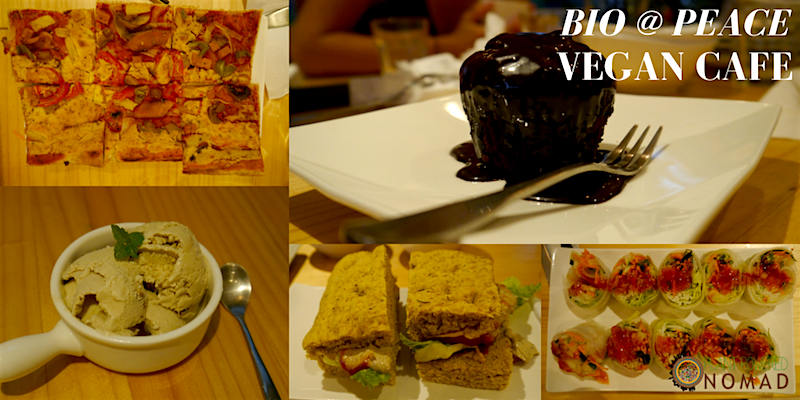 [email protected] VEGAN CAFE
One of my favourite vegan restaurants in Taipei, BioPeace is worth the trip. Take the MRT to Xindian at the end of the green line, walk down the street and get a bus for about half an hour. It's a bit of a trek, but it's worth it. Jesse from Vegan Taiwan has written a more complete day out guide with a detailed description of how to get there. I went there with him the time I took the bus, so I'd probably trust him over me. The cafe itself is an oasis nestled in the mountains, quite high up. The staff are lovely, and the food is excellent. I particularly recommend the pizza, the quiche and the cake. It's 100% vegan and the owners are constantly working on improving the menu. After lunch at the cafe, you can take another bus to the hot springs for a relaxing soak, or you can go on a hike. Don't miss the chance to make this into a day out away from the big smog that is Taipei.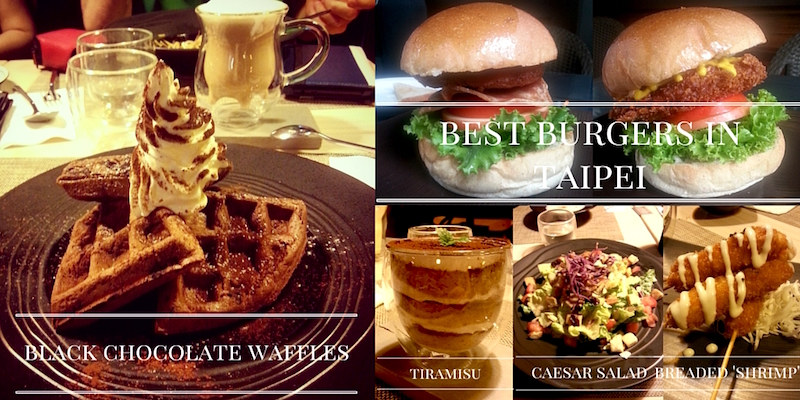 SOUL R. VEGAN
Soul R. Vegan was right next to my apartment in Taipei, but sadly – or luckily for my waistline – I had a bad first experience here that led to me not going back for months. When I did go back, I realised what an amazing place I'd been missing. Our Taipei vegan group of friends had birthdays here, leaving parties, nice dinners, lunches… the food and drinks are amazing and the staff are friendly and full of love. I can't recommend this place enough, just be aware that the food can be a little slow arriving. The burgers are on the afternoon tea menu (2-5) and so are Soul R. Vegan's best kept secret. They're fantastic, as are the waffles. Go there and give them some love – just book in advance, as it's a small place.
BONUS RESTAURANTS 
These ones aren't my favourites, but they're worth checking out if you're in the area and hungry.
MISS GREEN
Miss Green is by Xinyi, and does burgers and raw desserts among other things. The interior design is worth a trip for, but the portions are too small for the price and you'll leave hungry. Both omnivores I've been there with commented that they could do it better and one went away and ate fried chicken afterwards because he was still hungry – not a good recommendation at all! The desserts are okay but lack flavour, same as the burgers.
LOVING HUT
The S.Y.S Memorial Hall Loving Hut has been unanimously voted the best in Taipei – it has hotpots, cakes, and bibimbaps amongst other things. The food is good but not exceptional, and the decor is like every other Loving Hut I've been to here – slightly clinical, with a strong overtone of Grand Supreme Master. It's a place to take other vegans, unless you reassure the omnivore you're taking there that you're not trying to induct them into a cult.
DELICIOUS ADDICTION
Cheap and easy, Delicious Addiction serves traditonal Taiwanese food like noodles and soups. Their daily meal set will cost you 70ntd and leave you full up and satisfied. Their noodle soups are like Veggie Creek, but half the price. Two of my friends here swear it's their favorite place in Taipei, but it's not somewhere I personally would take someone for a meal. The decor is basic and it's a quick meal place, not a fine dining experience. It's also a little out of the way, as it's near Dingxi MRT.
If you want to know to find more restaurants, check out my posts on how to be vegan in Taiwan, and being vegan in Taiwan. I also talk about the best cake in Taipei, and where you can find a good vegan latte.