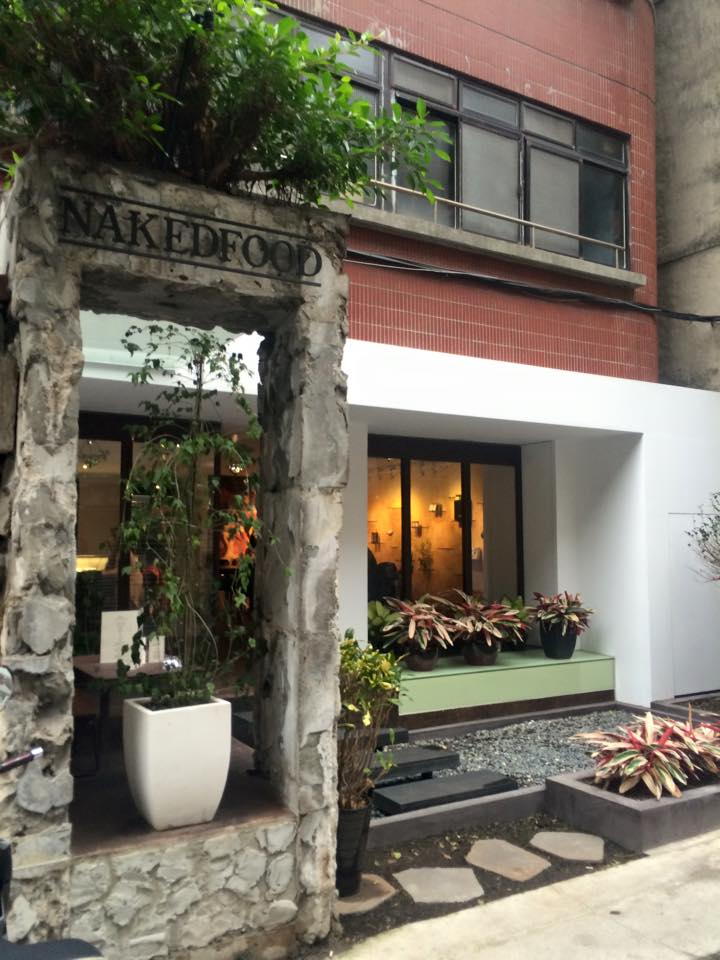 A host of new vegan restaurants have been springing up across the city. When I touched down, several were still in their infancy and in the eight months since I arrived in Taipei, two or three more have opened. Here's the first in a rundown of what Taipei offers for Western style vegan eating.
Naked Food
This is the baby on the block. They opened for retail at the new year, and for business at the start of February. As the name might suggest, everything they offer is raw vegan.
Raw veganism is something I'm open to dabbling in, but when I hear 'raw' I also hear high price tag and small portions. Naked Food's menu is a fraction of the price tag that it would have been in London (where I once spent $40 USD on a soup, a small raw burger and a side of six sweet potato fries and left still peckish) but it still isn't cheap compared to most of the vegan dining in Taipei.
The food and the decor are both beautifully presented. The kitchen is all stainless steel and stretches to the back of the room, covering as much floor as the dining area. I didn't see them actually using the kitchen though – the food appeared through a hatch in the floor – so I'm assuming that the kitchen is for teaching culinary classes.
The coffee/tea portions are generous, although they use soy milk to make their lattes – I was expecting coconut or nut milks, which I would have preferred. They had the nice touch of coconut sugar, instead of normal sugar, which made the soy milk particularly surprising. We all ordered pizzas so we could split them between us. Here are some highlights:
Left to right top to bottom: Naked Food from the front; Chocolate and oat berry squares; Strawberry vanilla bean cake; ChimChurri pizza, cauliflower, tomato, marinated onion, tree nut cheese; Avocado pizza with beet root carpaccio, preserved lemon and tree nut cheese.
The owners were lovely and welcoming and definitely added a lot to the dining experience. They're extremely passionate about their food, and I believe the menu will develop a lot over the next few months. The pizzas were delicious: the unanimous favourite being the ChimChurri cauliflower pizza which was divine. The food was fresh, delicious and full of flavour. It's some of the best and healthiest vegan food I've tasted here.
My price tag for a decent amount of pizza, the raw strawberry vanilla bean pie and a latte came to 760ntd. This is the most I've spent on a meal here so far, and while it was enjoyable, my friend sent me a message afterwards which I echo: 'did we really just pay 320ntd for a piece of pie??'
A lot of us left hungry, too, but they assure us they'll be creating a more filling lunch menu soon with larger portions. It will include pasta, lasagne, wraps and flatbreads and I have no doubt it will be delicious. They are keen to develop their menu, and I will watch is eagerly. I'm not sure I'd pay that much for lunch again, or at least I'd save up first, but I'd go back for a coffee and I would like to try the lunch menu… when my bank balance has recovered a little. For me, at least, it's somewhere I'll save as a treat.
Rating:
Taste – 5/5
Value – 3/5
Atmosphere – 5/5
Details
Address:台北市中正區新生南路1段160巷22-1號, Taipei, Taiwan,
Phone number: 02 2396 2202
Facebook: NAKEDFOOD by Delicious Taipei
Check the Facebook page for opening hours and updated menus.