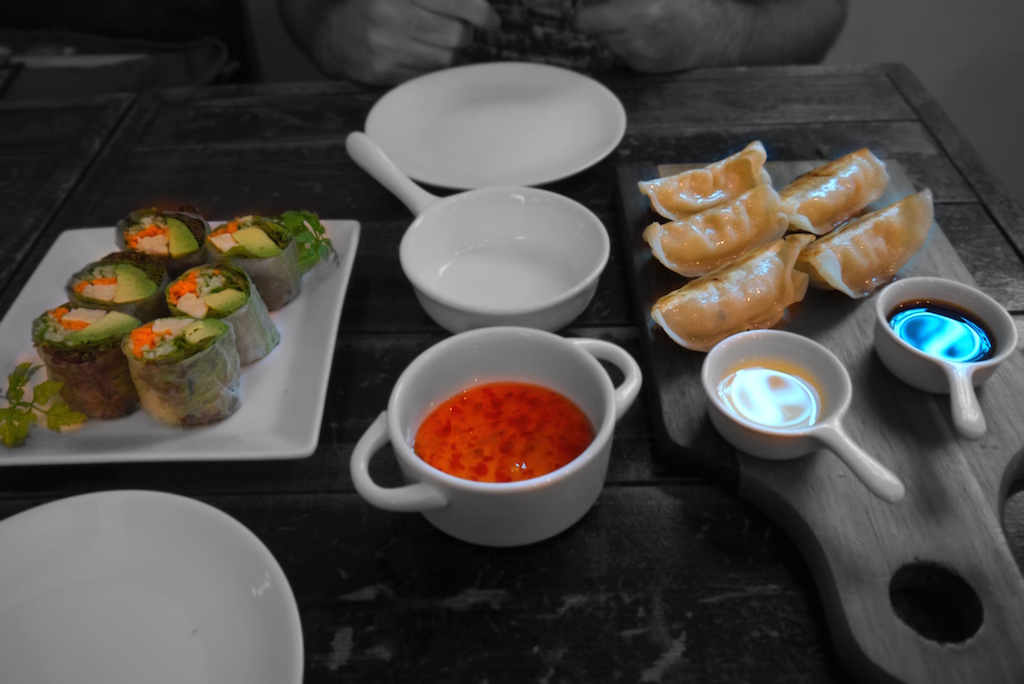 By which I mean eating out. I needed at least two weeks to get round the vegan restaurants in Tokyo and I didn't have that, so this is just a smattering. Ohhh the glory of vegan food in Tokyo. One note: the servings all over Japan are quite small, for this reason I haven't given any of them particularly good 'value' ratings except 'T's', which is significantly cheaper. Most came in around 1000jpy-1400jpy for a main, and 500-700jpy for a dessert.
Cori Vegan Foodstand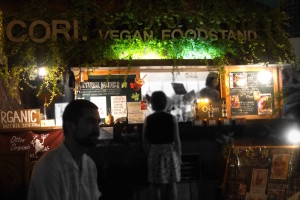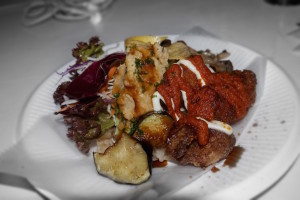 This is one of my favourite places that ate at in Tokyo, in fact so good that I decided to go there for my birthday. Luckily it was open then, but not the next time I went there. However, as you'll find out later, going somewhere and finding out they're closed has become a theme of my Japan trip. The spicy veggie plate was my favourite thing (but not spicy). You can also buy organic berry wine here, which is delicious and has large berries floating in it. It's in a place called Commune 246 which is a really cool area to just hang out, and especially if you're travelling or eating on your own it's also a good place to meet people. You're looking at 1000yen for a smallish plate of food, although smallish plate should be assumed for all the meals in Japan, they're not big servers.
Do or don't visit?: Do
Taste – 4/5
Value – 4/5
Atmosphere – 5/5
Hanada Rosso
I power-walked here and made it 5 minutes before last orders, and it was worth it. It's on the pricier end but it makes up for it with flavour, and then some. This is one of the best burger patties I've had so far, it was rich, moist and tomato-y. It also wasn't a fast food burger, which I keep encountering in Kyoto, much to my surprise. The cheesecake was good, but a little too baked for my liking. Pure's cheesecake definitely has the edge, and it's maybe only a 10 or 15 walk from Hanada Rosso. The interior was nice but there was nothing that made it special, and it was a little too cafeteria for me.
Do or don't visit?: Do
Taste – burger 5/5, cake 3/5
Value – 3.5/5
Atmosphere – 4/5
Pure Cafe
This is attached to the Aveda store which, as you might guess, means that it's expensive. It packs out around lunchtime and you might have to wait for a table, but it's worth it. I had the special, which was a soy meat dish, and it was okay but not exceptional. It came as a set and the soup was pretty good, too, but oniony so if that's not your thing it's best to check before ordering. I heard their tempeh is excellent, and I'd have liked to try a few other things on the menu, too. The cheesecake is definitely where they shine: it was delicious, and has a texture very similar to what I remember real cheesecake being like.
Do or don't visit?: Do
Taste – main 3/5, cake 5/5
Value – 4/5
Atmosphere – 4/5
T's Tantan
I may get shot for this by the T's Tantan groupies but… I was not a T's Tantan fan. Maybe it's after a year in Taiwan, but the noodle soup I ordered just didn't have any wow factor for me. It's in Tokyo station, though, which makes it very convenient until they randomly close and tell me I can't come in (I was trying to give it a second chance, fate was against me). It's good for a cheap, fast meal that's pretty tasty, but it's not something I'd go out of my way to eat. It's a bit difficult to find: follow the signs for the Keiyo line and eventually you'll see it on your right.
Do or don't visit?: If you're going through station, do
Taste – 3/5
Value – 5/5
Atmosphere – 3/5
Hangout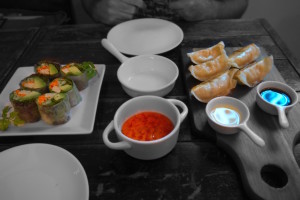 Hungry in Tokyo at 10pm? This is the place head to, last order is 11.30pm and they close at midnight. It's a Japanese vegan version of a tapas bar, so you order several small plates. The staff were very friendly, and they also offer alcohol. I tried the gyoza, the vegetable rolls, and some fried soy meat things which were excellent. They were all good but quite simple, I especially felt the gyoza I've eaten before for less money. I'd order the rolls and the soy meat again, though. The place was cool, but would have felt cooler with more people: it was dead when I went. Maybe I'm just hard to please, or maybe I should have tried more, but for what it is I felt the price tag was a bit hefty. For a meal for two expect to pay around 5000jpy before you start adding drinks.
Do or don't visit?: Do, but it wouldn't be my first choice
Taste: 4/5
Value: 3/5
Atmosphere: 3.5/5
Nagi Shokudo
I have to admit I really like having to take my shoes off and getting to sit on a raised platform to eat, either cross-legged or with the spaces under the tables. It makes me far more inclined to hang around and get comfortable. This is one of the best places I ate. For the lunch/dinner set pick 3 things off the menu and they add rice and soup. Every small serving was delicious and full of flavour, I particularly liked the okra which was prepared in a way I hadn't tasted before. I didn't try their cake, which was a mistake as I now wish I had, as I've since been cake eating my way around Japan.
Do or don't visit?: Do
Taste: 4/5
Value: 4/5
Atmosphere: 4/5
From Earth Cafe OHANA
Everything here is in Japanese, but you can get by as it's all vegan. I tried the burger, and my couchsurfing host had a black bean fried thingy – I think it was the special. It was considerably better than the burger, there wasn't even a comparison to be made. My burger was dry and bland, and I had to ask for ketchup, but the black bean thingy was full of flavour. I tried the cake afterwards which was good, and came with Matcha ice cream. It also came with these odd rice crispy things which periodically appear in Japanese food, and I remain confused about why they were there. The place is also a health food shop, and it's exceptionally cute.
Do or don't visit?: Do
Taste: 2/5 for the burger, 4.5/5 for the black bean thingy.
Value: 4/5
Atmosphere: 5/5
Sky High
The cold-pressed juice and green smoothie trend has, no surprise, hit Tokyo and this is one of several juice bars. It's all vegan, and also offers sandwiches for about 1000jpy. One of my couchsurfing hosts went here and sent me a message, after which I joined him. His message went something along the lines of 'vegan eating is expensive! I just spent 1800jpy on a juice and a sandwich with some bits of carrots in it.' The juice was delicious, between 800-1000jpy depending on which you choose (you can also get a large one, which is better value) but I think the sandwiches probably are overpriced and you'd be better off getting a juice then going elsewhere for food. Bear in mind that fruit and veg in Japan is extortionately expensive, so if the juices seem expensive, it would cost you much more to make your own. It's tiny but friendly and within minutes we were talking to everyone else in the shop.
Do or don't visit?: For a juice, do
Taste: 5/5
Value: 4/5
Atmosphere: 4/5
VegFru
When T's Tan Tan failed me, I set out on a marathon mission to find somewhere else open, fast. A marathon because I was carrying all my possessions on my back (I was heading to Hiroshima) and  they were heavy, and I was hungry. And it was very, very hot. I got lost on the way, and ended up wandering for twenty minutes more than was necessary. Finally I made it and sat down in a sweaty heap. I ordered the salad set, and was served a very pretty but quite small salad with some warm seedy bread and the standard green smoothie which goes with it. As usual, no English was spoken and the staff looked a little horrified at my large back and dishevelled appearance. It was a decent price and the dressing was delicious, but I wouldn't say the trip was worth it when there are so many other amazing places to try.
Do or don't visit?: don't
Taste: 3/5
Value: 4/5
Atmosphere: 3/5
BONUS
Coffee
If you're a life starts with coffee person like me, you'll be relieved to hear that there's a small chain of coffee shops called Streamers Coffee in the Shibuya/Harajuku area. They do the best soy latte I've had so far in Asia, and it's expensive but worth it. They also do something that seems to be unheard of in Kyoto for coffee shops: they open in the morning, when coffee is needed (8am on weekdays). The Shibuya shop has free wifi for tourists that says it has a 90 minute limit, but they don't enforce it.
Places I tried to go:
Vespera's falafel. They were consistently closed. I finally got my falafel fix in Kyoto, but sadly at a veg friendly place not a vegan one.
Have you been to other places in Tokyo? Or were you blown away where I wasn't? Let me know in the comments.