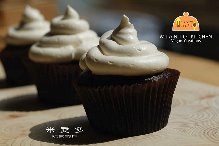 Curiously two of the new vegan restaurants in Taipei – Mianto and Naked Food – are within a stone's throw of each other. Mianto has been open a little longer. They originally started as a bakery and simple cafe, but then people started walking in, sitting down and demanding food. And so the Mianto that exists today was born.
It's a little hard to find, as they still have an interior design sign about the door – so look for the glass window and the flag, not the sign. Inside is wide and spacious. I particularly like their VIP room, and the large glass window that now has chairs and tables so it's possible to sit in the sun.
The menu still seems to be a bit of a work in progress. Once I was told that they weren't prepared to function as a restaurant, just as a bakery, this made a lot more sense. They serve pastas, curries and a pizza. The food is good, but it's food I can also make at home and therefore I'm not overly inclined to go there if I have time to cook. It's very tasty and filling though: and the pasta is the most generous serving size of any pasta I've had here. It won't leave you hungry.
The cakes are where the creativity is, and it's where Mianto really shines. I'm now in the habit of cycling down whenever I have a spare few hours for a cake and some coffee. It's a relaxed atmosphere, and I feel comfortable sitting and writing for several hours without being glared at for taking up a seat. Occasionally the owner, Michel, will wander over to talk. It's warm and welcoming, and the cakes are laden with fruit or chocolate, dense and moist. The coffee is excellent, and they do a Miantochino, which is a coffee with whipped cream piled high on top. I haven't found vegan whipped cream here, and it's something I love, so this was a real treat for me.
I have high hopes for Mianto, and think that there's a lot of potential in the menu. I order the pasta when I'm in if I'm hungry, but it's the coffee and cake that keeps me a regular.
Top to bottom, left to right: Mianto's pasta, cupcakes and coffee, chana masala, bread.
My own photo taking skills got forgotten in my eagerness to eat and drink, and so these photos are professional ones kindly provided by Michel when I mentioned I wanted to write about Mianto on my blog.
Rating:
Taste – 5/5 for the cakes, 4/5 for the mains
Value – 5/5 for the cakes and drinks, 4/5 for the mains
Atmosphere – 5/5
Details
Address:台北新生南路1段146巷7號1樓. Xinsheng S. Road, lane 146, nr 7, 1F Taipei, ZhongZheng, Taipei, Taiwan
Phone number: 02 2321 9749
Facebook page: Mianto 米愛多
They now open for dinner as well as lunch, and are open Tues-Sun 11am-9pm. Check Facebook for the latest opening times and menu.