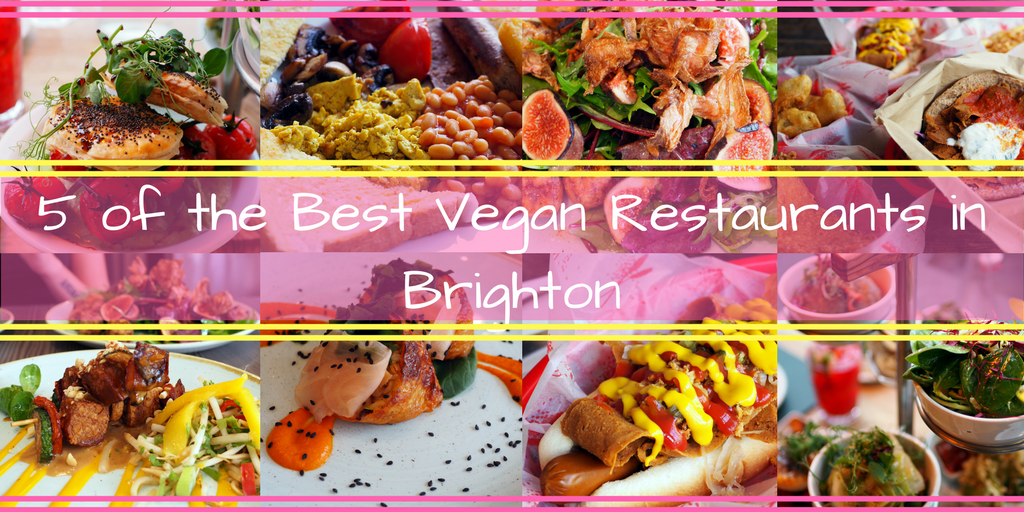 I visited Brighton for a weekend many years ago, when I was a fully fledged omni. My impressions mainly ran along the lines of "oh, pretty, many pretty shops, and the sea, oh this is nice…" Can I remember anything about the actual food? Does a vegan just eat salads? Of course not! Because my borderline obsession for revolving an entire trip around my taste buds is something that only started in 2012.
So let me tell you my impression from this trip.
"Vegan food! Vegan food! Vegan food everywhere! Wait, what? A vegan perfume shop? Oh the lovely smells! And more vegan food! Vegan donuts, what? Vegan cake? I can eat everything everywhere this is incredible!"
I am very sad to say that this isn't a definitive list of all the vegan food in Brighton. I think I would need a month and a far more elasticated waistband, and so this is only five. But oh my, what a five. Each has something that makes it shine, and you won't regret choosing any one of these to eat at when you're down for a day on the beach.
FOOD FOR FRIENDS – BRIGHTON'S ORIGINAL VEGGIE RESTAURANT 
Food for Friends is Brighton's oldest vegetarian restaurant. Dating all the way back to 1981, it's been on the planet far longer than I have (I'm not telling you how much longer though, nosy) and is a testimony to how deeply entrenched vegetarianism is in Brighton's soul.
For some reason I couldn't find the door, and so I wandered round the building pushing hopefully at everything door-shaped for quite a while until I got in. I'm infamously bad with doors so this has probably never happened to anyone else, but if you find yourself equally baffled then it's on the right-hand side, past the first door-like thing.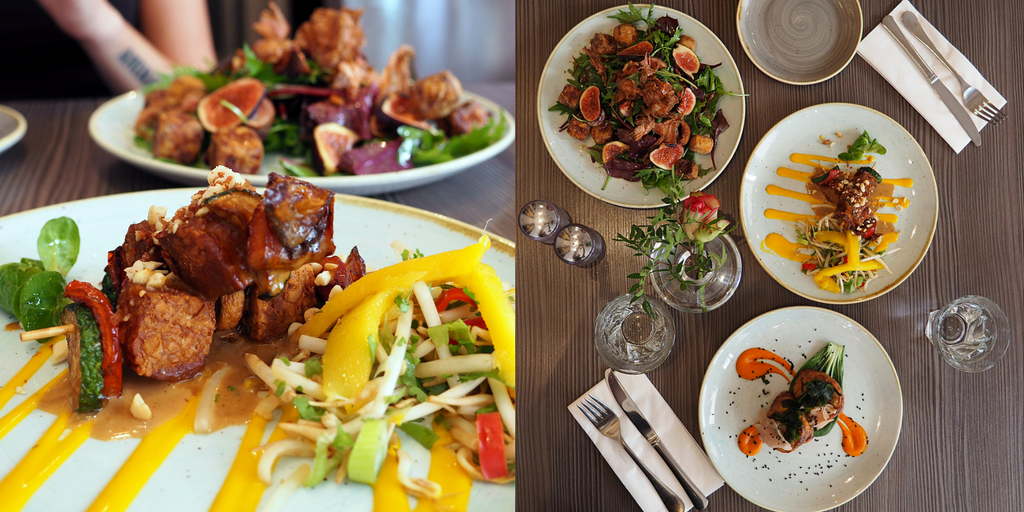 Once in we ordered starters of satay tempeh skewers with a chilli, mango, bean sprout and herb salad, and tofu pockets stuffed with stir-fried shiitake, spring onions and brown rice, served with marinated pak choi, pickled ginger, wakame and hot Gochujang pepper sauce. Now say those five times fast without taking a breath.
I was not expecting strength of the pepper sauce in the tofu pockets, which clearly shows how closely I read menus, but both were excellent. I'd pick the skewers over the pockets as my preference, as I don't see tempeh done well on menus very often. The real show stopper though was the fig salad with pickled ginger crisps and toasted pine nuts in an agave mustard dressing.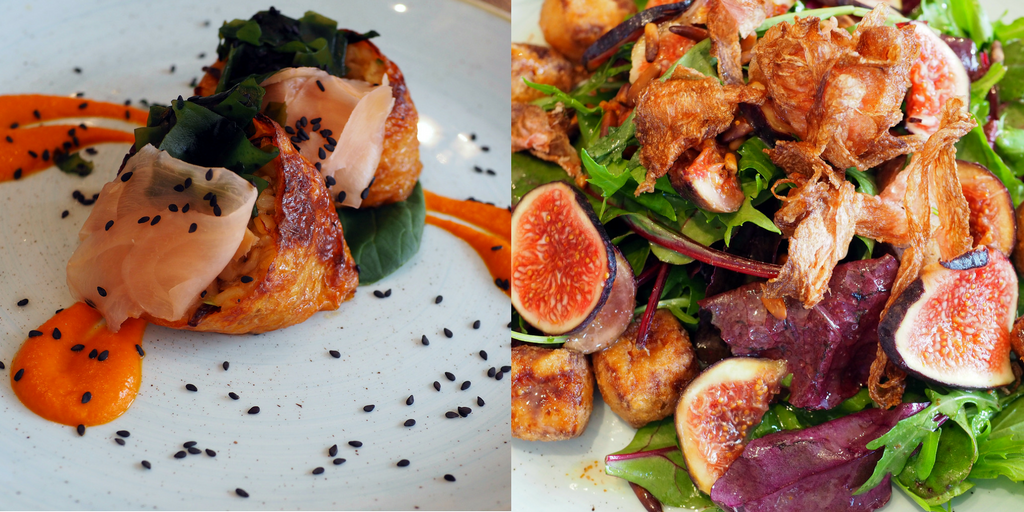 I'm always hesitant when I see "cheese can be replaced by tofu for vegans" on menus, as I usually imagine it's a bit of an afterthought. I don't know how these smoked tofu cubes were cooked, but I'm pretty sure they could convert even the most hardcore tofu-hater. They've been on my mind ever since.
Pros:
A beautiful restaurant and friendly staff.
Complimentary sparkling water.
Beautiful presentation.
Cons:
I would have liked a few more vegan options on the menu.
I don't have a constant supply of that smoked tofu.
Price range:
£20-£30 per person for two courses and drinks.
ROOTCANDI – THE NEW KID ON THE BLOCK TAKING THE VEGAN WORLD BY STORM
If you're one of my more loyal and devoted followers (and if you're not, why not?) then you'll remember that back at the start of this year I came up with the mildly ludicrous concept of asking other bloggers where they thought the best vegan meal in the entire world was. Amanda Burger, resident blogger and vegan burger connoisseur at Burger Abroad, thought that Rootcandi deserved this title. Naturally, it's been pretty high up on my to-do list ever since to check this out for myself. Strictly in the name of research, of course.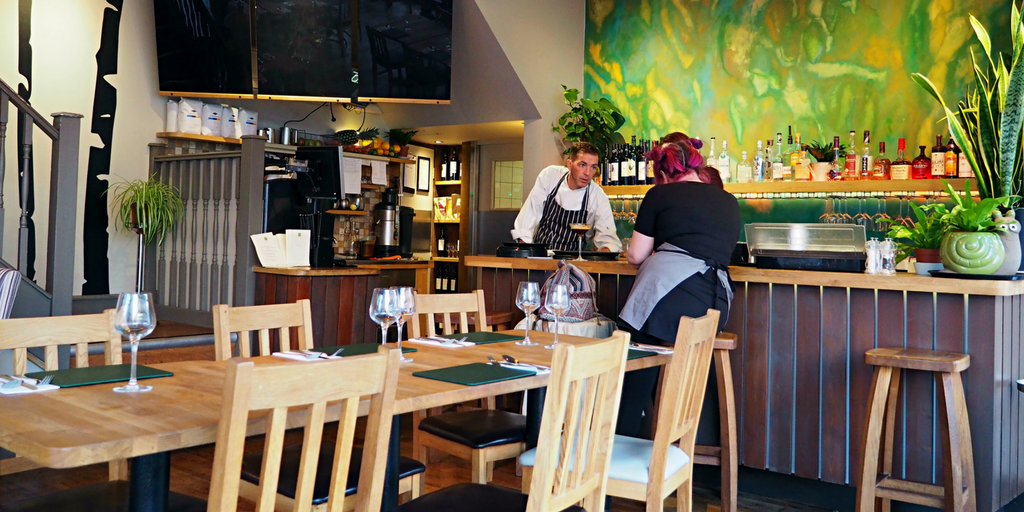 They're the UK's first all-vegan tapas restaurant, but they're tapas with a twist as you pick a theme – Asian, European, Indian, or a mixture of all three. You're recommended to pick a mixture of six, which comfortably feeds two people. It's the perfect date restaurant, as long as you're okay with sharing food, that is. Having been in Andalusia, the home of Tapas, earlier this year, it was nice to see Garbanzos con Espinacas nowhere on the menu.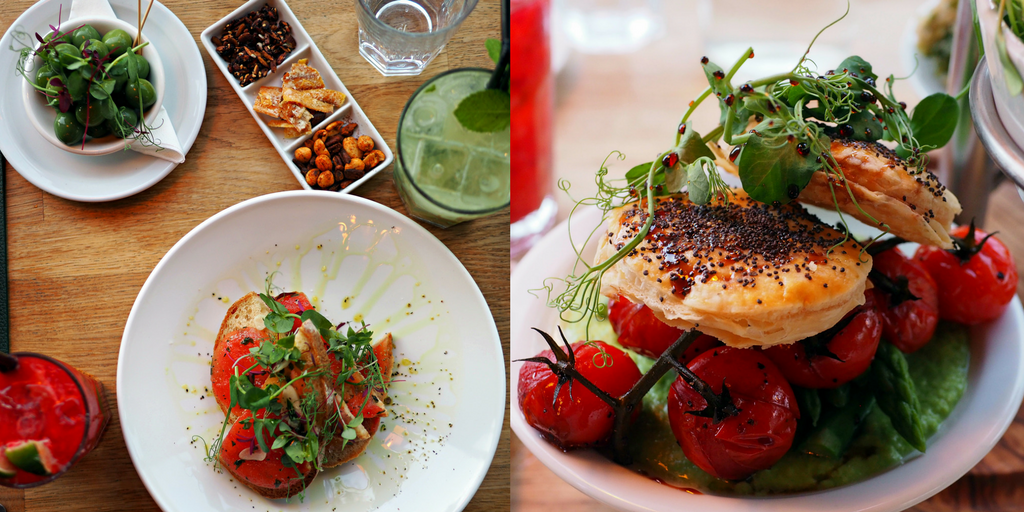 We plumped for the European menu, although I could have quite happily gone for any of them. What particularly impressed me about Rootcandi was that each mini-dish was a mini-masterpiece. Almost too pretty to eat. Each one was bursting with flavour, and my personal favourite had to be the asparagus with asparagus cream, little pastry puffs and cherry tomatoes. The flavour combination was absolutely on point.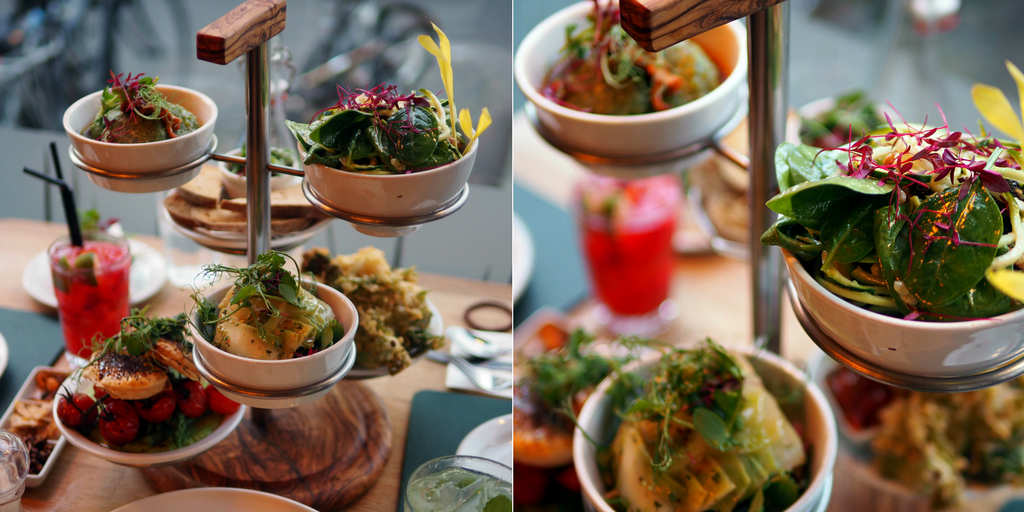 Dessert was a winner too. It the first time I've had vegan meringue (made from aquafaba) and it was so good it reminded me I really need to give making it myself a go. I still haven't, although last night I dreamt I was making them for my family who weren't my real family, but midway through making them I lost the thing I was using the squeeze out the mixture, and then my entire family suddenly got evacuated, and I was left in a room with crumbles of vegan meringue everywhere panicking about where everyone was. I went to a backroom and there were piles of pictures I'd drawn as a teenager that were weirdly really good, and I packed them up to take with me for when I too was evacuated, because I thought well I may be alone but at least I can decorate with memories of the past, and then I also packed the meringues I'd already made for the road.
Don't ask.
But Rootcandi was incredible. They can definitely remain on the list of the world's top vegan meals, and they're one of the best places I've eaten for sure.
Pros:
The food is amazing, creative, delicious…
Unique menu and dining experience.
Cons:
What my subconscious dreams up for me at night.
Price range:
£25-£35 per person for two courses and drinks.
GREEN KITCHEN – THE BREAKFAST SPOT OF CHAMPIONS
Am I the only one who feels like hearty vegan breakfasts and brunches are an underdeveloped scene? Green Kitchen has it sorted in Brighton, at this gorgeous little cafe a short walk or 10 minute bus out of the centre. I finally got my pancake fix of vegan bacon with maple syrup on pancakes – don't knock it till you've tried it – and a full English.
The vegan bacon is made by Sgaia's Vegan Meats, which is the first time I've heard of them. They're one of a few artisan vegan meat companies I've seen popping up in the past year, and their bacon was remarkably delicious. It wasn't trying too hard to be bacon, and allowed itself to be tasty in its own right, which I really appreciated. The same can be said of the menu: it's creative and interesting, without trying to be too fancy. I was spoiled for choice.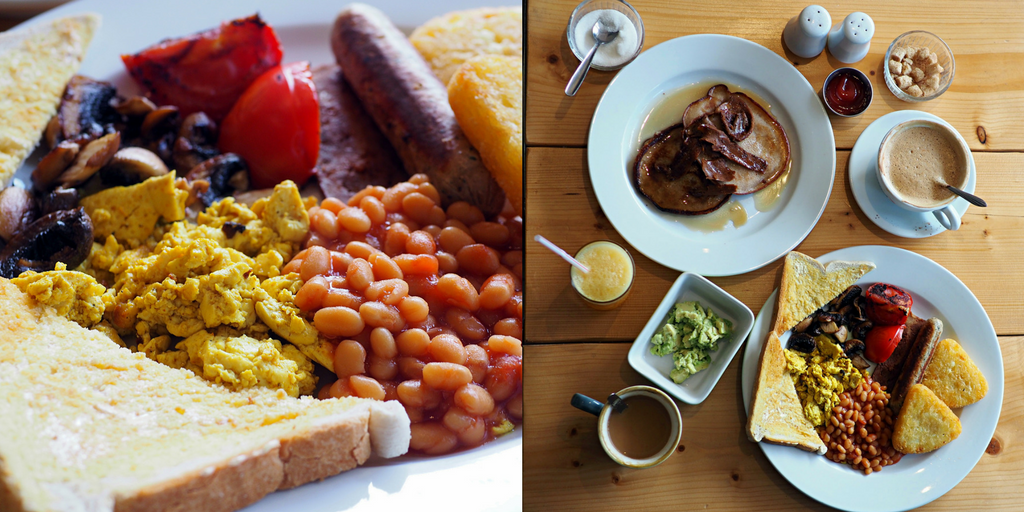 If you're visiting Brighton, try to find an AirBnB near here so you can set yourself up for the day before heading out to sightsee. Using my code that's off to your right in the sidebar will just about get you a free night's stay, and you can toast me in the morning with your soy latte. The cafe is also dog friendly, something I always appreciate.
Pros:
Good portions, delicious food, friendly owner.
Dog friendly.
Cons:
A bit of a wander from the centre.
Price range:
Under £10 for a meal and a coffee.
BEELZEBAB AT HOPE AND RUIN PUB – I'LL HAVE THAT DEEP FRIED PLEASE
If it's been more than a month since your last deep-fried-food-coma then you should get yourself down to Beelzebab, a kitchen that's being run out of a caravan at the back of Hope and Ruin Pub. Especially with the nights getting colder and darker, it's full on proper vegan comfort food that's just what the doctor ordered.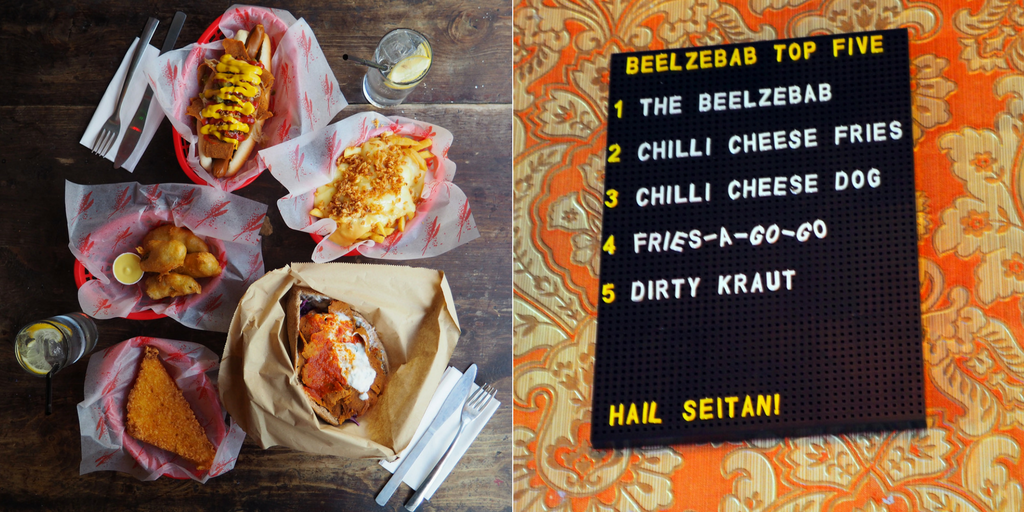 When we arrived they offered us the special of deep fried vegan mac & cheese. I'm not sure how you deep fry mac & cheese, but they did it and it tastes pretty damn decent. The thousand island fries came buried under a mound of sauce and melted cheese, and the hot dog was also groaning under the weight of seitan, cheese, mustard. Ohhhhh it was good. So good. My one mild niggle was the kebab could have done with a bit more sauce, as if it doesn't get as much of its contents smeared across your face as you manage to put in your mouth then I don't consider it's doing its job right.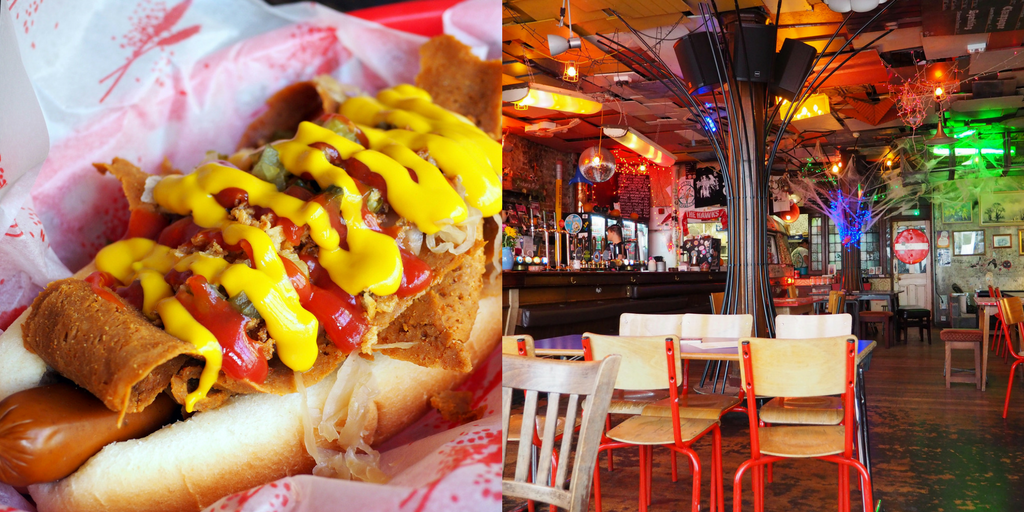 We didn't get to try the desserts this time, as the thought of more food was a bit much, but it's somewhere I'll definitely be back to next time I'm in Brighton, to finish eating my way through everything on their menu.
Pros:
Good people, good place, good food.
Cons:
The triple bypass required afterwards.
Price range:
£10-£20 for two items and a drink.
LOVING HUT ON THE LEVEL – CHANGING THE WORLD ONE MEAL AT A TIME
The lovely owner of this particular Loving Hut has taken the concept of Loving Hut – vegan fast food – and made it fly. She's left the typical Asian theme of the Loving Huts, saying it's not what she's familiar with, and has chosen to do the sort of food she can do well. She definitely does do it well, too, walking away with VegFest UK's best vegan restaurant award in 2015. It's not priced out of a range that students can afford, which I really appreciated, remembering my own student days when eating out was several days of food budget.
I tried a few things from the menu, but the winner dinner for me was the vegan fish and chips. I've had battered tofu and chips before, and was always vaguely disappointed. This one tasted unerringly like the real thing, though, but if anything nicer. Apparently a few weeks before a man had come in and ordered it. He can't have realised it was vegan because after finishing it he asked "that was really good, what type of fish was that?"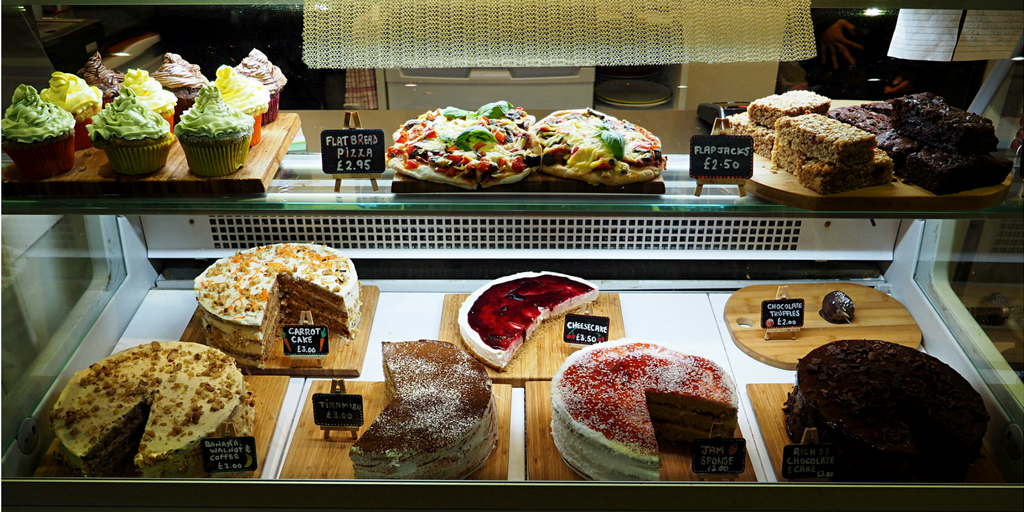 I also tried the cake, and the coffee and walnut is delicious. Especially the frosting. It's properly buttery and thick and substantial. The type that goes perfectly with a cup of coffee in the afternoon.
Pros:
Affordable, quick, tasty.
Cons:
Closes early (but does take out).
Price range:
£10-£20 for two items and a drink.
I had less than 48 hours on this trip, and I ate and I ate and I ate. Brighton, I'll be back for round two, and I'm coming for your vegan food. Where isn't to be missed? Where are your favourites? Let me know in the comments below.
PIN THIS FOR LATER: