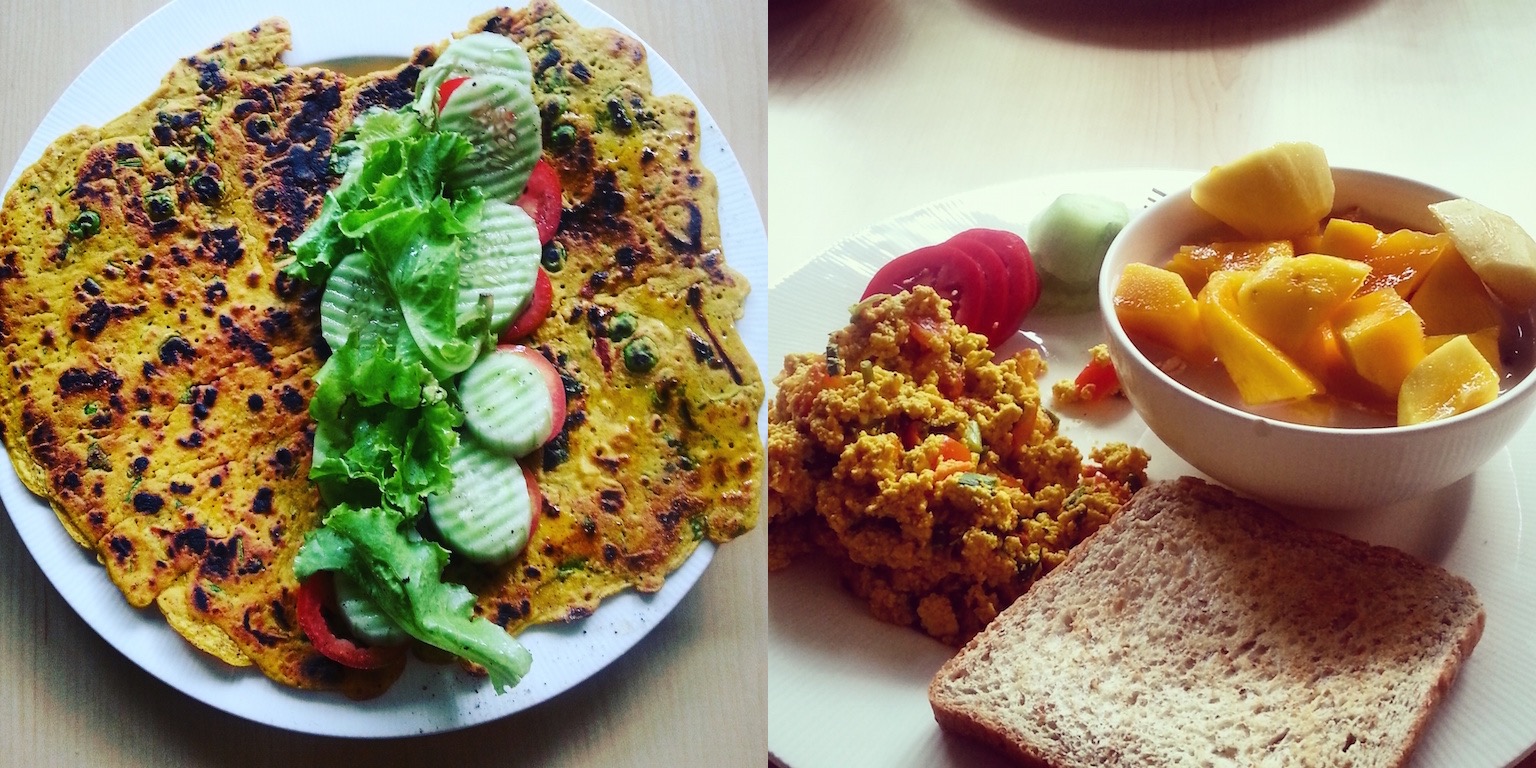 I have just finished my 200hr Yoga teacher training. I now know everything I need to start teaching Yoga, and I simultaneously know nothing.
I've been practicing asanas (the postures) for what must be getting on for 10 years. I struggled with chronic pain and fatigue all through my teenage years, and when I occasionally established a regular practice it helped me a lot. Of course, for anyone who knows what fatigue is like, when you're out of a regular practice it's almost impossible to re-establish it. I soon fell out of my practice, and in, and out. When I was 17, after my last school exam, I went for a private Yoga lesson and I learned the sun salutations. This stuck with me as a memorable sequence, and I continued to practice them and various other routines from the internet semi-regularly, until I became vegan in 2012. My energy shot up, my stamina shot up, my chronic pain lifted to a bearable level and getting out of bed finally became a reasonable request to make from my body. I started hitting the gym hard, and lost more that 20kgs/40lbs. Asanas and stretching became nothing more than a cool down. I briefly tried Bikram yoga, but it stank of expensive cult and I didn't stay long.
When I moved to Taiwan in 2014, the long days made me want something more easygoing than lifting weights. I turned back to Yoga, and joined a studio. I had bad experiences with two teachers and I tried to get out of the contract, but they wouldn't let me. While this caused a lot of stress and loss of money that eventually led to me stopping the payments through my bank, I did have a few amazing teachers there. They opened me to the possibilities of different styles and routines, and I continued Yoga at smaller studios, and at home. Finally, more than a year later, this led me to Wise Living Yoga Academy, in Thailand.
I chose this course because it seemed far more authentic than a lot of the trainings. The website emphasises that it's not just about asanas, but about philosophy, introversion, and the lifestyle. I myself can think of at least ten people I know who have 200hr trainings but feel anything but prepared to start teaching. WLYA, however, has a lot of testimonials saying how well it prepared them. On the course they made it clear that they are preparing us to go out into the world and keep teaching, and make us think of who we want to teach, and practice teaching each other.
The lifestyle, too, is a Yogic one. The price is all inclusive, which means that you're kept onsite and all meals are provided. This ensures that students have enough time to get in a lot of study, and also keeps us, as much as possible without locking the gates, to the diet which is vegan (and very low oil, low protein, low fat), no alcohol, no caffeine, no sugar. Two of those four were no problem for me, but if you've read any of my other posts or taken even a quick glance at my instagram, you'll know how much I enjoy a cup of coffee and some vegan cake. Like, really enjoy. To the level where there wasn't a day that went by without me wanting a piece of chocolate cake.
I may have a problem, but that's not what we're talking about now.
What I didn't expect, but was totally over the moon about it that they don't just feed us vegan food (which is ah-ma-zing, like really amazing) but they also espouse a vegan diet and lifestyle and show films to teach us the benefits for our bodies, the animals and the planet. If you haven't already watched them, go and see Cowspiracy and Gary Yourofsky's 'The Best Speech You'll Ever Hear' which are two of the ones we watched. Cowspiracy I hadn't seen before, and it's fantastic. I think I'm a little bit in love with the guy who made it. (In case you're reading this, my email's in the About Me section, I'm currently in Thailand but willing to travel, and…) oops, back on topic.
The place itself is totally beautiful. It's nestled about an hour outside Chiang Mai, right in the middle of rice fields. Every Friday morning we took a break from asanas and went for brisk walks to different parts of the surrounding area. As a mad animal lover, I particularly enjoyed the day we acquired two dogs for the whole walk and half the day, until they took themselves home. The cats who have adopted the ashram weren't as happy about this.
As for the course itself, I really enjoyed it. It required a lot of discipline to get up every morning, and it got me into a morning routine that for the most part I'm managing to maintain a week later. My body still wakes me up between 6 and 7am, and tells me to go to bed far earlier than I used to. It deepened my practice, however, don't expect to be putting your legs behind your ears on day one. The asanas they teach are the ones you're expected to go out and teach, and so they're basic ones. I think this surprised quite a few of us, although in hindsight it's perfectly logical. I've seen so many pictures of horrendously complicated poses being done on Yoga teacher trainings though, that that's kind of what I expected. This was something I really enjoyed – going back to basics, really deepening my understanding of the core poses I'd always dismissed as too easy, and finding new challenges in them has helped my body and my Yoga beyond belief. I'm now so much more conscious of what's happening in my body, and whether I'm keeping my alignment.
And the sitting. Be prepared for a lot of sitting. Every day involves an hour and a half of Yoga Philosophy, an hour of breathing work (pranayamas) or kriyas, then in the afternoon three or four more hours of lifestyle talks, sutras, theory, and various other exercises. All of these usually involve sitting cross legged on the floor. Upright. My back hurts, and my knee hurts, but my back is now so much straighter than it used to be, I can't quite believe it. I thought I was pretty straight to start with.
You've probably gathered from that there's a lot of theory. In the last week there's an exam for which you have to memorise a lot of sanskrit. Honestly, I don't know how much of that Sanskrit is still in my brain a week later, but it was satisfying to be able to chant the sutras. It was one heck of a lot of study though, and here's where things began to unstick in my meditation addled brain.
Meditation became harder. A lot harder. I was shuffling, sneezing, scratching, opening my eyes, repositioning, my mind was just not being reigned in. Until about week 2 I was making solid progression, and then it just… started… unravelling. We had a small group. Their smallest ever. There were five of us. I infamously don't function too well in small groups. It has taken a lot of work over the years to get me out of my head, and the course catapulted me right back in there and into the anxiety and tiredness I left behind a few years ago. Everyone was struggling to some degree, because there was so much alone time and introspection. Jeenal and Daniel are both amazing, but quite understandably keep themselves to themselves between the classes and don't offer much support unless it's specifically requested. With larger groups there's in-group support, but when there are only 5 it's just not something that can be asked for too often. By the end of the course I had stopped sleeping well, my stomach became painful and I had (and still have, I'm working on it) the worst constipation I can ever remember (on a diet of what seems like pure fibre, c'mon universe, seriously?). I was also having panic attacks again. I just hadn't expected this. I have come so far over the years, and to see myself going back into old patterns seemed like a weird sort of failure. Thinking like this naturally didn't help. Jeez my brain can be mean to myself. Tensions started appearing in the group as everyone became more strained, and mealtimes became silent and serious. With all the learning and memorising we had to do, there was no time to deal with the emotions that were popping up left, right and centre.
I left after the course, certificate in hand. I went to a Dance Mandala Class. And I danced, and danced, and danced. My lungs started working again. I felt myself becoming human. I felt myself leaving the weird box of anxiety I had put myself into. I felt like me again.
One week later, I can appreciate the course far more. I'm not sure I miss it quite yet, although I do miss not being surrounded by backpackers, tourists and noisy vehicles. Their teachings are exceptionally valuable, in particular non-attachment, something I'm working on a lot in my life. Non-attachment to other people for approval, and not being affected by the moods and emotions of others. It has definitely helped me. I also understand the practice of Yoga far more, and its place in the world. I want to go out and teach, but maybe I'll wait a little longer, and dance a little more between now and then.
If you're interested in a Yoga Teacher Training, I cannot recommend this one enough. Just be aware that it isn't a retreat, it's disciplined, and to some extent an endurance challenge not physically, but mentally. It is beyond doubt the place to go if you want a thorough grounding in Yoga, just be prepared: it gets a little intense.
Almost all of these photos can be found on my instagram, find the follow button on the right.
If you're interested in the course, find their website here.